May the Fourth Be With You Mixer

Thursday, May 4 | 7 p.m. – 10 p.m.
Houston, we've detected signs of intelligent life…at Mixers & Elixirs! Head over to HMNS for our May the Fourth Be With You par-tay. Celebrate your inner rebel or join the dark side while enjoying music and drinks. Party or party not. There is no try.
COSTUMES HIGHLY ENCOURAGED!
Featuring The Space Rockers
Food trucks:
Nom Mi Streets
Tu-Go Kitchen
Buttz
Tickets*
Members: $15
Non-members: $25
Corporate Rate – contact our Corporate Sales department (Martine Kaye or Chris Arreaga) to find out more.
Learn more about how to get free tickets to Mixers & Elixirs with an HMNS Catalysts membership!
*Ticket pricing not applicable to Spirits & Skeletons.
Mixers & Elixirs is for adults 21 and over.
Lecture – Monarchs and Milkweed: Their Remarkable Story of Coevolution by Anurag Agrawal
One of nature's most important and sophisticated evolutionary relationships is that of the monarch butterfly and milkweed plant–one a symbol of life and renewal, the other a toxic plant. Dr. Anurag Agrawal of Cornell will describe this inextricable and intimate relationship, which has been like an arms race over the millennia, a battle of exploitation and defense between two fascinating species.
Dr. Agrawal will delve into major scientific discoveries, including his own pioneering research, to trace how plant poisons have not only shaped monarch-milkweed interactions but have also been culturally important for centuries.
The current ideas regarding the recent decline in monarch populations, including habitat destruction, increased winter storms, and lack of milkweed–the last one a theory that the author rejects–will also be discussed, followed by an evaluation of the current sustainability of monarchs and revelation of a novel explanation for their plummeting numbers.
Dr. Anurag Agrawal is a professor of Ecology and Evolutionary Biology and Entomology at Cornell University. Following the lecture Dr. Agrawal will sign copies of his new book Monarchs and Milkweed: A Migrating Butterfly, a Poisonous Plant, and Their Remarkable Story of Coevolution, which is lavishly illustrated with more than eighty color photos and images.
Tuesday, May 09, 2017 – 6:30 PM
Members $12, Tickets $18
BTS – Mummies of the World: The Exhibition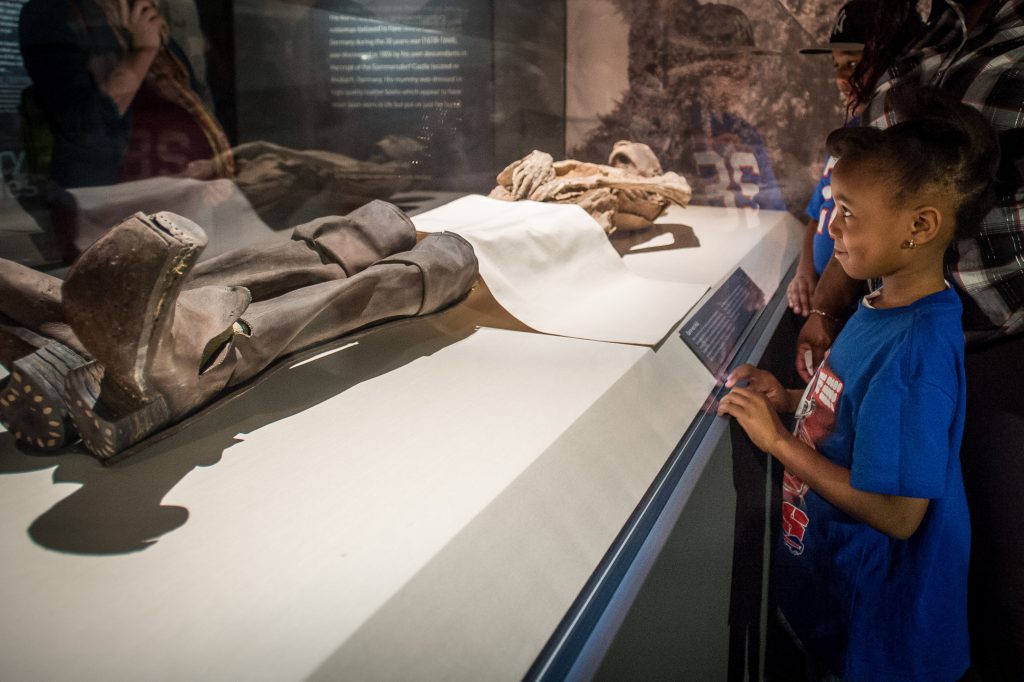 Mummies of the World: The Exhibition presents a collection of mummies from Europe, South America and ancient Egypt-some 4,500 years old.
Go behind-the-scenes and learn about mummies and mummification through state-of-the-art multimedia, interactive stations and 3D animation, highlighting advances in the scientific methods used to study mummies, including computed tomography (CT), ancient DNA analysis and radiocarbon dating, all of which allows us to know who these mummified individuals were, where they came from and where they lived.
Among the mummies on display are the Vac Mummies, an entire mummified family from Hungary believed to have died from tuberculosis; the Burns Collection, a group of medical mummies used to teach anatomy in the early 19th century; an Egyptian priest named Nes-Hor who suffered from arthritis and a broken left hip; Egyptian animal mummies including a falcon, fish, dog and baby crocodile, many of which were deliberately preserved to accompany royals for eternity; and MUMAB, the first replication of Egyptian mummification done on a body in 2,800 years.
Wednesday, May 10, 2017 – 6:00 PM
Members $22, Tickets $39
BTS – Faberge Artisan Demonstration and Tour
Fabergé craftsmen innovated and perfected numerous gemstone-cutting and metalsmithing techniques. During this exclusive evening, several of these techniques–cabochon fashioning, stone faceting, stone carving, enameling, guilloche, chasing, repoussé–will be demonstrated by artists of the Houston Museum of Natural Science Volunteer Guild known as the Rock Stars. In addition to artisan demonstrations, this evening includes a guided tour of the new exhibition "Fabergé: Royal Gifts featuring the Trellis Egg Surprise."
Wednesday, May 10, 2017 – 6:00 PM
Members $22, Tickets $39