It's February and we're finally past the most miserable phase of Houston's trademark cold and soggy winter. Every once in a while we're getting those perfect golden days of sun and warm (but not too warm) weather and many of us are already looking forward to enjoying the outdoors. With that in mind I thought it would be a good time to talk about a very important green space in Houston: Hermann Park.
Source: Hermann Park Conservancy
Hermann Park has a pretty interesting history. George Hermann donated the land that encompasses the park to the city of Houston in 1914, only 6 months before he passed away from stomach cancer. Up until then Houston only had one park, Sam Houston Park (finished in 1899) which still welcomes visitors today. Interestingly, before Sam Houston Park was completed Glenwood cemetery was the place of choice for Houstonians to enjoy the outdoors. A little morbid, but hey, it was the Victorian era.
But at only 20 acres, Sam Houston park was not quite large enough for Houston's growing population, which reached 79,000 people by 1910 . A larger park was needed. Community leaders envisioned a world-class city park to rival New York's Central Park. The space would boast an outdoor theater, a lake and beautiful gardens, plus more wide open spaces to enjoy. In 1914 the land bequeathed by George Hermann made that vision a reality.
Herman was born in Houston in 1843, the son of Swiss immigrants. In those days Houston was little more than a camp on the frontier. The Allen bothers, founders of Houston, had purchased a half league of land from the widow of John Austin in 1836 with the intention of building a city that would serve as the center of commerce for Texas. But it took a while for things to get off the ground. In the early 1840's Houston was still a ramshackle collection of cobbled together wood buildings and even tents.
It is said that when the first riverboat traveled up from Galveston in 1837, it accidentally passed by the little camp at the confluence of Buffalo and White Oak Bayous.
George's father, John Hermann was a baker, a lucrative trade in a place where the population is mostly transitory and male. Countless riverboats plied Buffalo Bayou in those days, bringing goods from the civilized world up from Galveston and carrying cotton back down. Business from the hungry crews of these boats and the dockworkers that unloaded the goods they carried made John Herman a small fortune.
John invested his money in property around what is now downtown Houston, which he correctly predicted would go up in value. When he died, he left his properties to George, who continued investing in real estate and also bought up sawmills, lumber companies and cattle ranches. The property that now comprises Herman Park was originally the site of a sawmill owned by Hermann.
Map of Houston, 1912
George Hermann was a unique individual who left his mark on Houston in a number of ways. For example, the courtyard in front of City Hall was his homestead. Well… not completely his. He lived there with an unrelated family, occupying one room in the structure himself. He donated the site to the city in his will. He also built the historic Herman building which now houses fancy lofts downtown and, last but not least, set aside much of his fortune in his will for the establishment of a charity hospital. The story goes that on a trip to New York Hermann passed out on the street. He woke up in a charity hospital and was deplored by the horrible treatment he received. The experience inspired him to build a better hospital in his home town. The Memorial Hermann Health System is now the largest not-for-profit health system in Southeast Texas.
Hermann was legendary for his frugality. He was a bachelor all his life and according to contemporaneous accounts he only owned two suits. Crazy enough, though, his biggest financial windfall came when a seemingly worthless plot of land he had traded a team of horses and a buggy for turned out to have a huge reserve of oil on it. That land became part of the Humble Oil Oil Field in the early 20th century. Hermann had been wealthy since his mid-twenties, but in his twilight years Hermann was earning $50,000 a week in royalties. It was this wealth that enabled him to make such a lasting mark on the bayou city.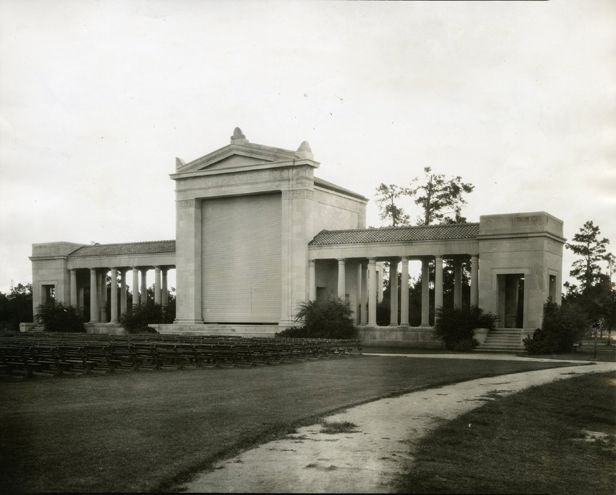 Present day Miller outdoor Theater.
Over the years various changes have been made to Hermann Park. The original Miller Outdorr Theatre was constructed in 1922. The original structure resembled a Greek temple. Miller hill was added in 1948 from excavations on Fannin Street and a new theatre (the one that stands today) was erected in 1968. Some of the Greek columns from the original 1922 Miller Theatre were used in the Mecom-Rockwell Collanade at San Jacinto and Hermann Drive, so if you're interested you can see a preserved piece of Hermann park history there.
Another interesting holdover from the early days of Hermann Park is the Marvin Taylor running trail. The original park plan drawn up by renown landscape architect George Kessler included carriage trails so Houstonians could take leisurely rides through the country. That's right, the area around Hermann park was still rural and undeveloped at that time. Over the years these trails (along with the rest of the park) fell into disrepair. In 1987 local resident Marvin Taylor organized the Runners, Joggers and Walkers of Hermann, a nonprofit that initiated restoration projects carried out mostly by volunteers. This organization ultimately became the Hermann Park Conservancy. Throughout the 90's and 2000's many developments were undertaken to improve the park, including finally building the reflection pool Kessler had designed, improving the park railroad, improving the paths and making improvements to the Miller Outdoor Theartre. One of the early carriage trails was turned into a running trail and dedicated to Taylor.
So when you're visiting Hermann Park this Spring, remember that this wonderful green space wouldn't be possible if it weren't for an eccentric millionaire, a saw mill and a bunch of running enthusiasts.
And if the weather happens to turn bad on the day you plan to visit, don't fret! Come to the Houston Museum of Natural Science, another Houston Landmark, where you can walk our 1.5 miles of halls and stay dry!
Further Reading:
Love and Architecture: A Story of Houston's Skyline
Architecture Scavenger Hunt: Uncovering the Secrets of Rice University