In honor of teacher appreciation week, we've got an educator how-to that will make you feel like a million bucks! It's a great gift for the teacher in your life as they finish up the school year. If you happen to be a teacher, then treat yourself to a 15-minute facial that can revitalize you for those last few weeks of school!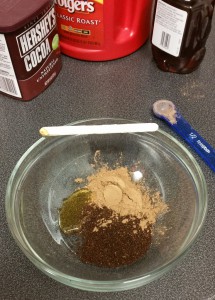 First, grab a few ingredients from your pantry or your local grocery store. For a quick one-person batch, you will need ground coffee (2.5 teaspoons), cocoa powder (2.5 teaspoons), honey (1 teaspoon) and plain yogurt (4 teaspoons).Once you have all the ingredients, combine the ground coffee, cocoa powder and honey in a small bowl. If you are giving it as a gift, seal it up into a container and make a note to add four teaspoons of yogurt before applying it to the face. Don't add the yogurt until you are almost ready to use the mask.
  When you've got 15 minutes all to yourself, add the yogurt to the bowl of other ingredients. Mix it all together and apply the mask to your face and neck, avoiding the eyes. The mask will take about 15 minutes to harden. Once it is hard, rinse your face. It will leave your skin with a radiant glow, and hopefully, this pampering will leave you with a little extra energy for the month ahead.
  Now, let's talk about some science behind this mocha mask! Your skin is the largest organ in your body, so we need to take care of it. It is made of several layers. The innermost layer is subcutaneous fat which stores your energy and helps control your body temperature. The next layer is the dermis, where you make sweat, create oil, and grow hair. This layer is very helpful because sweat helps cool the skin when it gets too hot, and oil allows our skin to be smooth and waterproof. The outermost layer is the epidermis, the layer we are targeting with the mocha mask! At the bottom, the epidermis creates new skin cells, and throughout the course of a month those skin cells travel to the surface and flake off. The coffee grounds in our mud mask will help get rid of some of our older skin cells. This can prevent clogged pores and harmful bacteria from growing on our skin. With this mask, we say, "Out with the old and in with the new!"
  Now that we've cleaned off the old skin cells, we need to make sure we didn't take out all of the moisture from our skin. With too much washing, our skin loses oil, the natural protection created by the dermis. By adding yogurt to our mask, we are replacing the oil with moisturizers to help protect and hydrate our skin. In addition to yogurt, we added honey to our mask. Although we are using only a small amount of honey in our facial mask, the beneficial properties of honey are of note! For centuries, honey has been used as part of skin care in a number of different cultures. It has been used as an antibacterial and as an anti-inflammatory often to treat wounds. For our purposes, the small percentage of honey works as an antioxidant for our skin that can protect our skin cells from UV damage. It works a little like a natural sunscreen!
  For those of you looking to make multiple batches as gifts, just keep the ratios for the ingredients. Also, hold off on the yogurt for now. You can make a note that tells your favorite teacher to add the yogurt when they are ready to apply the face mask!
Mocha Mask Recipe:
· Ground coffee – 2.5 parts
· Cocoa powder – 2.5 parts
· Honey – 1 part
· Plain yogurt – 4 parts
  To all of the teachers, we'd like to say a special thank you from The Houston Museum of Natural Science. Enjoy your mocha mask, and remember summer is just around the corner!