HMNS' Dino Dash virtual 5k is under way! We talked about the rules for the event, and the benefits of running a vitual 5 k, in a previous blog that you can find HERE. So now it's time to start preparing for the run. Even if you're running to loose weight, eating is an important part of your routine. It's not so much about how much you eat (different people require different amounts of food) but what you eat. Be sure to fuel up on the right foods! To help you with this, here is a runner's diet recipe from one of our exclusive caterers A Fare Extraordinaire
It's best to consume a meal which is high in carbohydrate, contains some protein such as chicken or beef, but is low in fat. Athletes like to keep fat low the night before an event so they don't feel heavy or sluggish. Carbs are good because they turn into glucose and glucose helps give your body energy. Carbs help improve endurance, speed, energy, and alertness. Carbs are your body's main source of fuel during a long workout or event. Running/long workouts breakdown the body's muscles and eating protein helps restore/recover your muscles. Protein can also help you stay fuller longer.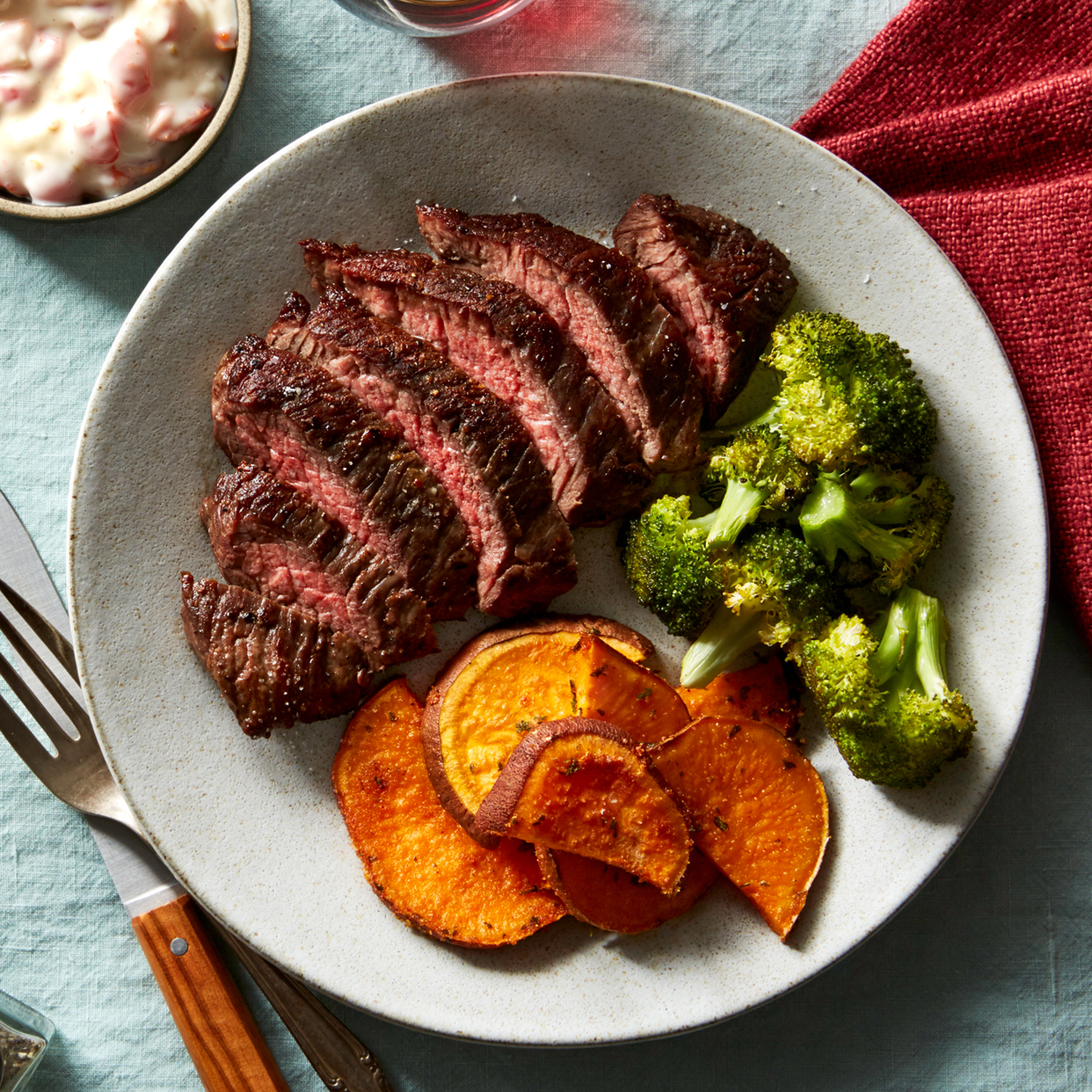 Steak with Sweet Potato Hash
Ingredients
2 large sweet potatoes (about 1 3/4 pounds), cut into 1-inch chunks
2 teaspoons packed light brown sugar
2 teaspoons smoked paprika
Kosher salt
1 1 1/4-pound boneless sirloin steak (about 1 1/2 inches thick)
3 tablespoons extra-virgin olive oil
1 to 2 tablespoons chopped pickled jalapenos, plus 2 tablespoons brine from the can
2 tablespoons unsalted butter, cut into pieces
1 small yellow bell pepper, chopped
1 bunch scallions, chopped
1 tablespoon chopped fresh parsley
Directions
Preheat the oven to 400 degrees F. Put the sweet potatoes in a microwave-safe bowl with 2 tablespoons water. Cover loosely with plastic wrap and microwave until fork-tender, 10 minutes. Combine the sugar and 1 teaspoon each paprika and salt; rub on the steak. Let sit 5 minutes.
Heat 1 tablespoon olive oil in a large cast-iron skillet over medium-high heat. Add the steak and sear until browned, about 3 minutes per side. Transfer the skillet to the oven; cook 7 more minutes for medium rare. Transfer the steak to a cutting board and let rest 5 minutes before slicing. Return the skillet to medium-high heat. Add the jalapeno brine and scrape up any browned bits. Stir in the butter; set aside.
Meanwhile, heat a separate large skillet over medium-high heat. Add the remaining 2 tablespoons olive oil, the sweet potatoes, bell pepper, the remaining 1 teaspoon smoked paprika and 1/2 teaspoon salt. Cook, stirring, until the sweet potatoes are browned, about 5 minutes. Add the jalapenos, scallions and parsley and cook 2 more minutes. Serve with the steak and reserved pan sauce