Bust out your planners, calendars, and PDAs (if you are throwback like that), it's time to mark your calendars for the HMNS events of this week!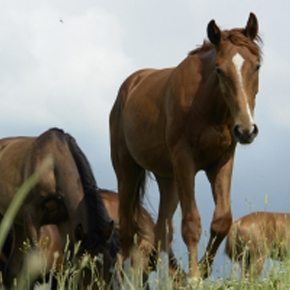 Lecture – 5000 Years Of Egyptian History By Tom Hardwick
Tuesday, April 28
6:30 p.m. 
Accompanied by images of artifacts in the Hall of Ancient Egypt, walk through the colorful history of ancient Egypt with HMNS Egyptology curator Tom Hardwick. The new additions to the exhibition will be highlighted. Following the presentation, the program will continue in the Hall of Ancient Egypt.
Lecture – Quest To Save Wild Mustangs By H. Alan Day
Thursday, April 30
6:30 p.m.
Alan Day had the unique opportunity to establish a sanctuary in South Dakota for unadoptable wild horses previously warehoused by the Bureau of Land Management. After Day successfully lobbied Congress, those acres became Mustang Meadows Ranch, the first government-sponsored wild horse sanctuary established in the U.S. Day will share his tales of the Herculean task of balancing the requirements of the government with the needs of the fifteen hundred wild horses and the land itself, and give an update on the sanctuary today. A book signing of The Horse Lover, A Cowboy's Quest to Save the Wild Mustangs will follow the lecture. His book The Lazy B Books will also be available and will be pre-signed by his co-author and sister
Class – Japanese Tea Ceremony
Saturday, May 2
11:00 a.m. & 1:30 p.m.
The Japanese tea ceremony tradition dates back centuries when samurai lords were among the few allowed to participate. A demonstration of the ceremony will be performed by Midori Mochizuki-master of Chado, the way of the tea. Tea master Heather Clary will provide commentary during this silent ceremony. A tea tasting for all course participants will follow the demonstration and lecture. Mochizuki and Clary are both members of The Way of Tea Houston. Participants should be 15 years+.
Class – Paleontology Workshop – Invertebrates To Dinosaurs
Saturday, May 2
1:00 p.m.
Go behind-the-scenes in the Museum³ staff training lab where over uniquely specimens are uniquely presented in a hands-on paleontology road map. Learn the basic biological classification of all the major fossil invertebrates and an introduction of the vertebrates through the geologic time scale-starting with the events of the Permian period that lead to the world the dinosaurs inherited. From there we will examine the Triassic, Jurassic and Cretaceous periods while making connections to global events that affected dinosaur evolution. We¬l address and dispel many of the rumors, myths and out right misinterpretation of dinosaurs. This class includes tours of the Strake Hall of Malacology and Morian Hall of Paleontology. The instructor is geologist and paleontologist James Washington, HMNS staff trainer.