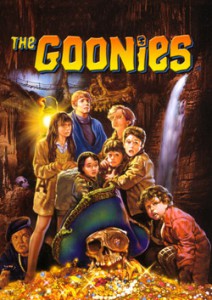 Bust out your planners, calendars, and PDAs (if you are throwback like that), it's time to mark your calendars for the HMNS events of this week!
Travel back in time and test your battle strategy with the War Game Event in our special exhibit Battleship Texas, venture back in time to learn about the Princess Naia, one of the oldest remains found in the Americas from marine archaeologist Dr. Dominique Rissolo, and revisit your childhood with the Take Two showing of The Goonies ¬– this week at the Houston Museum of Natural Science.
War Game Event
Veterans Day
Tuesday, November 11
9:00 a.m. – 5:00 p.m.
Experience another dimension to the Battleship Texas—war gaming. Interact with two simulated maritime battles, including a battle that never was, between USS Texas and the German battleship Tirpitz. See if Texas could have matched up to Tirpitz, sister to the famed Bismarck. The event presented by the Houston Beer and Pretzel Wargaming club. More info on BeyondBones blog.
Lecture: Ice Age Yucatan By Dominique Rissolo
Wednesday, November 12
6:30 p.m.
The complete, well preserved skeleton of a young girl from over 12,000 years ago was found in an underwater cave on the Yucatan Peninsula. Nicknamed "Princess Naia," her remains are among the oldest yet found in the Americas. Her discovery is reshaping our understanding of human migration into the Western Hemisphere. This lecture is presented by marine archaeologist Dr. Dominique Rissolo, expedition coordinator for the Waitt Institute. This lecture is cosponsored by AIA – Houston. Click here for tickets.
Take Two: The Goonies
Friday, November 14
7:00 p.m.
A group of kids set out on an adventure in search of pirate treasure that could save their homes from foreclosure. Click here for tickets.