by Karen Whitley
Hey there, devoted fans! Archie checking in. I can't wait to tell you about my last adventure abroad.
After packing up from my last adventure to jolly ol' England, I said "Cheers!" to the United Kingdom and boarded the Eurostar to France! Parlez-vous français anyone? Yeah, me neither, unfortunately. The Chunnel was great, zooming along an underground tunnel at 160 kph (that's about 100 mph for us Americans) while changing countries, languages, currency, and even time! But the absolute best part was the jelly they served with breakfast! Oops, I mean the preserves. Don't worry, I took a photo of the jar so we could all benefit! *Cough* I may have taken the rest of the jar with me. A dinosaur has to eat, after all.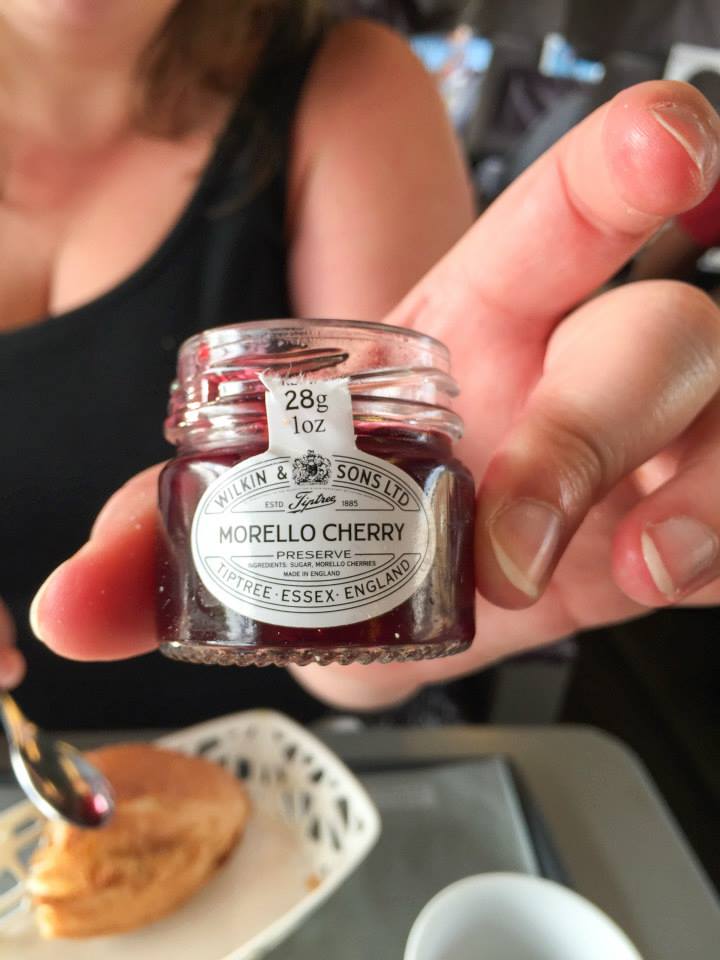 So after a scrumptious meal and a quick changeover in Lille, Nord-Pas-de-Calais we arrived at Disneyland Paris where we would be staying for our whole trip. Interesting note, all of the Disney hotels have American names. What can I say? It's a small world. The parks were a lot of fun and we learned to get around the language barrier. They were amazing at accommodating people and dinosaurs from all over the world. Of course we managed to ask for the most important thing, une glace. At least that's how the locals say cremèe glacée: ice cream!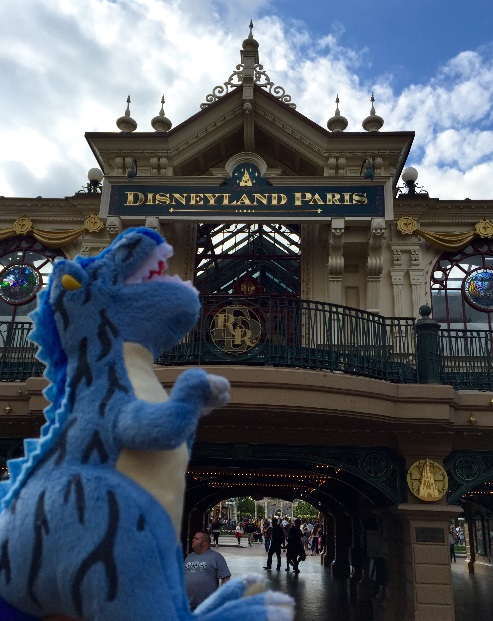 Despite how awesome the parks were, you can't go all the way to France without checking out Paris proper. I was lucky to be with some veteran travelers who knew the ins and outs, so we took the metro to the Trocadéro stop to begin our new site-seeing adventure!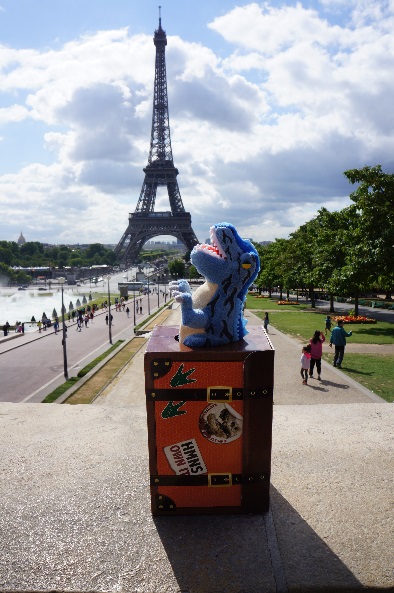 Grr, argh!
After lunch under the Eiffel Tower (and let me tell you, you haven't had a hot dog until you've had one in France. It was in a baguette!), we took a boat down the Seine to our final Paris destination. Can you guess?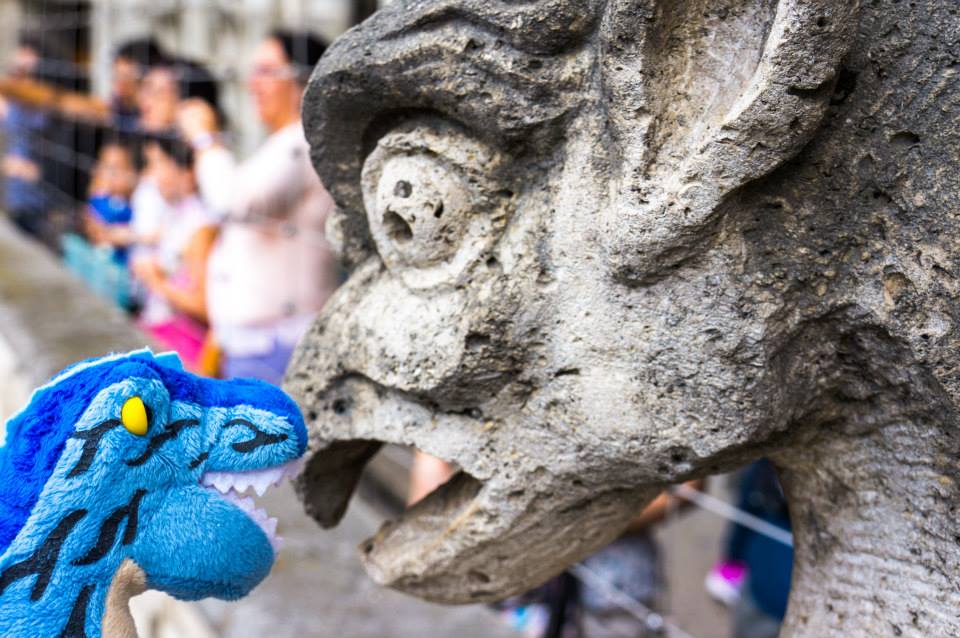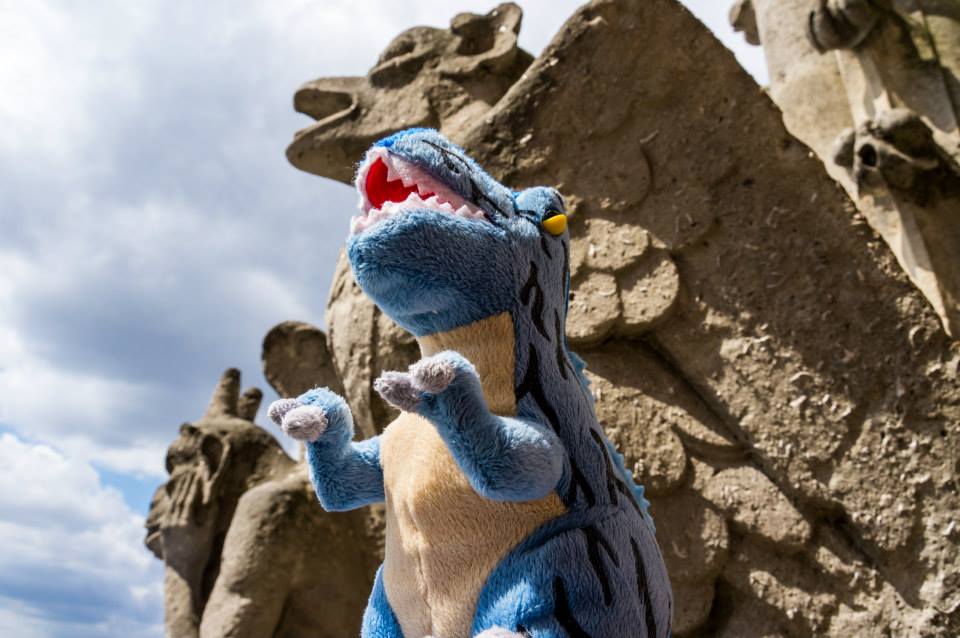 Notre Dame Cathedral was beyond spectacular, but I can't tell you how excited I was to discover what was on top. Only 387 steps up (ok, I totally piggybacked that climb) I discovered what looked like some long lost cousins on my mother's side. Oh boy, I really felt a connection here! I almost didn't want to leave, but I had a new adventure just around the corner.
After my amazing summer trip, I headed back home to the Houston Museum of Natural Science just in time to join an Adult Education program that had us going to Germany to visit amazing museums and even some dig sites. Sprechen Sie deutsch? Yeah, that's another no for me too. Anyway, the Bavarian countryside was absolutely beautiful and we enjoyed amazing weather throughout! We were even there for Oktoberfest. Prosit! The best part, and to me even better than beer, is staying at Schloss Eggersberg. My German may not be great, but one word I do know is schloss, or castle! My room was in the top corner of the castle in what would be considered a servants' room. A grown man could spread his arms and touch both sides of the room! Looks like being 8.5 inches tall is paying off for once.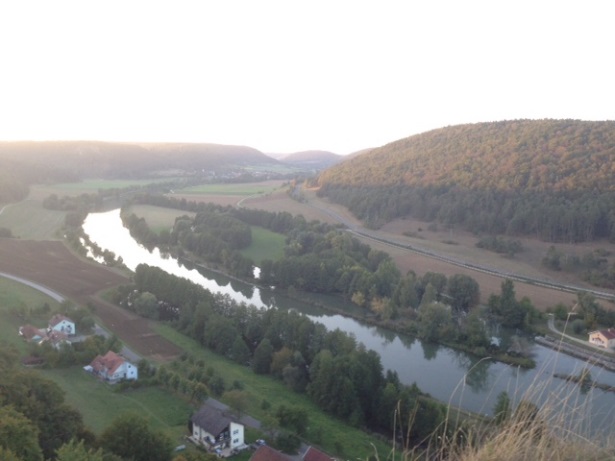 With the program, one of the amazing sites we visited was Solnhofen, home of what they call a Lagerstatte, a site filled with wonderfully preserved fossils. They have found over 500 species in this one site, but the coolest thing (at least what I think) is that this is where the Archaeopteryx was first discovered, the earliest bird known to fossil record!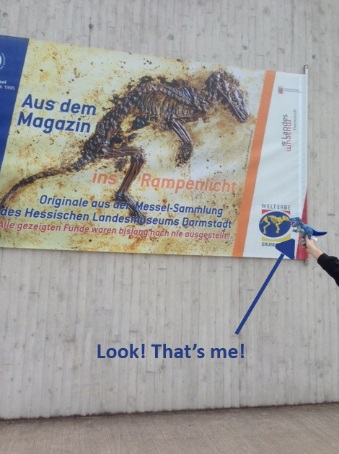 We also visited the Messel Pit Fossil Site. Man, I had some fun here. This place is rich in fossils, including being where the much debated Ida was discovered about 30 years ago. Whether or not Ida is the missing link, Messel has provided the world with tens of thousands of amazing fossils. And an awesome replica of a Masillamys, which patrons are probably not encouraged to ride. But I did anyway. Woohoo, ride 'em cowboy!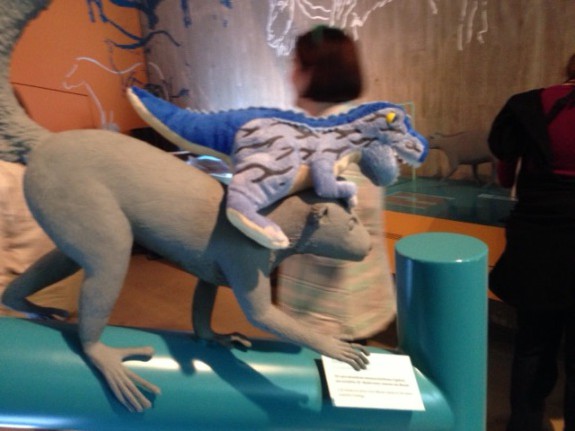 After a week of enjoying the German countryside and exploring and learning about different fossil sites, it was back to HMNS again to prepare for my next trip. I can't wait to tell you about my next adventure!
You can find Archie and the whole Adopt-a-Dino family in the HMNS Museum Store. Drop by and take one home!
Editor's Note: Karen is the Assistant Birthday Party Manager for the Houston Museum of Natural Science.