by Victoria Smith, HMNS Executive Assistant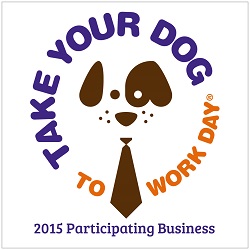 Here at the Houston Museum of Natural Science, we love all animals, not just extinct ones. When we heard it was Take Your Dog to Work Day, we thought that sounded like fun. . . maybe a little too fun considering how many pre-historic bones are here. Since letting Fido roam free in the paleontology hall could be a bad idea (and by bad, we mean "potentially devastating to years of scientific research"), we decided the next best thing was to take pictures and show the world, that, yes, our pets love science as much as we do! Employees were encouraged to dress their pets in geeky, museum or science-related costumes, and the winner would receive prizes from the geek-chic line of pet products in our Museum shop. It was hard to pick just one winner, but we decided one little dog proudly embraced his role as a Museum Employee Pet.
There are so many great employee pets, we decided to share a few more.