Flooding changed the face of Houston Monday and Tuesday, turning the peaceful bayou into a raging torrent swelling beyond its banks, spilling over major highways and washing into communities where it did its worst damage. Busy roads turned into lakes of steaming vehicles as hundreds were lost in the floodwaters, and some 1,400 structures were critically damaged.  In the wake of the storms across the Southwest that killed at least 17 people, Gov. Greg Abbot declared 24 Texas counties disaster areas, tacking them on to the 13 counties already under declarations due to weather. To make matters worse, scientists are beginning to attribute the current rainy weather to El Niño, predicting a wet summer that could see more continuous rainfall.
When it comes to disasters, floods are serious business. In the U.S. each year, floods account for about $6 billion in damages, and floodwaters claim about 140 lives. Around the world, coastal flooding causes about $3 trillion in damages. It may seem like you can just power through rising water in your vehicle, with the confidence that if you're in trouble, you can just swim to safety, but the safest route to take is to turn around, don't drown. Get to higher ground.
Flash flooding occurs with heavy or continuous rainfall over an extended period of time, sometimes in areas nowhere near the location of the heaviest precipitation. Water runs downhill, filling riverbeds and waterways to capacity, and when the water doesn't stop, it spills over the banks and into the flat areas beyond, called the flood plain. Meteorologists measure flood risk in years. The risk of flooding in the 100-year flood plain is about one percent every year; that makes flood risk in a 50-year flood plain two percent, and in a 500-year flood plain, one-half percent.
Global climate change might account for more common and stronger floods in Texas and worldwide, according to National Geographic, and information from the NOAA supports this claim. Floods in Texas do appear to have worsened in recent years. In 1998, a "perfect storm" involving two hurricanes and a stationary cold front led to a disastrous flood in Central Texas, swelling the banks of the Guadalupe River into the San Antonio metro area. More than 30 inches of rain fell in a small area south of San Marcos in 36 hours in what was classified as a rare, 500-year flood event.
Four years later, yet another 500-year flood occurred in the same area, doing even greater damage over a larger part of the state. A low pressure system that formed over the northern Gulf of Mexico moved inland and stayed put, dumping record-breaking rainfall over San Antonio and several other counties in the hill country. Two massive, rare Texas floods in four years seems to spell doom for our state and the state of the planet as a whole. However, natural cycles suggest otherwise.
The extreme wet season in Texas and Oklahoma signals an El Niño year, scientists say. Few people may care about the weather phenomenon or understand it completely; they only know the cycle of drought and flooding in the south, of heavy snows and mild winters in the north. Scientists themselves don't fully understand the causes and effects of El Niño, but they do know that oceanic and atmospheric phenomena are directly linked in the system, NOAA Meteorologist Tom DiLibertero told Al Jazeera.
El Niño occurs in cycles between two and seven years, officially named the ENSO, or El Niño Southern Oscillation in the scientific community. Cold water upwellings normally keep surface temperatures of the Pacific Ocean cool, but when that system fluctuates, the massive body of water warms in the sun. In turn, winds carry more moisture into the air which oceanic winds push over the Americas. Poised in the middle of the continent, this weather dumps heavy precipitation. In years following particularly strong El Niño patterns, the opposite occurs. When cool water returns to the surface of the Pacific, moisture stays closer to Indonesia, creating dry La Niña conditions for the continental U.S. Scientists agree this may be a natural pattern, but the degree to which climate change and warmer global ocean temperatures might worsen its effects is still uncertain.
Add to this that Houston was built on a wetland, an area known for flooding as a natural process, and you've got a recipe for disaster every few years. Floods can occur in other places from spring snowmelt, log jams, and broken levees, but for our area, the biggest threat is steady rainfall. After heavy rains from frontal systems and hurricanes alike, the rivers that feed the bayous swell and overflow into lowland areas we've built our city over.
In truth, flooding anywhere is natural and has been happening for millions of years, and humans have capitalized on the benefits of these raging waters around the world. It's what we do as a species. "Famously fertile floodplains like the Mississippi Valley in the American Midwest, the Nile River valley in Egypt, and the Tigris-Euphrates in the Middle East have supported agriculture for millennia because annual flooding has left millions of tons of nutrient-rich silt deposits behind," states National Geographic.
The Weather Channel compared the Memorial Day flooding to other historical floods, including those caused by Hurricane Ike (2008) and Tropical Storm Allison (2001). "According to NOAA's National Climatic Data Center, there were 86 days with reports of flooding or flash flooding in Harris County from 1996 through 2014," their report states. "This equates to an average of 4-5 days of flooding each year over that time period."
During the Memorial Day event, the water in some Harris County bayous exceeded totals measured during both storms, The Weather Channel found. Buffalo Bayou at Shepherd Drive crested at 33.73 feet Memorial Day, 32.4 feet during Hurricane Ike, and 40.2 feet during Tropical Storm Allison. Brays Bayou at Beltway 8 reached 65.9 feet this year and crested at 58.7 feet during Ike. And Greens Bayou at Shepherd Drive peaked at 34.02 feet Memorial Day, 36.2 feet during Ike, and at 44.04 during Allison. But these hurricanes are only two of the numerous flood events that have soaked Houston in the past 40 years alone.
From The Weather Channel: April 2009; 2,100 homes flooded, freeways impassible. June 2006; 11 inches of rain, 3,000 homes flooded. Late summer 1998; Tropical Storm Frances and two other events flood a total of 2,700 homes. October 1994; 22,000 homes flooded, $900 million in damages, 17 killed. (Now that's one awful flood.) June and July 1989; two separate events flood a total of 2,500 homes. September 1983; a nine-inch deluge floods 1,000 homes along Brays Bayou. July 1979; Tropical Storm Claudette dumps a record 43 inches in 24 hours, flooding 15,000 homes and damaging 17,000 vehicles.
The devastation that flooding has caused for the residents of Houston over the years is heartbreaking, but as disturbing as these number are, it's no surprise that Houston gets its rain, and that floods happen. They nourish the ecosystem of the Upper Texas Coast and the Galveston Bay area, and it could be hundreds of years before they stop, if not thousands. For Houston, since its founding, flooding has come with the territory.
Our species moved here to carve out a life and began retro-fitting the land to suit our needs, just like we've always done. In 1836, Houston was established on the banks of Buffalo Bayou, where trees, good soil, and slow-moving water helped rapidly establish a community. As the city continued to grow, it became a vital hub for energy and transportation, and a vital port to Texas and the southern U.S.
Agriculture establishes civilization; infrastructure moves it forward. Doesn't mean it's bad. Beavers do it when they change the course of a river with their dams; ants do, too, when they manipulate the soil or a tree to build networks of tunnels; birds do it to create nests and rookeries; coral and oysters build their own habitat and create hundreds of thousands of square miles of reefs around the world.
That's why conservation and awareness of the natural cycles of our environment, wherever we choose to live, is imperative to our survival. As we encroach upon wetlands for our cities, we must understand that floods will continue to happen. Wetlands act as "natural flood buffers," states National Geographic. If we live in the buffer, we're bound to get soaked.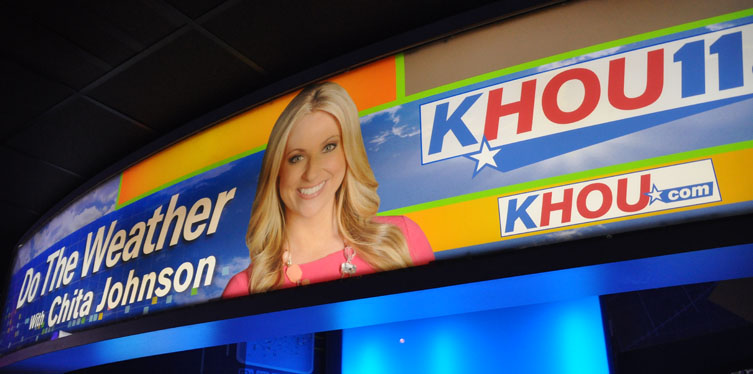 Learn more about the coastal environment at the newly-opened Hamman Hall of Coastal Ecology, and see how weather forecasters spread the word about flood events on live TV when you Do the Weather with Chita Johnson, both at the Houston Museum of Natural Science. If you or your family was affected by the flood, visit the Texas Organization Project for resources that can help you recover.