Ah, Christmas — one of the most beloved holidays 'round the world. There's nothing like spending quality time with loved ones, giving (and receiving!) gifts, and the smell of your choice of decadent deliciousness roasting in the oven.
But did you know that most of what we consider to be "normal" Christmas behavior is a relatively modern invention?
Back in the day, spreading holiday tidings used to consist of merry carolers roaming from house to house. This practice of "wassailing" was sometimes rejected as a sin by the Puritans, because it often was accompanied by debauchery and raucousness.
Fast forward to the the 19th century, where author Charles Dickens and his famous novella, A Christmas Carol, resurrected and popularized the sentiment of being charitable toward those less fortunate (and not so wasteful and greedy) during the Christmas season.
In fact, the invention of the modern concept of Christmas is widely (yet somewhat erroneously) attributed to Dickens. But we can generally credit him for influencing many aspects of Christmas that are celebrated today in Western culture, such as family gatherings, seasonal food and drink, dancing, games, and a festive generosity of spirit — lots and lots of generosity.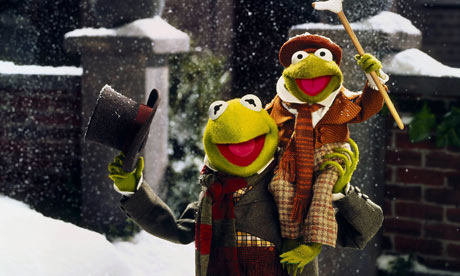 As for so many of you, Christmas is the holiday where an entire side of my family gets together — somewhere between 20 and 30 people. When large groups of people get together, you know what happens: we consume large quantities of energy!
So, being the energy-efficient steward that I am, I thought, "Where can my family save energy?" (And yours, too, of course.) Here are a few suggestions:
1. LIGHTING & HEATING
If you eat (or are entertaining) early enough, use as much natural light as you can! If you don't have windows, see how many lights you really need to turn on. Candles can help create a homey and festive atmosphere while conserving electricity.
If you use incandescent Christmas lights, consider switching to LEDs, which use a fraction of the electricity, and will almost certainly be heavily discounted right after the holidays. Get a deal, pack 'em up, and save energy next year!
And how about the temperature in the room? The human body produces heat, so if you get a bunch of people together, you'll raise the temperature in the room — meaning you can set your thermostat a little cooler than normal.
If you're cooking (who isn't?), ovens also produce excess heat, raising the temperature of a room another few degrees — and BAM! You can turn down that thermostat.
2. COOKING
You probably know that the most efficient ways to cook are microwaves, toaster ovens, and slow cookers. While less efficient, ovens and stoves are probably the way you'll end up going for a big crowd (and we don't blame you). But there are still ways to be more efficient while using them.
Cook different dishes together and make the most of the oven space. Try not to open the oven door once your food is cooking — every time you do, heat escapes. And while nearly every recipe will tell you to preheat the oven, it's usually unnecessary. You're gonna cook that turkey for 6 hours; 10 minutes of preheating won't make much of a difference.
When you move over to the stovetop, make sure to use pans that fit the burners. If the pan is too small, you're losing heat; if it's too large, it takes far longer to cook. Much like Goldilocks and the Three Bears, you want it to be just right. Make sure to have the right lid for the pot to better trap the heat in the pan.
3. CLEAN-UP 
Once the meal is done, it's time for the clean-up. My family has a ritual for this. After the meal, the men do the dishes. Depending on whose kitchen we are in, we'll have a line of three to five people scraping, wiping, soaping, washing, rinsing, drying, and stacking.
Believe it or not, the dishwasher uses less water and energy than doing all the washing by hand, but many of the cups and plates used for holiday celebrations are not dishwasher-safe.
So, before you run that dishwasher, make sure it's full of dishes — not half-full.
One of my favorite parts of the meal follows cleaning the dishes: the distribution of the leftovers! Every household brings a handful of containers and we parcel the food out. When you are getting those leftovers together, let them cool before you put them in the fridge. Hot food causes more of a temperature change inside the fridge than lukewarm food.
So have yourself a Merry Christmas. Enjoy the food and the togetherness — and save some money on your electric bill this holiday season!