Hello again, and welcome to the third post in my series on the conservation of a Third-Intermediate-Period coffin lid at the Michael C. Carlos Museum.
As our team in the lab has seen, many times repairs of ancient objects are not well-informed or sensitive to delicate surfaces and structures. In the case of this coffin lid, this can not only disrupt our appreciation, but also our interpretation of the material.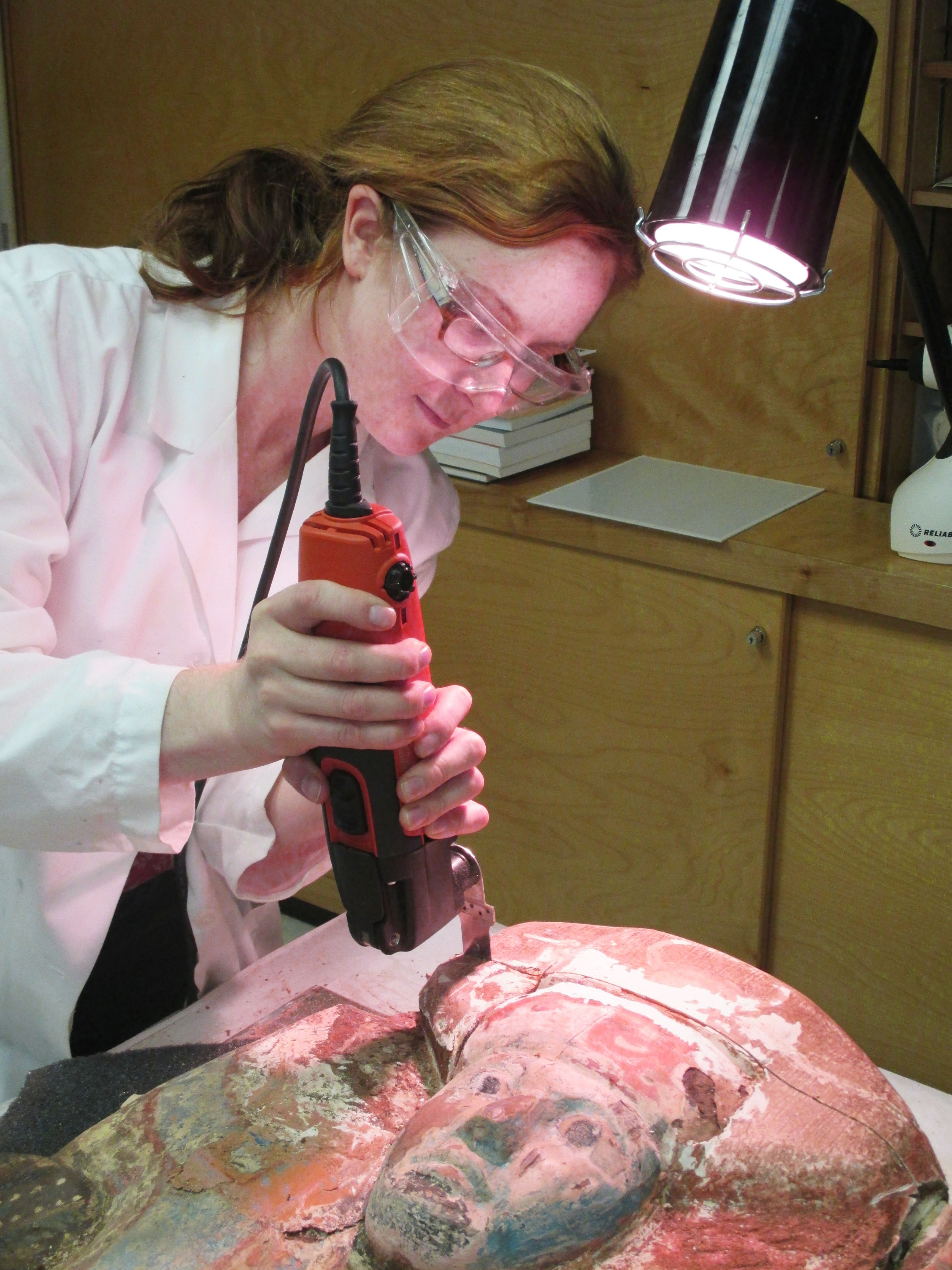 While examining the back of the object, it was clear to my supervisor, Renée Stein, and myself that the surface had been coated in a thick layer of wood glue (yes, the type of stuff you can buy at the Home Depot).
It wasn't clear just how extensive this coating was until we interrogated the construction of the object. How were the many wooden boards put together? What does this tell us about the object original appearance? Were the structures stable after 3,000 years?
As we asked ourselves these questions, we also noticed something else that wasn't quite right: The two scarph joins at either shoulder were not symmetrical, and we were wondering why…
It turns a component of one of these joins was very rotten, and after millennia of burial, it was essentially turning into powder! This spongy material had been encased in wood glue and attached back in place in the wrong way. The component was jutting out, held in place by a thin strip of soft wood and very, very vulnerable to breakage.
To restore the original appearance of the join and to stabilize the deterioration observed. The glue had to be softened with a poultice of cotton soaked with acetone. I then meticulously cleaned the surfaces of as much coating as possible, stabilizing large flakes and powdered wood as I went.
This was then reattached in the correct position, and a soft fill was inserted to support the join. The adhesive was left to dry overnight.
The result was a more accurate representation of the original– and beautiful!–construction scheme.