In just a few weeks I will be turning 22 years old. That's a long time for a green iguana. According to the internet, that makes me over 130 years old in human years, which is just WOW.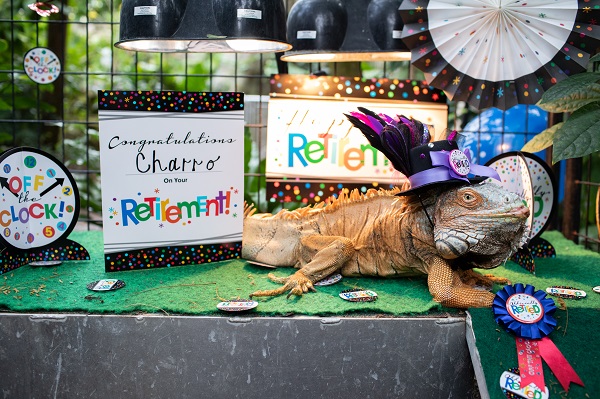 I have spent the better part of life as the "spokesiguana" for the museum and it's coming time for me to hang it up and make room for a new spokesiguana. Soon you will all meet Nacho, who is full of spry and youthful energy. He's a younger green iguana and much more energetic than I am. The staff is still ironing out how he will be interacting with everyone, so stay tuned. I hope he likes wearing funny outfits.
As a part of the HMNS family, it's been my distinct pleasure to watch so many of our patrons grow up. From my habitat inside the Cockrell Butterfly Center I have seen some of you on field trips, first awkward dates, and even later visiting with your own families. I have seen so many marriage proposals, engagement photoshoots, you name it. No one ever sent me a wedding invite! It makes me feel warm inside — yes, iguanas can get in their feelings — to know that I have been a big part of the museum experience. I might have even motivated you to want to pursue a career taking care of animals. Or maybe I just motivated you to sleep on under a warm lamp. Both is fine, LOL.
I am going to start living behind the scenes, but I am sure you will still be able to see me here and there. Maybe I will come around and sign autographs, as long as you promise not to sell them on eBay.
I love HOU all.