Museums collect objects from around the world that allow us to contribute to education and scientific research. Here at the Houston Museum of Natural Science these objects take a variety of forms and you can easily see the range of our collections as you walk through our halls. While many of the objects on display are some of its finest iterations, displayed objects are just a very small percentage of what we actually own and care for.
In 2017, HMNS was fortunate to acquire a collection of mollusks, sea stars, urchins and crabs from the Philippines. This collection contains over 34,000 specimens of land, freshwater and marine species. During this period of the museum being closed, the Curatorial and Collections staff that cares for these objects, like many of you, are working from our home offices. Here we continue working with the museum's collections with a bit of distance between us and our seashells.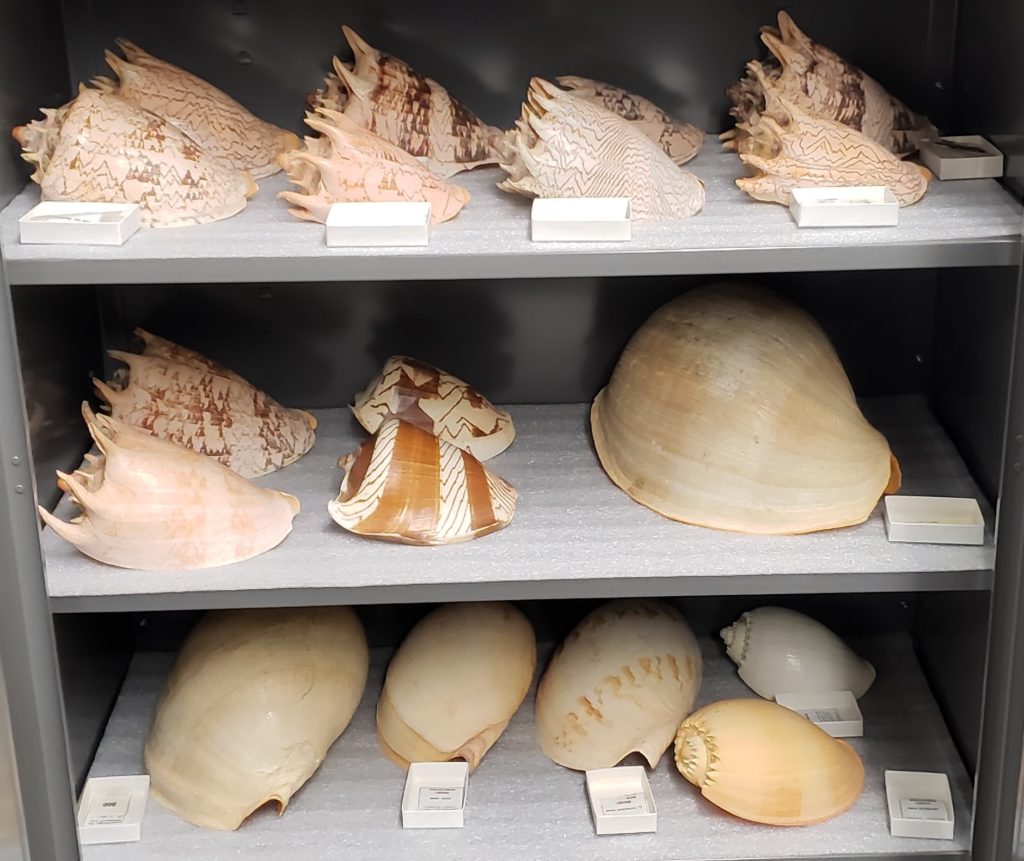 You may be wondering how we can care for physical objects while not in their presence. When museums first started keeping objects, the records were often kept in hand written catalogs. These catalogs contained all of the information known about the object when it was received.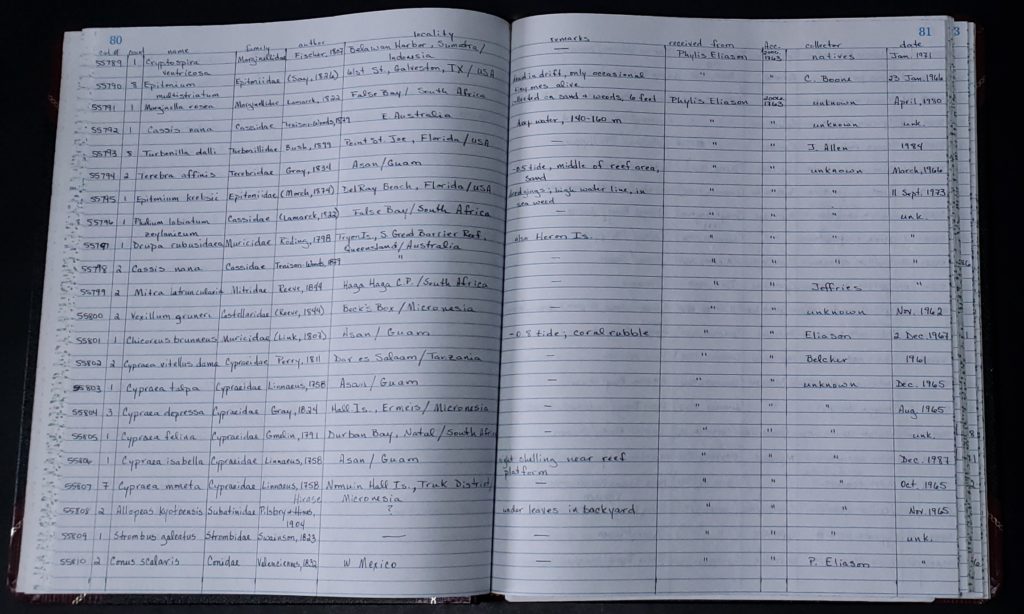 While we still continue that tradition here at HMNS, we have also moved to what we call a digital Collections Management System. Our database, called EMu allows us to work inside the collection, pull information and do research on our objects, all from the safety and ease of our homes. During this time I have spent my days working on adding our collection of Philippine molluscs to our database.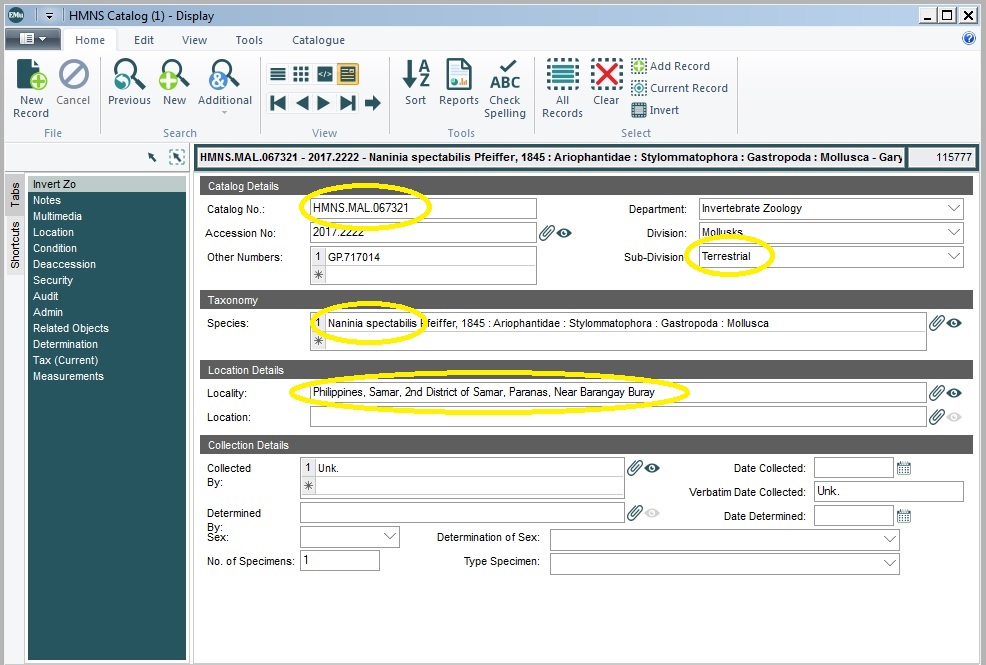 From inside EMu you can see this specimen's unique catalog number, that it's a land snail, the species name and where it was collected. Other bits of information that can come in handy are size, gender, who collected it and when. Add all of that information, plus an image of the specimen, and you have an extremely useful tool.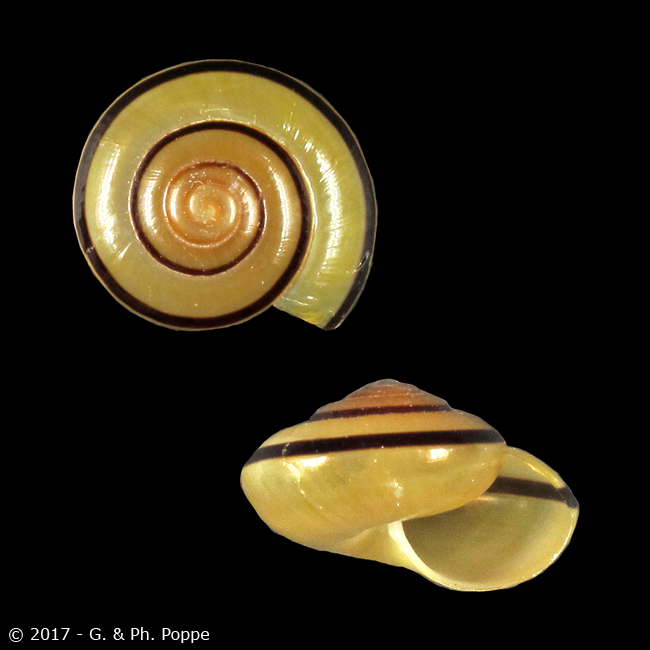 Adding this image and 34,000+ like it to each specimen's records provides an invaluable tool for us to use. This software gives us the ability to pull specimens for exhibit, share precise information with researchers, and manage the collection without having to physically move through each cabinet.
While the museum may be temporarily closed, everyday the HMNS Collections Department continues to work hard to preserve the scientific knowledge of the collections that we have been entrusted to care for.
Your contribution matters today more than ever, as we strive to ensure that the museum is ready and able to welcome you back. Please GIVE TODAY to help support our mission of science education.