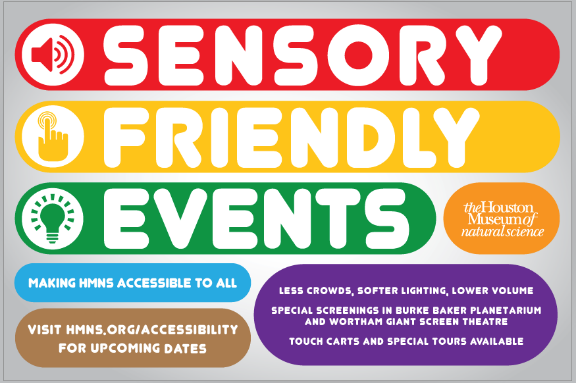 It's been a while since we wrote our first blog post about Accessibility initiatives at HMNS, and we've come a loooong way since then! Since March of 2016 when we launched our resources for families of children and adults with sensory sensitivities and autism spectrum disorders, the Committee for Advancing Museum Accessibility has worked towards expanding existing resources and creating new resources and programming to serve different communities with disabilities and special needs.
The Committee for Advancing Museum Accessibility's mission is to provide exhibits, collections, amenities and programs that are accessible and inclusive to the greatest and most diverse audience possible, and we're really proud to offer all these options at HMNS. We're excited to work towards becoming more inclusive and accessible for YOU, our wonderful patrons who continue to visit and love HMNS as much as we do!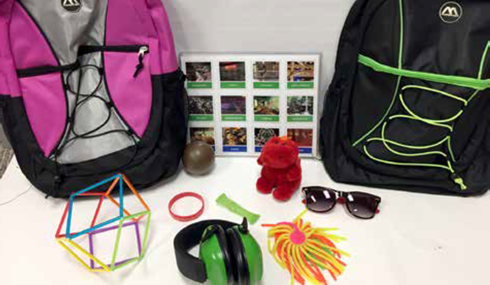 In talking about our journey towards becoming more accessible, I would be remiss if I didn't mention a HUGE contributing factor in creating these resources for the community to utilize…. THE COMMUNITY! We certainly would not have the wonderful resources listed above without the help and support of local parents, advocates, organizations, scouts, local government, and neighboring cultural institutions who've assisted us. This community connects us with a network of experts ready to evaluate our programming on honest terms and this relationship is crucial to our team at HMNS.
Lisa Graham-Garza, HMNS supporter and parent of a child with autism, shared her thoughts on the Sensory Friendly programming here at the museum. "Many programs have demonstrated a tendency to do the bare minimum in order to pull in all audiences; the HMNS Accessibility programming team is different. Its efforts in researching and executing the ways in which HMNS can become a safe and fun place for those with special needs have been extraordinary. Because of HMNS' dedicated and hardworking team and the program it created, many people in the special needs community are able to learn and enjoy all that the Houston Museum of Natural Science offers." Lisa, who is also the founder of a non-profit organization, Austism Rescue Angels, is just one of many allies of the program worthy of thanking. From Alex Hightower, an Eagle Scout who's project was to complete and donate our Sensory Friendly Backpacks and who now works at HMNS and to Arun Gaalla, a member of the blind community who approached us and asked for HMNS to offer Touch Tours and then helped us do it.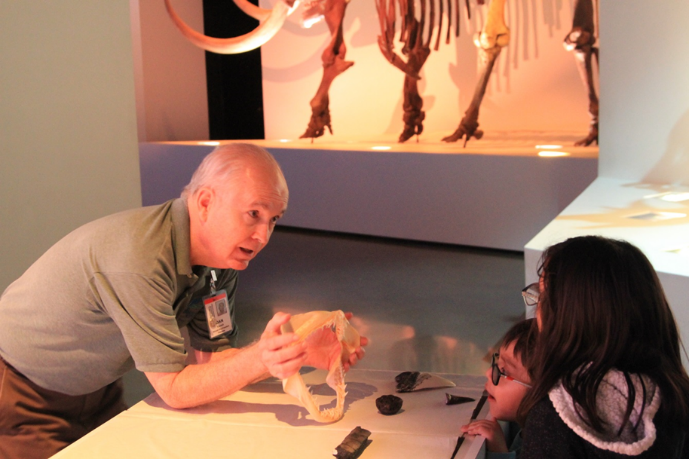 We've accomplished a lot, and we're proud to say that HMNS now offers:
Sensory Guide, Visual Vocabulary Cards, and Exploration Planner
"Access HMNS" app – digital form of the items listed above!
Sensory Backpacks at HMNS Hermann Park and HMNS Sugar Land
Sensory Friendly Events three times annually
Large print labels for the Morian Paleontology Hall
Touch Tours with the blind community offered every other month
Tactile station in the newly renovated Strake Hall of Malacology
Assistive Listening Devices available for tours and lectures
ASL interpretation, upon request
Closed captioning devices in the newly renovated Wortham Giant Screen Theater, upon request
Printed transcripts of Planetarium shows, upon request
Full time Accessibility Programs Manager on staff
Specialized training for customer-facing staff
Language identifier buttons for guests to identify staff who speak multiple languages
Adult changing tables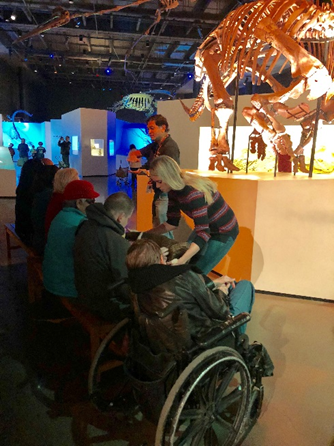 Our very first Accessibility Holiday Party is this coming Monday, December 2! This sensory-neutral and tactile event is designed to serve the needs of families and individuals with disabilities and special needs. This after-hours event will feature interactive activity stations, sensory-friendly and holiday themed Burke Baker Planetarium shows and access to the Cockrell Butterfly Center. Purchase tickets here.
We are certainly proud of what we've accomplished, but we know there is still a long way to go. As our community, please know that we welcome conversations and advice about accessibility from YOU! So much of what we currently offer has been a result of an expressed need from a community member. Please feel free to reach out to us through the contact information listed on our website for any other Accessibility needs. We want to serve you best and continue to grow our program in a meaningful way, and what better way to do this than to continue our dialogue.