Hi, everyone. Karl here! I'm the resident raptor at the Museum. You've probably seen me hanging out by the elevators outside the Education Office. I mostly spend my time there unless someone takes me on an adventure around the Museum. Sometimes I get to go to conferences to tell people about all the amazing things we have at HMNS! People seem to gravitate towards my toothy grin, so I'm a great Museum spokesraptor.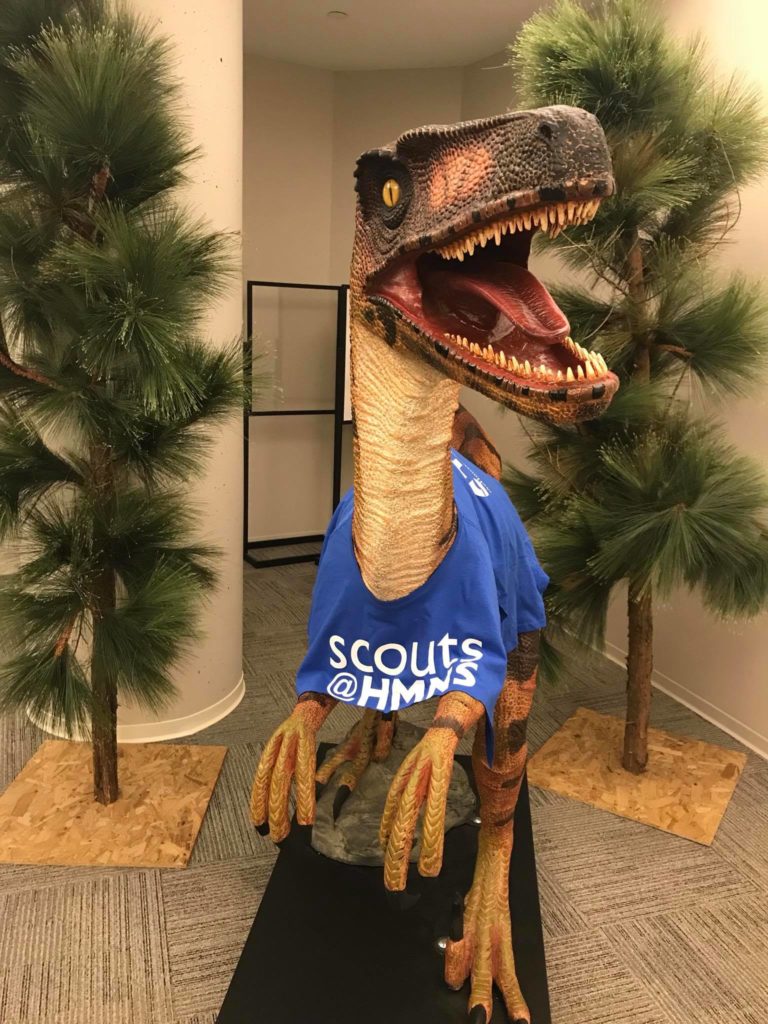 Since I spend most of my time at the Museum on the Lower Level, I get to see our educational programs and hear a lot about all the amazing things people learn at the Museum. And I've got to make a confession. I really want to be a Scout. I have a lot of friends who are scouts, as you can see in the pictures below, and I always hear them talking about all their adventures at the Museum.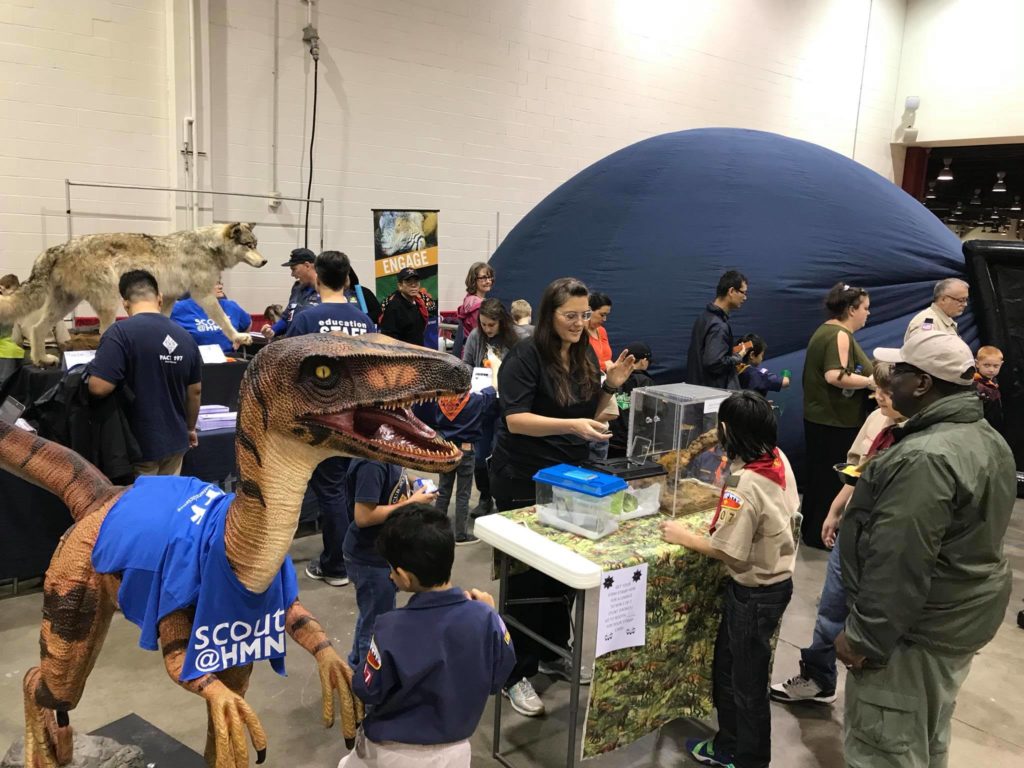 These scouts get to do the coolest stuff. What do they get to do, exactly? I mean, just listen to these adventures!
Scouts BSA in Be Prepared and Cadettes in Cadette Career Carousel actually get certified in Adult CPR/AED/First-Aid from the American Red Cross! They fulfill the requirements for their First Aid Merit Badge and First Aid Badge, while learning how to respond in emergency situations. They learn how to apply pressure bandages, administer CPR, use an AED, and more. I wonder if CPR is the same on a raptor as it is on a person…maybe they can teach me. (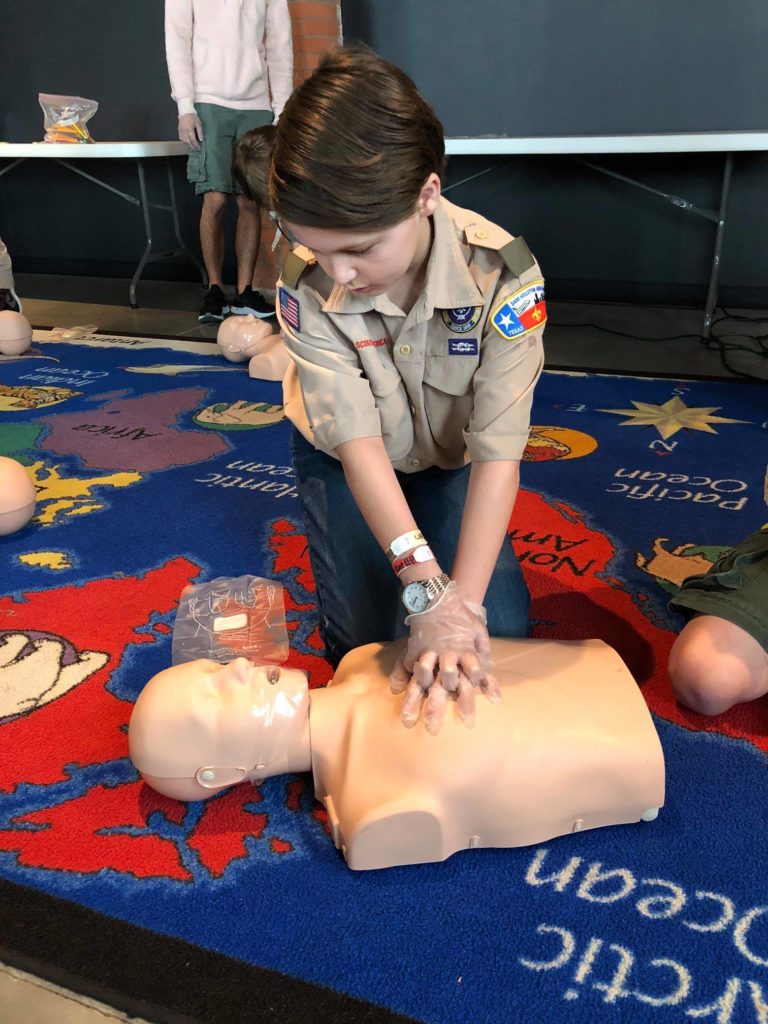 Scouts in the Be Prepared class also get to visit a local fire station. They talk to firefighters about their training and what it takes to save lives every day. They even get to see all the equipment firefighters have to use to control fires and protect people. Scouts also learn what they can do in case of a fire and how they can help firefighters do their job. Sign me up for crowd control! (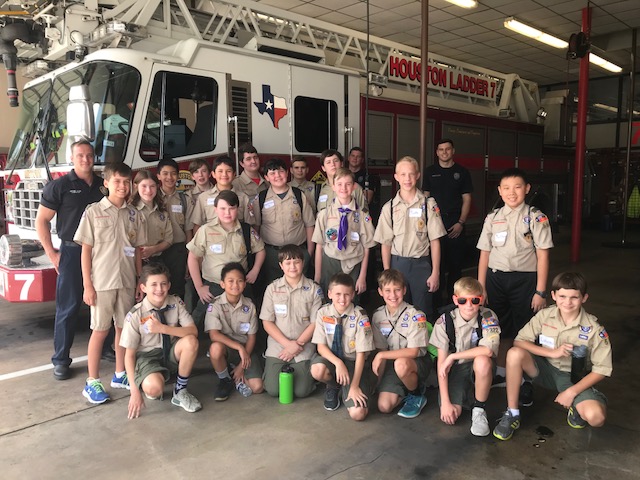 Wolves in Wolf Tracks get to talk to police officers from the Houston Police Department and see the inside of their police car or their motorcycle. They also get sworn in as junior police assistants! Scouts in one of our classes even got to meet police dog, Roki, and ask his partner questions about how Roki learns how to help police officers. Roki also showed off his tracking skills. Maybe the Houston Police Department will start a raptor program. I'm a pretty good tracker, too, you know.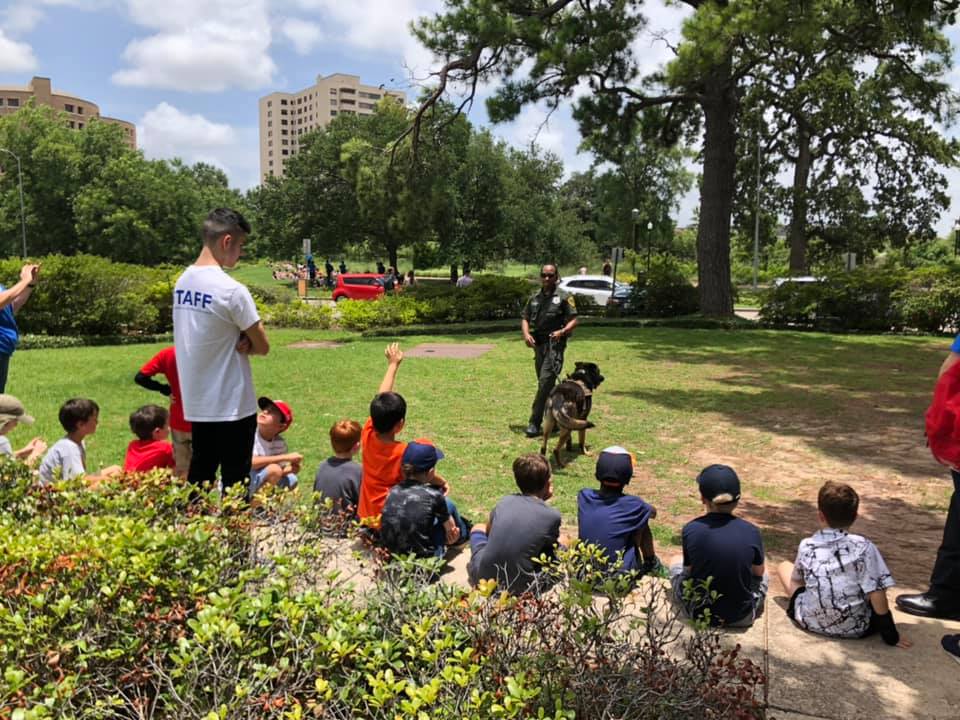 Cadettes in Cadette Coder create their own game, so they get to design the look of the game along with the rules and instructions! After they work on their design, they teach their game to scouts in the Bionic Brownies class. The girls get a chance to play each game as they fine-tune their game design skills! I wonder if they would like a raptor play. It might be hard for me to pick up the pieces though.
Okay, this one is my favorite. Wayfaring Webelos go behind the scenes of our Paleo Prep Lab in the Morian Hall of Paleontology. They get to see how actual fossils are prepared and all the hard work that goes into getting fossils ready to go on display. They also learn about how we use technology, like our 3D printer, to understand the world as it was millions of years ago as part of their Tech Talk STEM Nova Award. I mean, where else can you do that?! I may be a little biased on this one, because visiting the Paleo Prep Lab means they also get to see all of my dino friends upstairs. I'm pretty jealous. (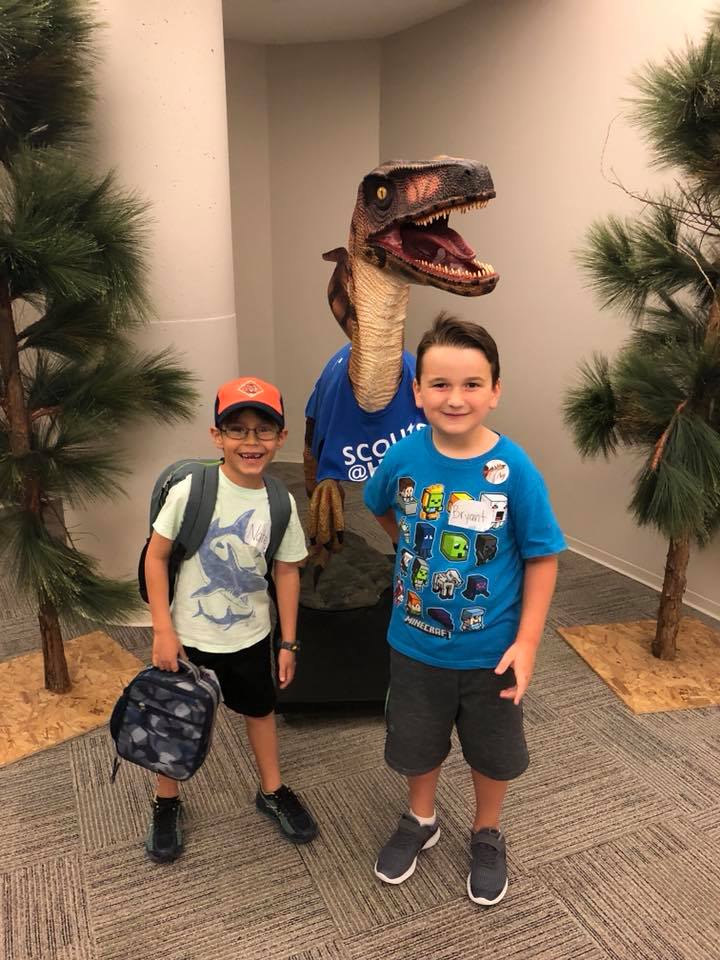 I could go on and on about all the amazing adventures our Scouts get to take, but you should just come see for yourself! Oh, and you don't need to be a Scout to take these classes! I'm hoping they let raptors in…So, what are you waiting for? Sign up for Summer Scouts@HMNS today! Be sure to follow our Scout Programs at the Houston Museum of Natural Science Facebook page https://www.facebook.com/ScoutsHMNS/ to get the latest information on what we're offering for our scouts. And make sure you stop by the Lower Level to see me the next time you're here!