It takes much more than a village to successfully operate an organization like HMNS.
The Houston Museum of Natural Science is one of the most visited museums in the country, but the experiences of each patron would not be the same without the hard work and dedication of the more than 1,000 active volunteers helping HMNS every day achieve its educational mission. From leading tours for field trip groups to assisting in the excavation of fossils and everything in between, the museum's volunteer guild is integral to the continued success of HMNS, and we really appreciate everything that our volunteers do.
I started as a volunteer in the Moran Ecoteen Program in 2007 and would not be here without the guidance and support of several volunteers. I will forever be indebted to the museum's volunteers for helping me find a fantastic career among my passion for science; saying thank you is the least I can do.
Several more staff members wanted to show their appreciation by sharing some specific short stories of times volunteers really came through for them. All of us at HMNS are thankful for everything you do!
Daniel Burch, Adult Education Program Manager
I've had the pleasure to work with Inda Immaga for over a decade. Inda is able to explain any concept to academics or to children. She can talk about the facets and formation of any mineral and help a child make a triceratops mask. Most importantly she brings passion and enthusiasm. I may not know the first thing about Tourmaline, but if someone who is passionate takes time to show me how cool it is, it will be something I remember.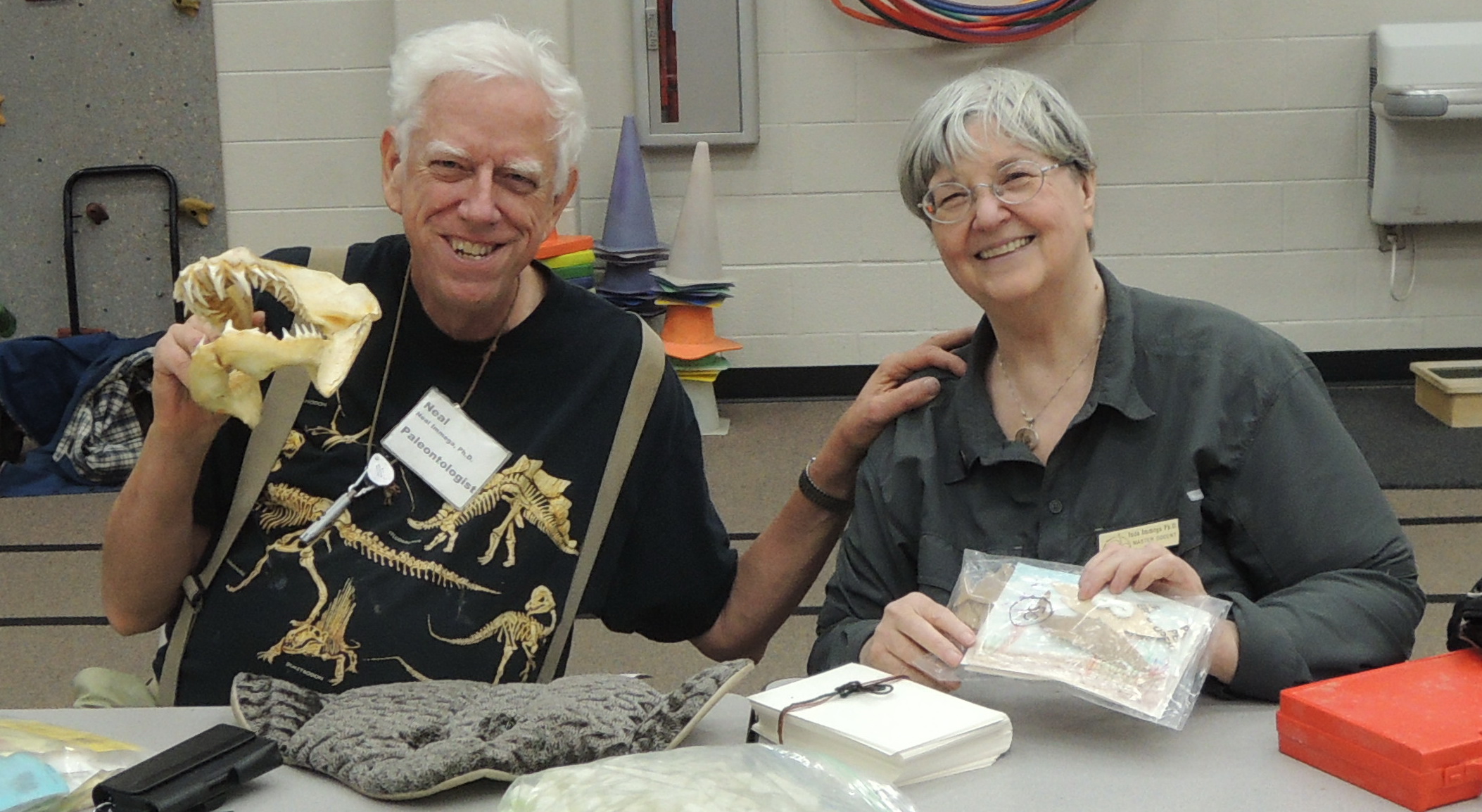 Inda Immaga and her husband, Neil
Jill Moffitt is the leader of the Rock Stars, or the volunteers in Faberge that demonstrate gem carving, faceting, and other gem crafting techniques. It's exciting to be around someone who can pull a gem out of their pocket and shape it into something new right in front of you. And she's passionate about sharing her knowledge, which gets people even more excited to engage with her.
Olivia Close, Outreach Presenter
I'm always impressed by how available and eager our volunteers are to welcome visitors. I've personally experienced this at the Cockrell Butterfly Center especially, where the volunteers are so friendly and ready to give visitors an opportunity to learn about amazing creatures or exotic plants. Every time I get the chance to talk with them, they are happy to be there and to share what they know; they make everything the museum offers personal and exciting! Thank you for all you do and for helping to bring our mission of education to life!
Michelle Connor, Scout Programs Manager
Donating your body to Science, gives a person many images to think about. Here at The Houston Museum of Natural Science, over 600 volunteers donate 55,000 hours to educating the public. Docents work in the greenhouses, give tours, work touch carts and work behind the scenes. Many are retired geologists, doctors and teachers, among many other professionals.
After walking around the exhibits, docents bring the halls to life. A docent will open up a touch cart and ask; "Have you ever felt a beaver pelt? Seen how large a triceratops horn is? Do you know how to be a T. rex?"
Through it all, the volunteers continue to excel and make the Houston Museum of Natural Science a special place for everyone who walks through the front door. Thank you for all you do!
Kelsey Friedemann, Special Events Program Manager
A few years ago when I was covering overnights, we had a group coming from Louisiana who wanted after hours tours of a special exhibit. Well, this group was running late, and I had to ask some of our volunteers to stay even later. They were extremely understanding, and stayed at least 45 minutes beyond what we'd asked. In the end, we realized that the group wouldn't make it in time for tours that evening, and our volunteer staff was very helpful in rescheduling their tours for the following morning. We have a great group of patient and knowledgeable volunteers, and they helped me in a bind to make this experience great for our patrons.
Kaylee Gund, Project Manager/Data Analyst
Looking out over the Hall of Paleontology from the Morian Overlook is one of the most memorable views at HMNS. With just one panoramic snapshot from this spot, visitors capture a record of millions of years of life, but the real magic comes from seeing the expression on a young visitor's face when encountering a coprolite at a touch cart or learning just how long Dipsy ( our Diplodocus) really is, thanks to the amazing efforts of our volunteers.
Matti Hammett, Youth Education Registrar
The Volunteer Department is comprised of some of the most selfless and helpful individuals! HMNS could not run without them. Two volunteers that can always brighten my day are Janell Nelson and Bonnie Alverson. I had the pleasure of meeting Bonnie during our Xplorations Summer Camp programs. She took me "behind the scenes" of the museum and was influential in inspiring me to apply to work at HMNS! Janell has been such a great help in teaching HMNS labs – she is always willing to help in any way she can, and the treats, smiles, and travel stories that she brings me are a plus!
Kathleen Havens, Director of Curriculum and Content
What would we do without our volunteers? Especially uniquely talented ones like Janell Nelson. Janell has worked with Youth Education on many projects and has been able to contribute her many talents toward enriching the lives of our students, campers, and scouts. From teaching photography in the summer to helping 5th graders from Galena Park ISD understand energy in a hands-on way, she really does it all! Hats off to a superb volunteer!
Shannon Jeffcoat, Director of Membership
Membership events would not be the same without the creative crafting of Inda Immega. Over the years, Inda has been the volunteer who has worked tirelessly to create a wide variety of imaginative children's crafts for all of the Museum's membership events, including members' exhibition openings, World Trekkers children's events and 2nd Saturdays. Most recently, her comprehensive knowledge of gems and geology was a big hit during docent Q&A at our event for HMNS' young professionals group, HMNS Catalysts. Her comprehensive knowledge of the museum and its exhibitions is always impressive, and everyone in the Membership department greatly appreciates all of her hard work to make our events an educational and fun experience.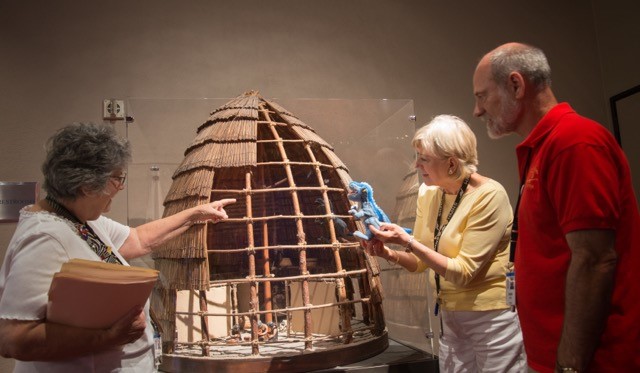 Allison Kellogg, Manager of Business Development & Budget
As a member of the Xplorations Summer camp staff from 2003 to 2014 I have had the opportunity to watch our campers grow into Ecoteens and then teaching assistants and even full-time staff over the years. I am constantly blown away by the talent and creativity that is exhibited by this core of young philanthropists in our Moran Ecoteen program from elaborate scavenger hunts, songs written to honor very stinky flowers, volumes of T. rex skulls traced on giant butcher paper and buckets upon giant buckets of fossil filled dirt washed! We absolutely could not provide the high quality of programming our campers expect without the help and enthusiasm of the Moran Ecoteens. Thank you!
Carolyn Leap, Science On Stage Coordinator
The volunteers who do chemistry demonstrations for Museum visitors are a committed bunch. Many of our long-timers come every single week to make science accessible and fun. Demonstrators help everyone feel that chemistry is for them – girls and boys, adults who were intimidated by chemistry class once upon a time, retired chemical engineers, and everyone in between.
One of several long-term chemist volunteers, Tom Szlucha invents and brings additional visual aids to help visitors understand concepts, and welcomes other demonstrators to use them too. There are bubble frames to see how soap films act, a just-the-right-size pressure demonstration he made from wood blocks and thumb tacks, and if you want to see what Duplo blocks and Silly Putty have to do with chemistry, you'll just have to come check out one of his demonstrations!
Erin Mills, Director of Cockrell Butterfly Center
Our Cockrell Butterfly Center volunteers are a special group of people! Where else would you find people who are open to cleaning the roach dome, watering hundreds of plants, cuddling with reptiles, and getting their hands dirty in the garden. They do everything from feeding and caring for all of our living things, to helping us pull off major events like our annual plant sale. We truly could not function without them. Even if their initial reaction to some things may be, "you want me to do what with those?!" they always come through with a smile and a terrific attitude, and for that, we are eternally grateful!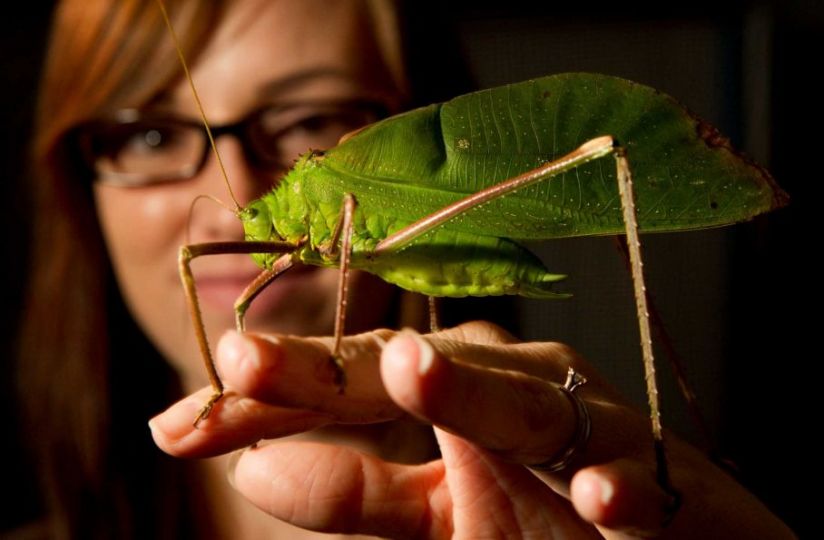 Amanda Norris, Director of Youth Education Sales
To say I love our volunteers is an understatement. Our HMNS volunteers take their tours seriously and start researching, or as they call it "plotting and planning," as soon as possible. They have happily shared their research with me and the team of Youth Education Sales Marketing Coordinators so that we could entice schools to come on a field trip and learn all the cool things. We have had teachers tell us that they would never again go through an exhibit on their own since having a volunteer guide them and their students through the exhibits makes their experiences so much more meaningful.
Greta Rimpo, Outreach Coordinator
What would we do without our incredible volunteers! I have witnessed countless students and patrons be inspired by their amazing knowledge and have certainly experienced myself how their efforts touch others, through my work with the Docents To Go program. This intrepid bunch has traveled far and wide to bring a taste of HMNS to those who may never visit our museum, from inner-city schools in Houston to rural locations over 100 miles away! Their motto has always been "We Can Do It!" whether it be presenting at a crawfish festival or crafting a custom presentation in Spanish for English language learners – they are incredible. Thank you from the bottom of our hearts to all of our volunteer docents, and especially to Bob Joyce and Rusty Hinote for their work over the years with this vital program!
Julia Russell, Overnight Program Manager
As the Overnight Programs Manager, I work with a lot of schools that make spending a night at HMNS a regular part of their schoolyear. Many of these groups also book docent tours to supplement their experiences. Docents are a wonderful resource to unlock the countless stories behind the objects in our collection. Teachers always tell me that docents can bring exhibits to life in a way their students have never experienced before. It enables them to connect to cultures and concepts beyond the textbooks and classrooms. We're fortunate at HMNS to have docents that bring a wealth of knowledge to our visitor's experiences and allow them to connect to their museum in a more engaging and memorable way.
Jayme Schlimper, Outreach Presenter
The daily activities and special events that we have here at HMNS wouldn't be possible without the help of our awesome volunteers! They donate their time, and work hard to make sure things run smoothly so that our patrons can enjoy all the things that we offer here at the museum. It's amazing to see how much time and energy these volunteers give to the guests here at the museum to make their experiences as exciting, engaging and informative as possible. Our docents, Ecoteens, and volunteers are always reliable and energetic! Thank you for everything you do!
Nicole Temple, Vice President of Youth Education
I have learned a great deal about the world while working at the Museum. One thing I know for sure: the volunteer guild at the Museum is comprised of thoughtful, creative, interesting people with a passion for learning and big enough hearts to take the time to give back to their community.
The Museum has several hundred active volunteers. Every single one of them is there because they want to be, because they see the good they can do in the world through the Museum. I am thankful for the time that each and every one of them gives to our beloved Museum!