Bust out your planners, calendars, and PDAs (if you are throwback like that), it's time to mark your calendars for the HMNS events of this week!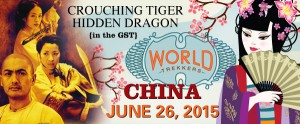 Film Screening – Queen Of The Sun: What Are The Bees Telling Us?
Tuesday, June 23
6:30 p.m.
This film takes us on a pilgrimage around the world, revealing ten thousand years of beekeeping and highlighting how our historic and symbiotic relationship with honey bees has been compromised due to modern mechanized industrial practices. Queen of the Sun unveils the fascinating world of the honey bee colony and examines the current global bee crisis through the eyes of beekeepers, scientists and farmers, discussing both the problems facing these all-important pollinators and suggesting possible ways to bring them back into a balance with nature. Join Dr. Nancy Greig, Director of our Cockrell Butterfly Center, for this one-night-only screening. Come early to learn about beekeeping activities and meet the HMNS beekeepers.
World Trekkers – China
Friday, June 26
6:30 p.m.
You don't need a plane ticket to trek the globe; just come to HMNS! Our World Trekkers is a series of cultural festivals for the whole family, featuring crafts, native cuisine and entertainment inspired by each featured country. Passports will be available to track each attendee's travels, which will be stamped each visit to verify their cultural comprehension.
Take Two: Crouching Tiger, Hidden Dragon
Friday, June 26
7:00 p.m.
A young woman in ancient China longs for an adventurous life rather than an arranged marriage. Academy Award® Best Foreign Film English Version .