Hey, Houston! Mixers & Elixirs is back for its 2022 Summer Series. The tradition brings back many of the familiar attractions back to the halls of the Houston Museum of Natural Science but there are a few new tidbits guests may want to keep in mind when planning to attend and actively enjoying the event.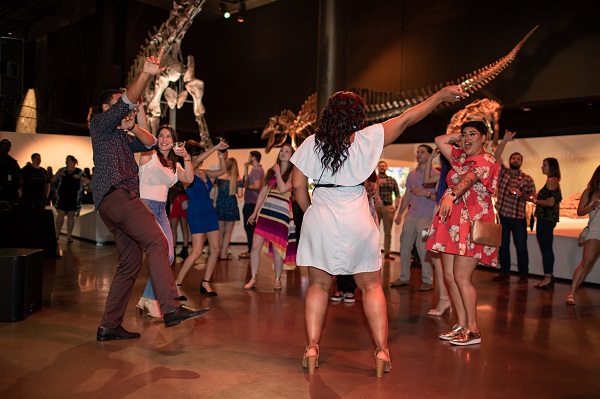 Skip the Lines
HMNS Members are given perks all-year round and Mixers & Elixirs is no exception, but this may be a great time to upgrade and take advantage of our newest benefits. This year, all Supporting Level Memberships (Discoverer and Benefactor) are receiving four free vouchers to the Mixers & Elixirs Summer Series.
Our Supporting Level Members will have a special, designated line for them at the Box Office where they can have their vouchers printed, and skip the general ticket line. You can redeem all 4 vouchers in one go or space out your redemptions to cover multiple Mixers & Elixirs. If you redeem all your vouchers and need more tickets, you can purchase them at the member rate online, over the phone, or in-person at the Box Office.
As a Supporting Member, if you would like to skip the Box Office line entirely, just email Membership@hmns.org with your full name, address, number of vouchers needed for the upcoming Mixers & Elixirs, and member ID (If you have it). On the morning of the Mixer, the Membership department will send back an email with a Will Call number that can be entered into one of our Ticket Kiosks. Print your tickets, and you're ready to party!

Mixing up Mixers
Out with the themes and in with some surprises. Our only themed party will be saved for Halloween, so leave the details to us. Each of our summer events will come with special ways of standing out, but you won't always know how until you get there.
Keep your eyes peeled for a few things. Food and drink will be a surprise. Each Mixer will feature a signature specialty drink. Pair these up with a variation of food trucks parked right outside. Entertainment will be different for each of the dates, as well. Be it a local band or DJ, the tunes will never grow stale.
As always, you can enjoy two floors of the museum permanent exhibit halls with friends, good tunes and drink in hand. Gaze at the beauties of the Cullen Hall of Gems and Minerals, pose for selfies with the creatures found in the Farish Hall of Texas Wildlife and challenge Stan to a dance-off in the middle of the Morian Hall of Paleontology.
It is sure to be a night to a remember. Cheers!
Purchase your Mixers & Elixirs tickets here.
Not a member? Look over a few HMNS membership benefits and join today!