Are you looking for a different way to decorate with pumpkins this year? I don't know about you, but I'm a little tired of cutting the same old triangle eyes and toothy smile. Why not try something new and turn your pumpkins into fall planters?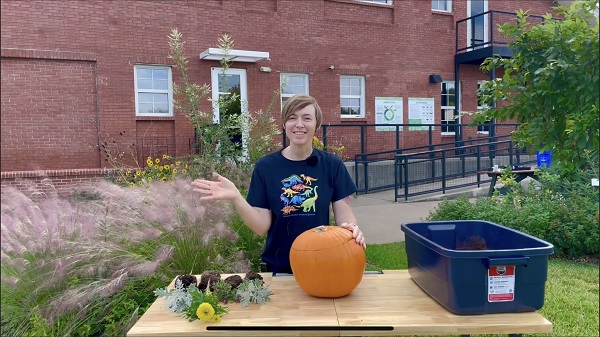 Pumpkins make awesome flower pots. Follow these simple steps to create a beautiful decoration for your porch, party décor, or centerpiece for the dining room table.
Pick your pumpkin, the bigger the better.
Just as if you were making a jack-o-lantern, cut off the top and scoop out the "guts" of the pumpkin. Make the hole in the top a bit bigger than usual so you can fit all of your plants inside.
Turn over your pumpkin and use a screwdriver to poke some holes in the bottom for drainage.
Now is a good time to add a face if you want, with non-toxic paint or markers.
Fill the pumpkin about halfway with soil.
Pull your plants out of their nursery pots and place them in the pumpkin. If you are planting multiple small plants, it's a good idea to break up the root ball a bit by gently agitating the soil. The loose soil will fall off, but be careful not to damage the roots.
Once your plants are in place, fill the rest of the pumpkin with soil and gently pack everything in.
Choose a great spot where you can enjoy your creation.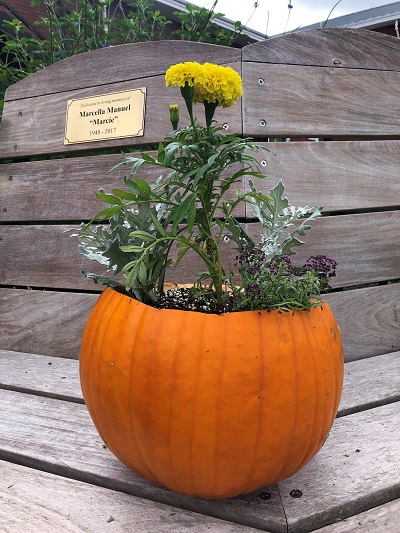 You can use pollinator plants, seasonal flowers, or even succulents! Use single, large plants for a statement or create an arrangement with smaller plants. The possibilities are endless! When your pumpkin is looking a little worse for wear (after about 2 weeks), you can remove the plants and put them into your garden or a bigger pot. Better yet, plant the whole thing, pumpkin and all in the garden. As the pumpkin decomposes, it will fertilize the soil and help the little plants grow.
Recently, Erin Mills took to the official Facebook page of HMNS at Sugar Land to demonstrate these easy steps listed above.
Now that you know the basics, have fun with it. Make it a great date night, family activity, or fun with friends.
Happy Halloween!
Looking for more at-home crafts? Take a look at some of our favorites.