I am an African American female sitting at home at my work desk in my black and red gaming chair. My hair is black, shoulder length and straight. Today I've decided to wear a black shirt with blue shorts because it can get pretty warm inside during these summer months. Alternative music blasts from my speakers as I write this.
Descriptions such as this are exactly how Donnie Welch opens his educational Youtube show Let's Write About.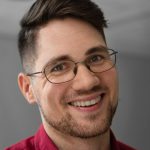 Donnie Welch of LET'S WRITE ABOUT
In each episode, Welch not only brings a new topic to light, but he does so in various ways that make all feel welcome. People who may not be able to see the program are assisted with the verbal description that Welch includes. Perhaps certain viewers cannot hear as well as others, so Welch takes time to introduce an American Sign Language (ASL) interpreter, Miriam.
It's an inviting atmosphere for all who are eager to learn the topic of the day. This particular episode is all about dinosaurs and the Houston Museum of Natural Science was happy to lend a hand. Accessibility Programming Manager Matti Hammett and Director of Youth Education Kelsey Friedemann make appearances giving descriptive explanations of specimens you would find on a tour of our Morian Hall of Paleontology.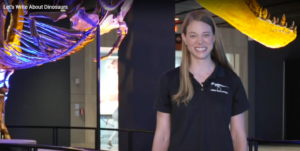 Matti Hammett, Accessibility Programs Manager
Here at HMNS, Matti and her Accessibility Team strive to make the museum an enjoyable experience for all who visit. Here's what Matti had to say about the project.
"It's always been my passion to make people feel welcome and create accessible environments for all. It was so wonderful to meet a like-minded person in Donnie Welch, when we both attended SXSWedu in Austin a few years back. We've been hoping for an exciting collaboration for quite some time, and it fell into place when Donnie wanted to create a "Let's Write About…" episode about dinosaurs while HMNS was planning for T. rex Week! As Accessibility Programs Manager, I love being able to connect with the community around HMNS, but it's also wonderful to be able to reach a community that may not be able to visit HMNS in person. This was a really fun project for Donnie and I to work on together, and I'm excited that viewers of Donnie's show will get to experience a little bit of what HMNS is all about – science and inclusion!" 

This collaboration between Welch and the museum is one of many we hold in high regard. We celebrate those who look to make this world more inclusive and encourage all to make a difference.
Stay tuned for more stories of inclusivity right here on Beyond Bones.
The Houston Museum of Natural Science is a Certified Autism Center™. Read more here.
See more of Donnie Welch's Youtube series Let's Write About on his Youtube channel.