Last week's featured #HMNSBlockParty creation is by Batton (age: 12):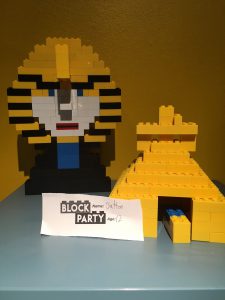 Want to get your engineering handwork featured? Drop by our Block Party interactive play area and try your own hand building a gravity-defying masterpiece. Tag your photos with #HMNSBlockParty.
Behind-the-Scenes Tour – Cockrell Butterfly Center
Tuesday, July 19
6 p.m.
On this special behind-the-scenes tour led by Butterfly Center staff. In addition to the Butterfly Center and Insect Zoo, you will visit the containment room and rooftop greenhouses-areas not open to the public-where staff cares for the Museum's caterpillars, butterflies, other insects, food plants for the butterflies, and the celebrity corpse flower Lois. Kids 5 and above welcome.
Behind-the-Scenes Tour – Solar Superstorms 
Tuesday, July 19
6 p.m.
Solar Superstorms is an incredibly beautiful close up of our Sun during a violent eruption and recreates the Carrington Event of September 1859 when a series of powerful CMEs (coronal mass ejections) hit Earth head-on with a potency not felt before or since. A similar storm today could have a catastrophic effect, exceeding $2 trillion or 20 times greater than the costs of a Hurricane Katrina in damage. These extreme solar storms pose a threat to our high-technology infrastructure, and analysts believe that a direct hit by an extreme CME could cause widespread power blackouts, disabling everything that plugs into a wall socket. Join Dr. Carolyn Sumners and HMNS Astronomy Staff for a special evening viewing of Solar Superstorms in the newly upgraded Tru 8K Burke Baker Planetarium, plus remarks by the scientists and Q&A.

Weird Science Event! A Summer Science Experience
HMNS at Sugar Land
Friday, July 22
6 p.m.
Raise your "Sci-Q" this summer at HMNS Sugar Land during Weird Science! A hands-on experience for creative, curious kids. Get your digits dirty making gobs of goop, feed the fish and other fauna – it's our biggest science night of the year!
Class – Planting Your Fall Vegetable Garden
Saturday, July 23
9:30 a.m.
One advantage of living in Houston is how easy it is to grow vegetables in the fall and winter seasons. In this course, instructors Dr. Jean Fefer and Dr. Bob Randall will teach you what, when and where to plant your vegetables; along with soil preparation, seed germination and transplanting.
Fall vegetables may include: lettuce, endive, radicchio, cress, kale, chard, cabbage, collards, bok choy, mustard, mizuna, arugula, kohlrabi, carrot, beet, rutabaga, potato, turnip, parsnip, radish, celeriac, broccoli, cauliflower, celery, snow peas, onions, multiplying onions, leeks, garlic, garlic chives, cilantro/coriander, sorrel, fennel, parsley, rosemary, sage, thyme, pea shoots and mint. Cosponsored by Urban Harvest.
Summer Cockrell Butterfly Center Events 
Summer Cockrell Butterfly Center events continue through Aug. 19.
Wing It | Tuesdays at 10:30 a.m.
Come fly away into the world of butterflies at the Cockrell Butterfly Center with Wing it! Introduce yourself to your favorite winged wonders and watch the release of hundreds of new butterflies into the rainforest.
Small Talk | Wednesdays at 11 a.m.
Join our Cockrell Butterfly Center team as they take their live collection of insects out "for a walk" during Small Talk. Our experts will entertain and educate with all types of insects and arachnids.
Friday Feeding Frenzy | Fridays at 9:30 a.m., 10:30 a.m. & 11:30 a.m.
Join us this morning in the Cockrell Butterfly Center for our Friday Feeding Frenzy! See science in action as snakes, spiders and centipedes enjoy a meal right in front of you!