Last week's featured #HMNSBlockParty creation is by Steven (age: 7):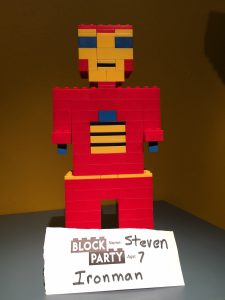 Want to get your engineering handwork featured? Drop by our Block Party interactive play area and try your own hand building a gravity-defying masterpiece. Tag your photos with #HMNSBlockParty.
Behind-the-Scenes Tour: Paleo – Earliest Life on Earth
Tuesday, July 12
6 p.m.
Because the Morian Hall of Paleontology is too large to tour in one evening, we are debuting a new series that will cover the hall section by section. Led by HMNS staff trainer, James Washington, each tour will include a hands-on fossil experience or short classroom presentation.
Journey back 3.5 billion years to the toxic ponds of Precambrian time, where life first appeared-slime mold now preserved as stromatolites. Then on to the glory days of the Cambrian explosion, 540 million years ago when trilobites sprouted horns and elaborate head-dresses. Moving to the Devonian, you will meet an exciting cast of characters. Ferocious fishes encased in thick armor were equipped with self-sharpening fangs strong enough to slice a school bus.
Life Science Under the Microscope
HMNS at Sugar Land
Thursday, July 14
10:30 a.m. to 12:30 p.m.
Explore Life Science at the microscope lab at HMNS at Sugar Land and look at cool stuff on a micro scale!  We'll feature a guided water comparison activity with a docent – see what's lurking under the surface! We'll have biological samples (like hair, fur and teeth), plus natural objects from our garden, and more to explore. Add in insect cross-section slides and then get up close with claws, teeth and pelts at our Wildlife station. Learn the ins and outs of the lab at our Microscope Discovery Events this summer. Ticket is included with general exhibit admission.
Summer Cockrell Butterfly Center Events 
Summer Cockrell Butterfly Center events continue through Aug. 19.
Wing It | Tuesdays at 10:30 a.m.
Come fly away into the world of butterflies at the Cockrell Butterfly Center with Wing it! Introduce yourself to your favorite winged wonders and watch the release of hundreds of new butterflies into the rainforest.
Small Talk | Wednesdays at 11 a.m.
Join our Cockrell Butterfly Center team as they take their live collection of insects out "for a walk" during Small Talk. Our experts will entertain and educate with all types of insects and arachnids.
Friday Feeding Frenzy | Fridays at 9:30 a.m., 10:30 a.m. & 11:30 a.m.
Join us this morning in the Cockrell Butterfly Center for our Friday Feeding Frenzy! See science in action as snakes, spiders and centipedes enjoy a meal right in front of you!