Last week's featured #HMNSBlockParty creation is by Jeff (age 28):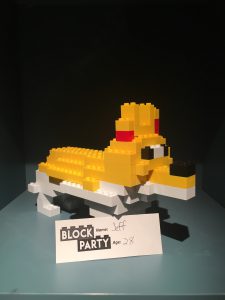 Want to get your engineering handwork featured? Drop by our Block Party interactive play area and try your own hand building a gravity-defying masterpiece. Tag your photos with #HMNSBlockParty.
Block Party, Too Now open at HMNS at Sugar Land
Enter the Block Party construction zone and engineer your own creations. Using colorful bricks you can use your imagination to create fantastical beasts, space stations and mini-mansions.
Lecture – The Global Coral Bleaching Event: Causes, Consequences and What You Can Do
Tuesday, June 7
6:30 p.m.
Massive die-offs are occurring on reefs around the world due to the ongoing global coral bleaching event. Join marine biologist Dr. Adrienne Correa to learn the science behind bleaching, how scientists are tracking and studying the event, and the role you can play in the future of coral reefs.
Class – Water-Wise Gardening
Wednesday, June 8
10 a.m.
A garden that conserves precious water resources is a rewarding investment. An irrigation system is a practical choice for most garden locations. This class will teach design, installation and maintenance of drip and micro-spray systems. Be able to take a summer vacation without losing your landscape and vegetable garden investments to drought. Grow a beautiful summer garden while protecting the watershed and reduce waste of one of our most important natural resources.
Take Two: Raiders of the Lost Ark (1981)
Friday, June 10
7:15 p.m.
Archaeologist and adventurer Indiana Jones is hired by the US government to find the Ark of the Covenant before the Nazis.
Block Party Late Night
Sunday, June 12
7 p.m.
Come let your imagination run wild at our Block Party Pajama Party! Families with children ages 2-6 are invited to visit HMNS after-hours at this special late night event. Come dressed in your PJs and let your child turn their mind's creations into reality in our Block Party interactive play area. They can build soaring skyscrapers or crazy creatures. You'll also get the chance to see dazzling chemistry demonstrations and enjoy tasty treats. Space is limited, so get your tickets now!