Bust out your planners, calendars, and PDAs (if you are throwback like that), it's time to mark your calendars for the HMNS events of this week!
Last week's featured #HMNSBlockParty creation is by Jasmine.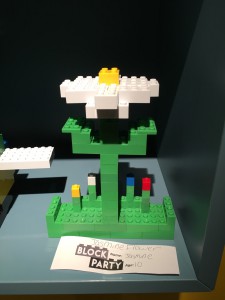 Want to get your engineering handwork featured? Drop by our brand-new Block Party interactive play area and try your own hand building a gravity-defying masterpiece. Tag your photos with #HMNSBlockParty.
Extended Hours at HMNS Hermann Park on Martin Luther King Day (Monday, Jan. 18): 9:00 a.m. to 6:00 p.m. 
Behind-the-Scenes Tour – La Virgen de Guadalupe
Tuesday, Jan. 19
6:00 p.m.
Going back to the 8th century in a struggle between Muslim and Spanish naval forces and on to the appearance in the Aztec capital in the 15th century, Virgin of Guadalupe was adopted as a symbol in Europe and the New World during times of friction. Through the artwork and artifacts on display, your guide will trace the increasing role the Virgin of Guadalupe played in society.
Behind-the-Scenes Tour – Out of the Amazon
Tuesday, Jan. 19
6:00 p.m.
HMNS has an unparalleled Amazonia collection which is made up of rare artifacts from thirteen tribes. Priceless pieces of the collection-ceremonial objects, masks, body costumes, headdresses and more-are on display in the special exhibition Out of the Amazon. Tour this temporary exhibition with HMNS master docents who share stories of everyday life among rapidly disappearing indigenous groups.
Class – Growing Fruit Trees in a Small Space
Wednesday, Jan. 20
10:00 a.m.
Homeowners with the smallest urban lots can grow fruitful gardens of increased variety and beauty. Instructor Angela Chandler will teach the techniques known as high density orchard, which enables the urban gardener to quadruple the variety of fruit they can grow without buying a single square foot of land. Maintenance is made easier by employing simple changes in the way home orchard management is approached. Practical and decorative techniques are will also be included. Fruits covered include stone and pome fruits, as well as tropical fruits, small bush fruits and berries.
Lecture – Terrorism, ISIS and Emerging Threats – Evolution of Terrorism Strategy by Brit Featherston
Wednesday, Jan. 20
6:30 p.m.
Most of the post 9/11 terrorism plots are foiled by the observant public and by an attentive local, state and federal police response. Hear how law enforcement tools have worked to protect us, and how enforcement techniques must evolve to meet the dynamic threats we will face.
Former police officer, Brit Featherston, J.D. is First Assistant US Attorney and Chief of National Security Division of the Eastern District of Texas US Attorney's Office. He works with local, state and national law enforcement officials, emergency first responders and officials, and others on protection of our homeland.