Bust out your planners, calendars, and PDAs (if you are throwback like that), it's time to mark your calendars for the HMNS events of this week!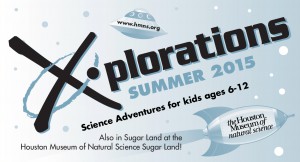 Xplorations Summer Science Adventures Begin Monday, June 1st 
Xplorations Summer Science Adventures are week-long, hands-on science summer camps featuring science activities for children ages 6 – 12. Camps are held Monday – Friday from 10 am – 3 pm. For an additional weekly fee, care is available before camp begins each day, from 8 – 10 am, and after camp ends, from 3 – 5:30 pm.

Lecture – Unmasked: Mysteries Of Ancient Shu Kingdom And Its Bronze Art By Liu Yang
Tuesday, June 2
6:30 p.m.
Human and semi-human bronze masks showing fantastic features with large eyes with projecting pupils, strongly curled nostrils and tight-lipped mouths are the most astonishing of the finds of a cache of ancient artifacts in Sanxingdui, China. Several are covered in gold. Did these bronze masked figures represent deities, ancestors, priests or shamans? What are the ritual practice and symbolism hidden behind the false faces? The little that is known about the people who resided in the ancient Shu kingdom is gleaned from the archaeological pits in Sanxingdui, only excavated in 1986. Leading authority on Sanxingdui culture, Dr. Liu Yang of the Minneapolis Institute of Arts will provide a fascinating look into the mysterious Sanxingdui culture and the masks of mystery
End Of School Year Celebration And Carnival!
HMNS at Sugar Land 
Thursday, June 4
12:00 p.m.
Looking for a fun way to celebrate the last day of school? We have the solution! Gather all your friends and join us for an exclusive special event featuring activities, crafts, bounce games, pizza and more. Come celebrate the end of school and the opening of our summer exhibit, Body Carnival, with an afternoon of fun. It's sure to be a unique way to end the school year and kick off the summer break! Tickets are $5 each.
Rocket Day At The George Expedition Center!
George Observatory
Saturday, June 6
10:00 a.m.
Bring your junior Rocket enthusiasts out for a day of rocket launches and a Expedition to the Moon! Boys and girls learn about rockets and how they work, build a water rocket and then launch it. After the launches, we blast into space aboard the S.S. Observer for a simulated spaceflight. Kids become astronauts and use teamwork and problem-solving to accomplish their Expedition. Fun for all! The Expedition Center will be open for children and adults to sign up to fly on a simulated space flight to the Moon. Usually only open to groups with reservations, for this special event, individuals can sign up to participate. The Expedition is most appropriate for ages 7 and up. Children ages 7-9 need an adult present. George Observatory telescope tickets will go on sale at 5 pm for $5 for regular public viewing after the Expeditions. Don't miss this special opportunity to participate in real astronaut training!