Heraldry is a unique identification system developed in the Middle Ages to aid in the identification of fully armored knights on the battle or tournament field. The roots of heraldry lay in the insignia, seals, and symbols used in ancient times for individual and/or national identification purposes.
Heraldic designs were applied to shields, tunics, horse blankets, and other items. These graphic designs functioned much like a team jersey by identifying individual players. A variety of emblems were used to adorn shields and many are the same as modern team mascots.
Colors (Tinctures)
These devices were bold in design, so as to be immediately recognizable at distance. Bright contrasting colors and bold graphics were employed for maximum visibility.
Two metals and five colors are used in heraldry.
Metals:

Or: Gold (yellow)
Argent: Silver (white)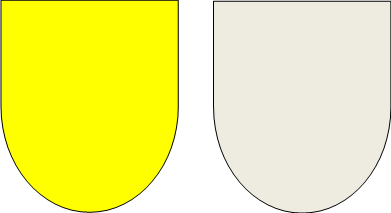 Colors:
Gules: Bright red
Azure: Royal blue
Vert: Emerald green
Sable: Black
Purpure: Royal purple (rarely used)

Field Divisions
The shield may be divided. Two common reasons for division are differentiating, to avoid conflict with a similar coat of arms, and marshalling, combining two or more designs into one.

 Charges
A charge is an emblem or device occupying the field of a shield. I only address emblems in this paper. Below are some common charges, but there are many more, each with a meaning.

(Click here for more examples of charges.)
Design Your Own Shield
In order to design your very own shield, you will need the following items:
Copy of the shield template
Markers
Pencil
Emblem design you want to use
Ruler
Questions to consider:
Do I want to separate the field?
What emblem(s) do I want to use?
How will I make the best use of color to create a contrasting design?
Use a pencil to sketch out your design. Putting a copy of your emblem under the shield template and carefully sketching against a sunny window allows you to trace your design onto the shield.
Use markers to apply color. White is used to represent silver and yellow is used for gold.