Editor's Note: As part of our annual GEMS (Girls Exploring Math and Science) program happening February 21 2015, we conduct interviews with women who have pursued careers in science, technology, engineering, or math. This week, we're featuring Erin Mills, Entomologist at the Cockrell Butterfly Center.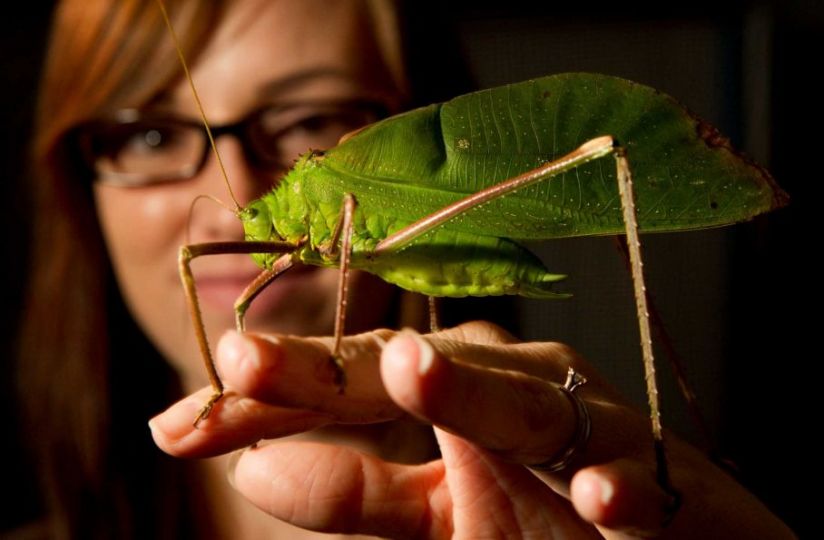 HMNS: How old were you when you first become interested in science/technology/engineering and/or math?
Mills: I've been interested in Science as long as I can remember, particularly Life Science. I was always fascinated with creatures big and small.
HMNS: Was there a specific person or event that inspired you when you were younger?
Mills: My 7th grade Science teacher Mrs. Pierce-Mcbroom was an awesome science teacher! Picture a female Bill Nye! She had lots of exotic pets that she would bring into the classroom and she was very fun! My mother was also a huge inspiration. Whereas most moms squeal and squirm at the sight or even thought of creepy crawly creatures, they didn't bother my mom one bit! She was fearless and encouraged me to explore the natural world and all of its residents. She was always very proud of me!
HMNS: What was your favorite science project when you were in school?
Mills: My mom helped me to make a mini tropical habitat. She helped me pick out plants that live in the tropics and in the end it looked beautiful! It was my first Science fair project and I got an A!
HMNS: What is your current job? How does this relate to science/technology/engineering/math?
Mills: As an Entomologist at the Cockrell Butterfly Center I get to work with some of the most amazing bugs from all around the world. Bugs are some of the most important organisms on the planet and my job involves a lot of educating people, young and old, about them and their importance to the ecosystem.
HMNS: What's the best part of your job?
Mills: Getting to work with the live insects and other arthropods
HMNS: What do you like to do in your spare time?
Mills: Anything outdoors: hiking, walking, running, and playing with my little boy and showing him the natural world.
HMNS: What advice would you give to girls interested in pursuing a STEM career?
Mills: Keep your mind open to the thousands of possibilities there are with one of these careers. Ask lots of questions and learn as much as you can, and don't be afraid or too shy to do what it takes to pursue whatever it is that interests you!
HMNS: Why do you think it's important for girls to have access to an event like GEMS?
Mills: I think mentors play a huge part in helping people be successful. This event can help connect girls with mentors and that can have a tremendously positive impact on their futures!
Know a girl who loves science? Click here to learn more about how you can get involved with GEMS!