Mesosaurus was an unusual reptile. It looked kind of like crocodiles do today, with a long, thin body, eyes located on top of the skull, webbed feet, and an average length of about 16 inches. It also lived kind of like many crocodiles do today, in freshwater environments. Possibly one of the weirdest things about mesosaurus is that it did all of these things during the Permian period, 320-280 million years ago. That's 130 million years before crocodiles (and dinosaurs as well) even existed!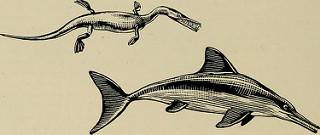 Mesosaurus, next to an Ichthyasaur of a much later age, photo courtesy in the Internet Archive Book Images
                In fact, Mesosaurus is was one of the earliest reptiles discovered to have made the transition back into a marine environment. The earliest reptiles appear in the fossil record around 340 million years ago, so it seems that after a mere 20 million years, this retile was done with terra firma. In fact, one of the mesosaurus skeletons that have been discovered is the earliest reptile found with amniote embryos fossilized with it, meaning these are one of the ealiest animals known to have laid hard-shelled eggs. So we're talking about the early history of reptiles here.
But speaking of reptiles, it should be pointed out that mesosaurus is not like most of the reptiles we see today. Ancient reptiles can be divided into different categories, based partly on the number of holes they have on either side of their skull. Snakes and lizards are diapsids, defined by two particular holes on either side of their skull, but mesosaurus was an anapsid, which means that it lacks these holes. Anapsids are very primitive reptiles, and in fact some scholars classify them as "parareptiles". The only species of anapsids living today are turtles and tortoises, who have a fascinating history of their own.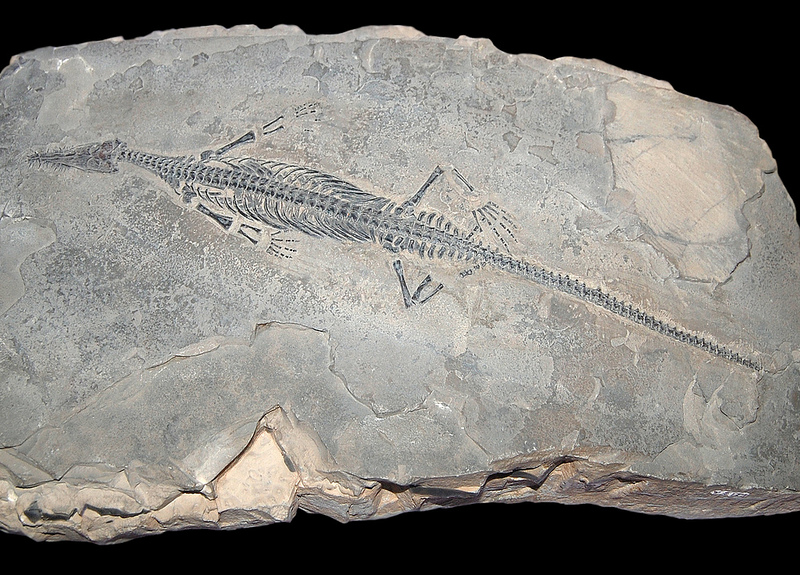 Mesocaurus in matrix, photo courtesy of Museo Civico di  Historico Naturale Milano
The most common type of large reptiles found in the Permian were synapsids, like the dimetrodon in the Permian section of our Hall of Paleontology, and the Edaphasaurus in the great mural featured in that hall. The only synapsids that exist today are, well, all mammals. That's right, that big, fin-backed lizard in our hall is more closely related to us than to a dinosaur. But of course he's still a distant relative, like an old uncle.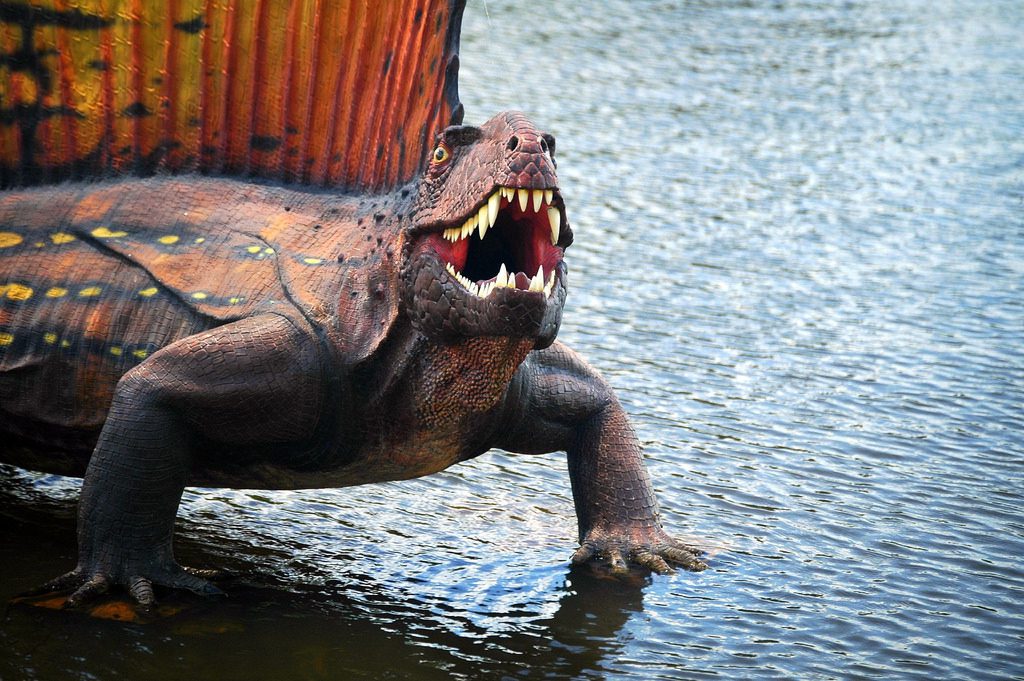 Recreation of a Dimetrodon, photo courtesy of Rick Hebenstreit
But back to Mesosaurus… There's another reason that this animal is notable, and that's the 7,772 mile journey some of its fossils made after their deposition! During the Permian, when mesosaurus was doing its thing, Pangea, the ancient Super Continent, was still forming. Pangea formed around 270 million years ago, ushering in the end of the Permian Period and the extinction of the great synapsids, and making way for the reign of the dinosaurs. It was actually the formation of Pangea and the resulting environmental changes (helped by volcanic activity and climate change) that caused this extinction, which was the worst extinction event in Earth's history.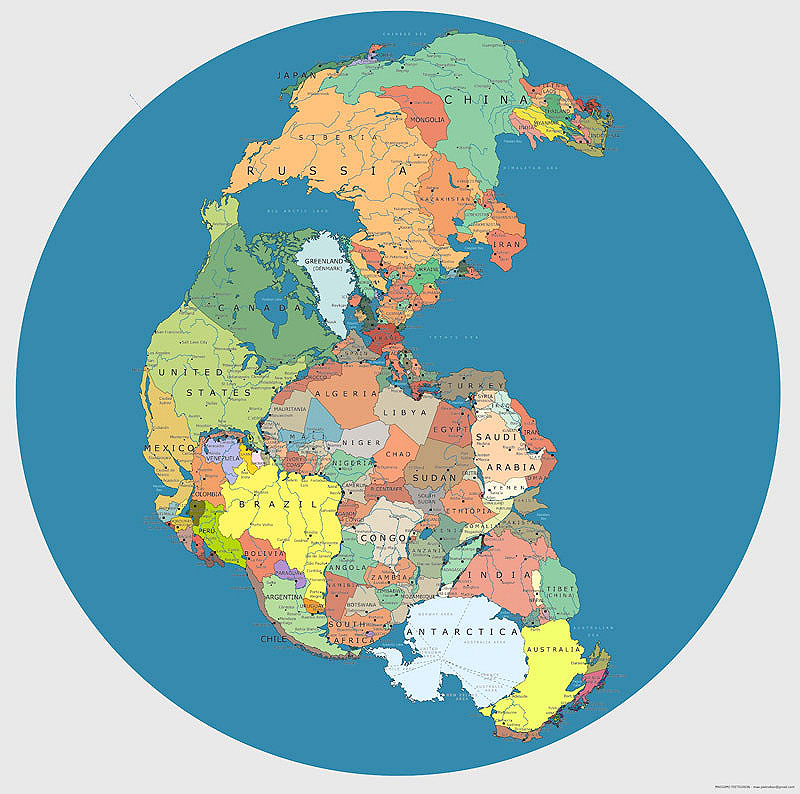 Photo Courtesy of David Smith
Around 200 million years ago, Pangea began to break apart. The continents that are now called Africa and South America separated, drifting away from each other and carrying the already fossilized bones of Mesosaurus with them. In the early 20th century, Continental Drift was a hotly debated topic, and it was the fossils of mesosaurus that helped to validate the theory. The remains of this fresh water-dwelling reptile, can be found in Eastern South America and Western Africa, separated be 7,000 miles of ocean. We are sure mesosaurus lived in fresh water, because the rock that its fossils have been discovered in specifically forms in that environment. So, either some of these little guys hopped a tramp steamer, or they were dragged with their respective continents. This, along with numerous other bits of evidence, like the mid-Atlantic Ridge, have helped to validate the theory of Continental Drift.