The George Observatory could not have survived without numerous amateur astronomers over the years! We want to thank our many volunteers who continue to generously share their time and talents so that visitors may see images from a variety of telescopes and enjoy the night sky.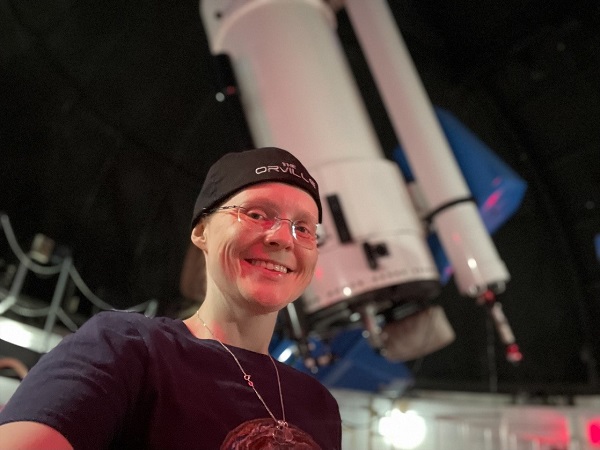 How and when did you get interested in astronomy?
Kayla: My interest in astronomy started back around age 12. I had a science teacher, Mr. Thomas Herrmann, who saw my love of Star Trek and challenged me to learn about NASA and space exploration. I recall that he even showed our class slides of constellations that he took himself. It made me want to learn more and get a telescope. I bugged my parents about getting a telescope and it came that Christmas. My love affair with astronomy began. I am very thankful that my dad spent the next 4 years willing to drive me to the monthly meetings of the Spokane Astronomical Society at the community college. While he would be napping in the back, I would be up front with wide eyes.
How did you start volunteering at the George?
Kayla: I began attending meetings of the Johnson Space Center Astronomical Society a few months after I moved to Houston and started my job at NASA. It was there that I learned about the George Observatory, as volunteers were needed for Astronomy Day 2016. That was my first visit and start of the amazing opportunities that I have had as a volunteer at the George.
What is your background and hobbies?
Kayla:Where to start? I have a lot of hobbies! Aside from astronomy of course, I enjoy anything Star Trek or Batman related, working on antique cars, quilting, playing ice hockey, watching Formula 1, going to operas, and let's not forget kitties!
My background has just as much variety as my hobbies. I am from a small town called Greenacres, Washington which is just outside of Spokane. I went to Belmont University in Nashville, TN to earn my BS in Engineering Physics with minors in Math and Public Relations. Then I earned my MS in Space Studies from the University of North Dakota, where I did my research on "The Organization of Mission Control during Manned Surface Exploration." After graduating, I ended up jobless and I lived in my grandma's upstairs for about 3 years until I FINALLY landed my dream job as a Flight Controller for the ISS here at JSC. During that time of job searching and working a minimum wage job, I found myself in Los Angeles and on a reality TV Show on TBS called "King of the Nerds." It was an amazing experience.
What is one of your most memorable moments at the George?
Kayla: My favorite part of working at the George is being at the telescope in the Research dome. I get a rush every time I help someone walk up to the eyepiece and look through it for the first time and you hear them say "Wow!" I get excited to look through the 36" telescope, it never gets old. And I am so lucky that I have the opportunity to share that view with the people that visit us – I absolutely love that.
Why should visitors come out to the George Observatory?
Kayla: Come say hello and let me share my passion for space exploration with you. Let us take you on a journey around the solar system and the galaxy and beyond. If you bring the kiddos, we can spark their curiosity and help them discover a love of astronomy.
Take a look back at our previous spotlight, Justin McCollum.
The newly renovated George Observatory is now open to the public for nightly stargazing. Click here for upcoming dates.