The George Observatory could not have survived without numerous amateur astronomers over the years! We want to thank our many volunteers who continue to generously share their time and talents so that visitors may see images from a variety of telescopes and enjoy the night sky.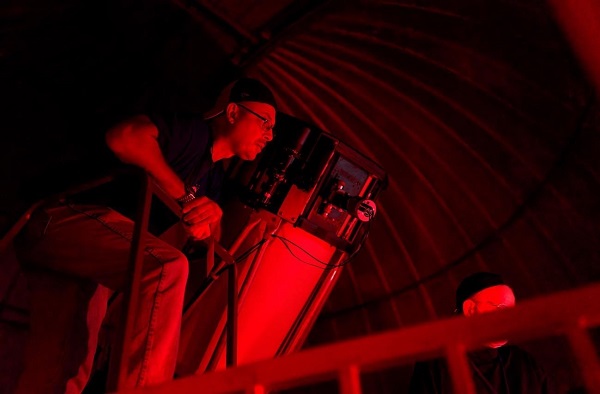 How and when did you get interested in astronomy?
Jeff: I have been interested in astronomy since my youth and took an astronomy class in college as an elective in the 80s, but did not really get more involved in it until the drought of 2011 when there were many clear, cloudless nights. I bought my first telescope from Land Sea & Sky at that time and then joined the Fort Bend Astronomy Club (FBAC) in 2013.
How did you start volunteering at the George?
Jeff: I discovered the George Observatory when visiting Brazos Bend State Park one day. However, I did not become a volunteer until after joining FBAC and learning that FBAC owns and operates the telescope in the East Dome at the George, as well as providing many volunteers during public viewing nights. As my journey continued, I took an interest in Astrophotography. The skills I learned came in handy when helping the George transition from eyepiece viewing to electronic observing with cameras after the George reopened earlier this year during COVID-19 restrictions.
What is one of your most memorable moments at the George?
Jeff: My most memorable moment at the George was the day I joined as a volunteer. Jack McKaye, the Building Manager at the time, rolled out the red carpet by giving me a grand tour of the George and made me feel like I belonged.
Why should visitors come out to the George Observatory?
Jeff: I recommend visiting the George because it is one of the closest places to Houston where people can go to enjoy the night sky, observe with large telescopes, and talk to some great volunteers and staff who have a wealth of knowledge about astronomy.
Take a look back at our previous spotlight, Joe Dellinger.
The newly renovated George Observatory is now open to the public for nightly stargazing. Click here for upcoming dates.