137 + 1.  That's how many Merit Badges Benjamin Coveler has earned from the Boy Scouts of America. Currently offering 137, Benjamin earned the Computers Merit Badge which was discontinued in 2014. It was later replaced with the Digital Technology Merit Badge, which he also earned. Earning them all is an incredible accomplishment, which is something very few boy scouts can say . Out of the millions of scouts that have participated in the Boy Scouts of America program since its founding in 1910, only a few hundred have earned every single Merit Badge. Through the Merit Badge Program, Benjamin has explored everything from plumbing to nuclear science to dentistry. The Scouts@HMNS Program, generously supported by Occidental, has been fortunate enough to work with Benjamin on 42 of those Merit Badges.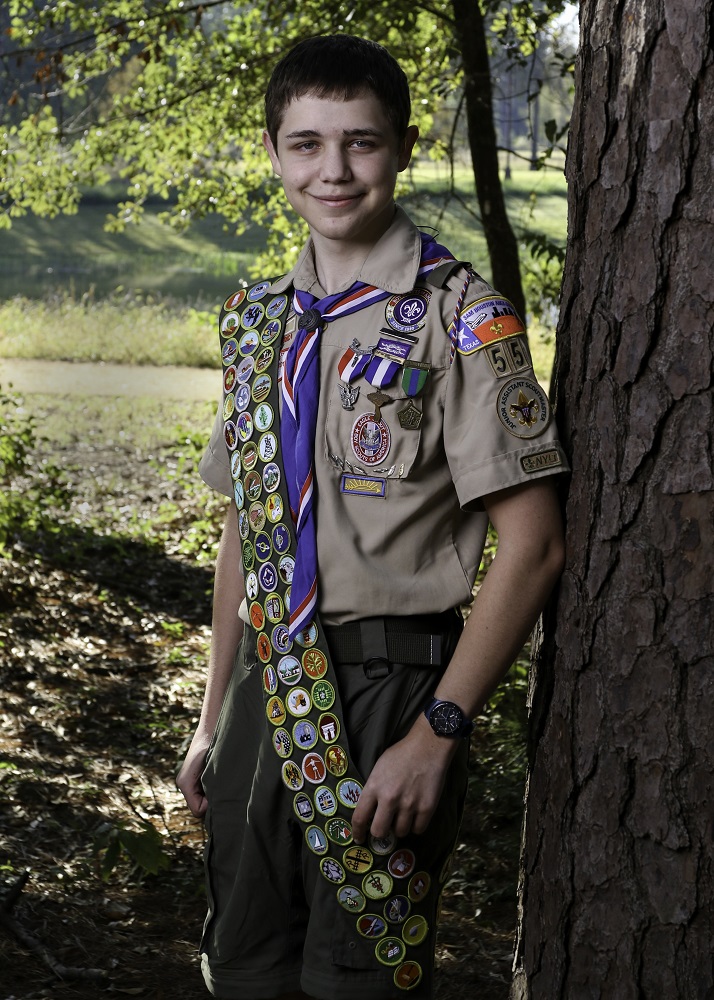 Benjamin has been an avid HMNS supporter for 11 years now. He's participated in our Xplorations Summer Camp program as well as Summer Scouts, weekend scout classes and Badges on Demand. As he said, "Clearly, we love HMNS! Michelle Connor and the HMNS Scouting program have been instrumental to my Merit Badge goals." In fact, even when Benjamin had taken every Merit Badge class we offer, he didn't stop there. He worked in our Scout office as an intern to continue supporting HMNS and our Scouts Program from behind-the-scenes.
We had a chance to talk to Benjamin about his amazing achievement and his experience with the Scouts@HMNS Program.
What is your favorite thing about being a part of the Boy Scouts of America program?
Perhaps unsurprisingly, I'm a massive fan of the Merit Badge program. Perhaps more than any other Scouting award system, the badges foster a chance to try out various vocational skills and learn from the best while doing it. At the museum, I've had the chance to meet and work with experts in various science fields, plus dedicated hobbyists and teachers from other backgrounds – everything from mining to photography. Without the Merit Badge program, I wouldn't have had any reason to try water skiing or learn about soil and water conservation.
Why did you choose to take classes at HMNS?
To be honest, my mom signed me up for my first class with HMNS. She had talked to other Scout parents and heard great things about the HMNS Summer Scouts classes. After the first class, I just wanted to keep coming back. I really enjoyed the chance to meet interesting people and learn in a hands-on way.
What was your favorite experience when taking a Merit Badge class at HMNS?
Wow, this is a tough one. I have really enjoyed all the classes I have taken, but I think my favorite was Photography Merit Badge. It was a lot of fun to be able to wander through the exhibits and look at them with a slightly different perspective, with an eye toward angles, lighting, color, and frame. I had just received a new digital camera as a birthday gift, so it was perfect timing to learn more about the various settings.
A special thank-you to Mrs. Nelson – she is an amazing Merit Badge counselor. She even took the time to teach me some skills not covered in the Merit Badge related to macrophotography – adjustments like F-stops and shutter speed.
Is there anything else you'd like us to know about your experience with taking scout classes at HMNS?
Classes at HMNS are always much more than just working on fulfilling requirements. I really enjoyed having the classes right there in the museum – the facilities, of course, are outstanding, and I liked having the chance to explore the museum exhibits related to each class. It's great that the counselors had immediate access to the exhibit halls, Burke Baker Planetarium, Wortham Giant Screen theater, and the freedom to coordinate field trips related to the content. Certainly, the Museum has the tools to make the Merit Badge classes informative and interactive, instead of dry lectures.
——————————————————————————–
If you're interested in scouting with HMNS this year, click here for our Spring 2021 schedule. We have classes for all scouts whether you're working on earning all 138 Merit Badges like Benjamin or just starting your scouting journey as a Girl Scout. At HMNS, you don't just earn your badge, you live it.