When we started working on this Family Guide more than a year ago, we knew we wanted to create a massive, imaginative illustration of our Museum and its many objects. To do that, we would have to find the perfect artist to bring our creative vision to life. Enter, local artist Bill Ferguson!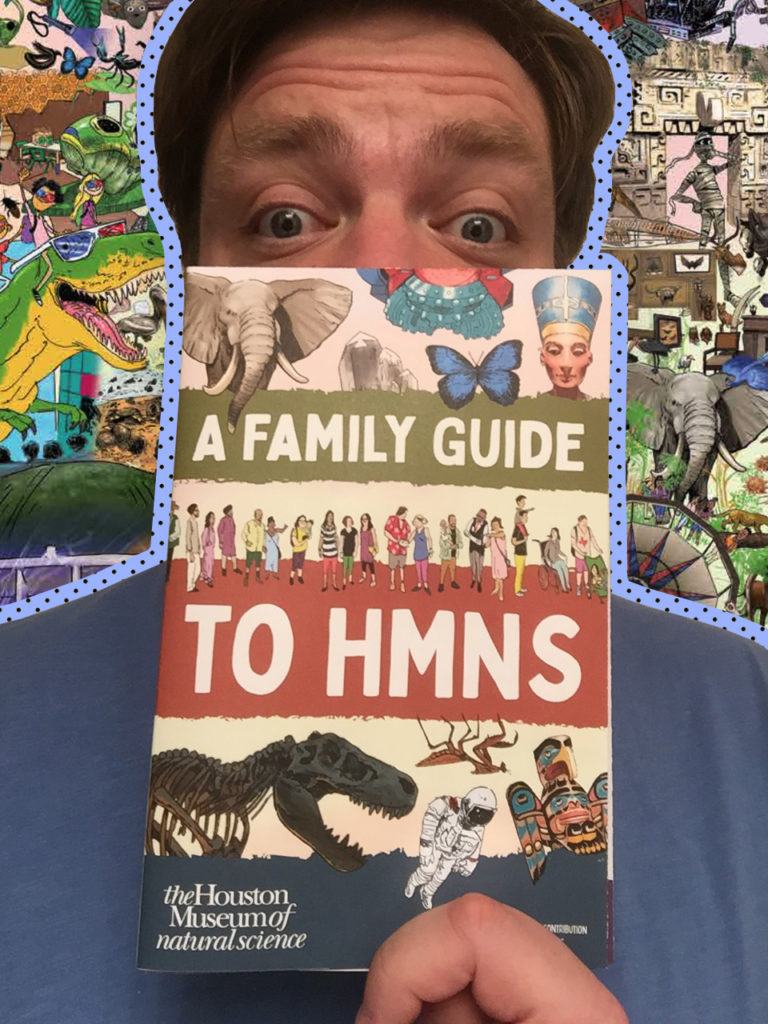 Bill's artistic history with the museum began in 2008 when he was commissioned to create murals for our then-Woodlands location. Since Bill was already well-versed in all things HMNS, we knew he could accomplish the astronomical task ahead of him – capturing the essence of HMNS and illustrating more than 450 museum objects and our patrons. Of course, since we are the science museum after all, the objects weren't just going to be fun illustrations. They had to be scientifically and culturally accurate. Bill worked with our curators to ensure each and every object he drew reflected the specific object in the Museum's collection down to every minute detail. He also threw in a little science-based humor, which we always love at HMNS. Can you find the prospector with his fool's gold? It's one of my favorite hidden gems! No pun intended…okay, it was kind of intended.
I asked Bill about his experience as an artist and his work on this project. Read our conversation below and find out how you can learn from Bill this Spring!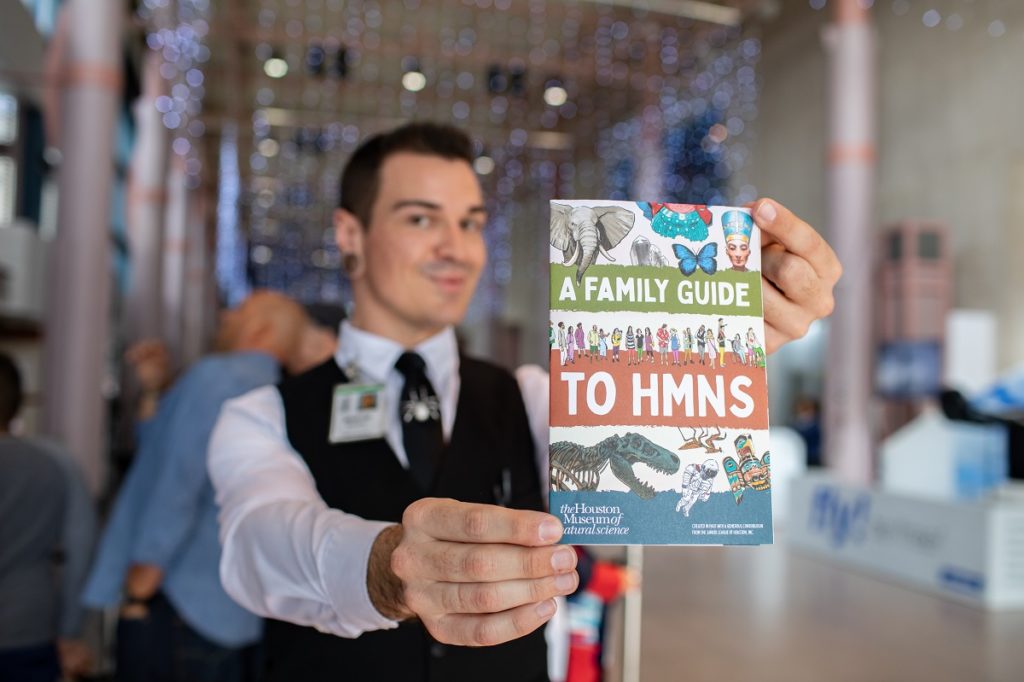 When did you start working as an artist?
I've been drawing cartoon characters since I was a kid, but I started to take art a lot more seriously in high school. I had teachers that inspired me to apply to art school for college, starting my path as a professional artist.
What advice do you have for any aspiring artists?
Have a sketch book and draw the world around you. Also, draw in pen. You'll learn a lot about drawing when you cannot erase your mistakes. Use your imagination all the time!!!!
What was your favorite object to draw for this project?
I have a couple favorite objects. I loved drawing the Geovator in the Wiess Energy Hall and the Giant Sloth in the Morian Hall of Paleontology, because they were the things I wanted to draw first when I started this project. Also the bugs were fun to draw because I am NOT a bug person, so it was cool drawing things I usually keep away from.
What did you find was the most challenging?
It was a big challenge to draw all the dinosaur bones, but the hardest object to draw was the Gas Turbine in The Wiess Hall of Energy. I spent 3 days figuring out how to draw all of its details.
What was your favorite part about working on this project?
I had a blast adding my personality and humor to this map.
Did you learn anything about the museum or one of the objects that surprised you?
I sure did learn a lot about Malacology and was inspired by curator Tina Petway's passion for shells. I never knew how fragile and delicate seashells could be.
What would you like people to know when they're looking at your work?
I'd like people to know that I spent an entire year working on this project.
What's your favorite hidden object in the project?
I love the brain characters. I actually wanted to hide more of them throughout the map! He needs a name if there are any kids or parents who want to give him one!
What do you hope people gain from using this Family Guide and your illustrations?
This map is catered to families but mostly to kids. I want them to be excited about their museum! I also was thinking of kids with autism. The museum is huge and a lot to take in, so this map would be their personal guide. I have Aspergers, so I can relate to handling all the excitement of the museum.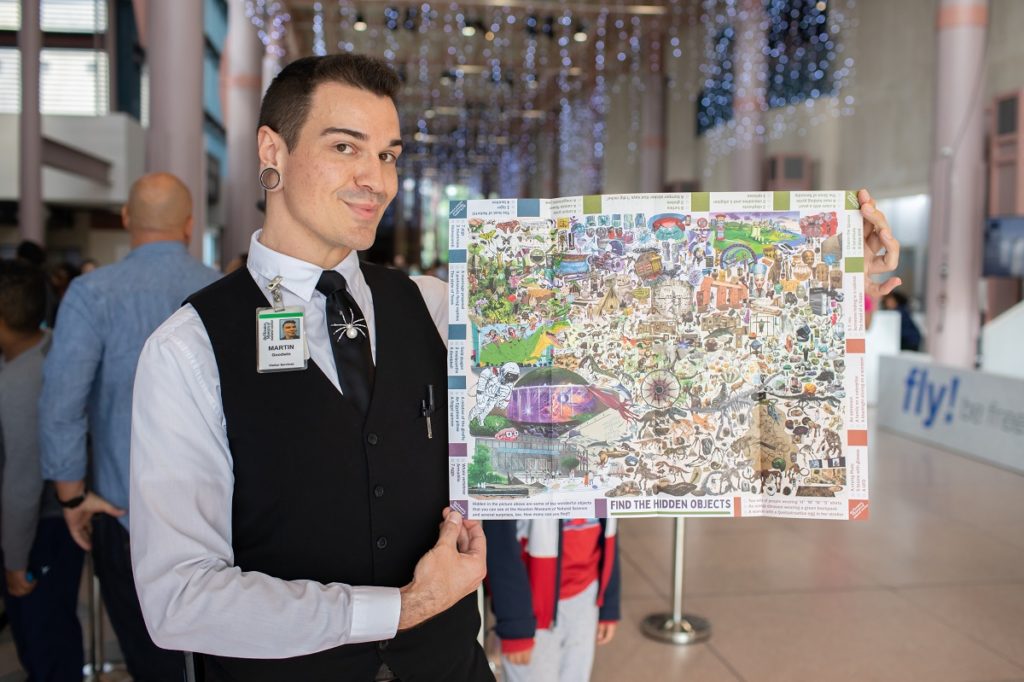 Want to learn from the artist himself? Well, you're in luck! Bill is teaching a series this Spring called "Art + Science: Drawing in Galleries." This 3-part series will explore sketching in three different halls, so you can practice your skills as a scientific artist! Study shape and form in the Farish Hall of Texas Wildlife, shadows and shading in the Morian Hall of Paleontology, and perspective and composition in the Cockrell Butterfly Center. This unique opportunity includes all the supplies you'll need to create your very own HMNS-inspired work of art. Sign-up here!
You can read more about Bill and see more of his work at billfergusonillustrator.site123.me.
If you're ready to explore HMNS with our new Family Guide, pick yours up during your next visit! They're available at the Information Desk in the Grand Hall or at Museum Services near the main exhibit hall entrance. Take photos and tag yourself using it in our exhibits with #HMNSFamilyGuide!