BTS – Mummies of the World: The Exhibition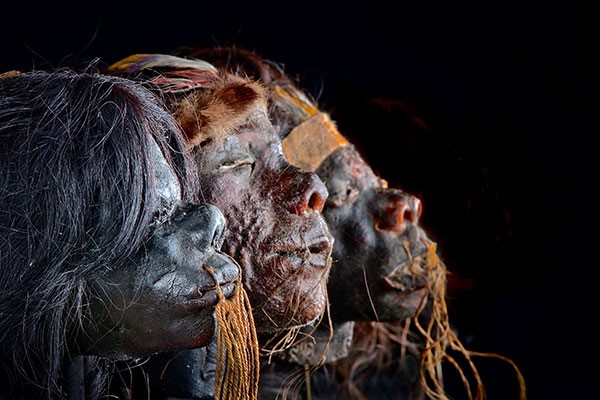 Mummies of the World: The Exhibition presents a collection of mummies from Europe, South America and ancient Egypt-some 4,500 years old.
Go behind-the-scenes and learn about mummies and mummification through state-of-the-art multimedia, interactive stations and 3D animation, highlighting advances in the scientific methods used to study mummies, including computed tomography (CT), ancient DNA analysis and radiocarbon dating, all of which allows us to know who these mummified individuals were, where they came from and where they lived.
Among the mummies on display are the Vac Mummies, an entire mummified family from Hungary believed to have died from tuberculosis; the Burns Collection, a group of medical mummies used to teach anatomy in the early 19th century; an Egyptian priest named Nes-Hor who suffered from arthritis and a broken left hip; Egyptian animal mummies including a falcon, fish, dog and baby crocodile, many of which were deliberately preserved to accompany royals for eternity; and MUMAB, the first replication of Egyptian mummification done on a body in 2,800 years.
October 18, 2015 at 6:00pm
OktoberPest
It's OktoberPest at the Houston Museum of Natural Science, and it's your chance to get some bug love! We've planned an entire day of activities where you and your family can celebrate the fascinating world of bugs. It's free with your ticket to the Cockrell Butterfly Center. Members receive free admission and can pick up their complimentary tickets in the box office.
Dip a worm into biodegradable earth-friendly paint and then watch your worm doodle!
Adopt a ladybug and take it home to your own garden.
Prepare a Milkweed seedling to plant in your own garden.
Decorate a delicious cookie in the shape of a ladybug, bee or caterpillar—and then enjoy!
Visit our Bug Petting Zoo—featuring tarantulas, Giant Walking Sticks, a Giant African Millipede and more!
Cheer on your favorite Madagascar cockroach as they race to the finish line.
Our face-painting experts can transform you into your favorite bug!
Learn how to display butterflies and other insects.
Check out the Feeding Frenzy—where staff members feed our Praying Mantis, dragonflies and spiders!
Learn about beekeeping and visit our honey tasting table.
Step into our photo booth for a great OktoberPest souvenir!
Bring your own bug! If you've found a bug you can't identify, bring it with you. We'll help.
Two Fun-to-Learn Presentations + a Monarch Butterfly Release
At 11 a.m., don't miss "Little Herds: An Introduction to Edible Insects." A chef will be preparing gourmet creations using edible insects like crickets—and you can taste them!
At 1 p.m., the topic is "Monarchs and Their Amazing Migration." Following the lecture, we'll demonstrate how to tag a Monarch butterfly—plus you'll witness an actual butterfly release!
Wear an Insect Costume—Receive a Free Ticket for a Future Visit!
Dress up like an insect, beekeeper or other bug-related character and you'll receive a free ticket to the Cockrell Butterfly Center to use on a future visit. "Bee" creative!
Saturday, Oct. 22 | 11 a.m. – 3 p.m. | Grand Hall at HMNS
Lecture – Family Talk – The Griffin and the Dinosaur
Exciting stories about griffins, dragons, sea monsters and giants have been told for thousands of years. Were they real? What is the truth? Children's author Dr. Adrienne Mayor of Stanford University reveals some suprising secrets connecting fossils with fabulous creatures of myth.
Suggested for grades 6-12 and adults.
Cosponsored by the Archaeological Institute of America Houston Society.
October 22,2016 at 9:00am