Last week's featured #HMNSBlockParty creation is by Brianna (age: 8):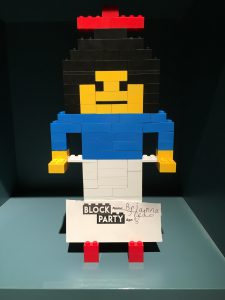 Want to get your engineering handwork featured? Drop by our Block Party interactive play area and try your own hand building a gravity-defying masterpiece. Tag your photos with #HMNSBlockParty.
Behind-the-Scenes – Cabinet of Curiosities
Tuesday, July 26
6:00 p.m.
Cabinets of curiosities were collections of extraordinary objects which attempted to categorise and tell stories about the wonders and oddities of the natural world. These collections of extraordinary natural and manmade objects were displayed in cabinets with many compartments, each filled with "treasures" reflecting man's desire to find his place within the larger context of nature and the divine. Many of these collections eventually became the first public museums. In this special after-hours event, master docents with colorful commentary and extraordinary stories will guide you through this exhibit, which contains thousands of extraordinary natural and manmade objects nestled in countless nooks and crannies, just waiting to be discovered. Ignite your curiosity with a tour of the wonder-filled Cabinets of Curiosities exhibit, and discover the treasures that await.
Behind-the-Scenes – Terrestrial Life Debuts
Tuesday, July 26
6:00 p.m.
Because the Morian Hall of Paleontology is too large to tour in one evening, we are debuting a new series that will cover the hall section by section. Led by HMNS staff trainer, James Washington, each tour will include a hands-on fossil experience or short classroom presentation. When life came out of the water and conquered land, our witnesses are the armor-headed amphibians like "boomerang-headed" Diplocaulus. You'll meet the root of our own human family tree in the fabulous fin-backed reptile, Dimetrodon, apex predator of the Texas Permian, 300 million years ago. Catastrophic die-offs at the end of the Permian Period (250 million years ago) exterminated most of the dominant life forms-but the empty niches welcomed new clans of dynamic creatures. Reptiles seized control of the terrestrial realm. Giant croc-oids dug tubers, munched leaves and attacked each other. By 200 million years ago, crocodile descendants-the first dinosaurs-were expanding their influence.
Lecture – Prehistorical Perspectives on Amazonian Life by Dirk Van Tuerenhout
Wednesday, July 27
6:30 p.m.
When we think of the Amazon region, we imagine dense forest, exotic animal life, and sweltering temperatures. We also assume that this landscape has been around for thousands of years. Recent discoveries, made from the air and on the ground, now suggest that portions of the Amazonian rainforest looked very different just 500 years ago. HMNS curator of anthropology Dr. Dirk Van Tuerenhout will review some of these discoveries and what they tell us about the scope and impact of prehistoric human presence in the Amazon region.
Summer Cockrell Butterfly Center Events 
Summer Cockrell Butterfly Center events continue through Aug. 19.
Wing It | Tuesdays at 10:30 a.m.
Come fly away into the world of butterflies at the Cockrell Butterfly Center with Wing it! Introduce yourself to your favorite winged wonders and watch the release of hundreds of new butterflies into the rainforest.
Small Talk | Wednesdays at 11 a.m.
Join our Cockrell Butterfly Center team as they take their live collection of insects out "for a walk" during Small Talk. Our experts will entertain and educate with all types of insects and arachnids.
Friday Feeding Frenzy | Fridays at 9:30 a.m., 10:30 a.m. & 11:30 a.m.
Join us this morning in the Cockrell Butterfly Center for our Friday Feeding Frenzy! See science in action as snakes, spiders and centipedes enjoy a meal right in front of you!