Last week's featured #HMNSBlockParty creation is by Britknee (age: 16):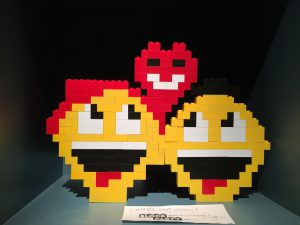 Want to get your engineering handwork featured? Drop by our Block Party interactive play area and try your own hand building a gravity-defying masterpiece. Tag your photos with #HMNSBlockParty.
Behind-the-Scenes Tour – La Virgen de Guadalupe
Tuesday, June 28
6 p.m.
Going back to the 8th century in a struggle between Muslim and Spanish naval forces and on to the appearance in the Aztec capital in the 15th century, Virgin of Guadalupe was adopted as a symbol in Europe and the New World during times of friction. Through the artwork and artifacts on display, your guide will trace the increasing role the Virgin of Guadalupe played in society.
Lecture – Asteroid Day 2016 – Threat of Impact Update by David Kring
Thursday, June 30
6:30 p.m.
In 2013 the world was riveted by the impact of an asteroid near the Russian town of Chelyabinsk, where over 1,000 people were injured. It was an eerie reminder of another, bigger, impact event that flattened a forest near the Tunguska River in Siberia on June 30, 1908-and a modern-day example of the immense dinosaur-killing Chicxulub impact event in the Yucatán. As an update to his 2015 Asteroid Day presentation, Dr. David Kring will describe the magnitude of their persisting threat today, and the steps we might take to mitigate these types of calamitous events in the future.
This event is sponsored by The Lunar and Planetary Institute.
Summer Cockrell Butterfly Center Events 
Summer Cockrell Butterfly Center events continue through Aug. 19.
Wing It | Tuesdays at 10:30 a.m.
Come fly away into the world of butterflies at the Cockrell Butterfly Center with Wing it! Introduce yourself to your favorite winged wonders and watch the release of hundreds of new butterflies into the rainforest.
Small Talk | Wednesdays at 11 a.m.
Join our Cockrell Butterfly Center team as they take their live collection of insects out "for a walk" during Small Talk. Our experts will entertain and educate with all types of insects and arachnids.
Friday Feeding Frenzy | Fridays at 9:30 a.m., 10:30 a.m. & 11:30 a.m.
Join us this morning in the Cockrell Butterfly Center for our Friday Feeding Frenzy! See science in action as snakes, spiders and centipedes enjoy a meal right in front of you!