Last week's featured #HMNSBlockParty creation is by Michael (age: 15):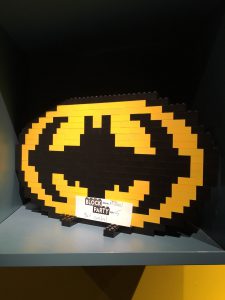 Want to get your engineering handwork featured? Drop by our Block Party interactive play area and try your own hand building a gravity-defying masterpiece. Tag your photos with #HMNSBlockParty.
Lecture – The National Parks – America's Cathedrals of Nature by Mark Burns
Tuesday, June 2
6:30 p.m.
In honor of the 2016 centennial celebration of America's national parks, American photographer Mark Burns' set out on The National Parks Photography Project. In this special evening with the photographer Burns will chronicle the project that took him to each of America's 59 national parks. Following the presentation, the audience will be invited into the exhibition to see the collection of iconic black and white photographs with the photographer.
Life Under the Microscope: Paleontology
HMNS at Sugar Land
Thursday, June 23
10:30 a.m. – 12:30 p.m.
Learn about the practical applications of microscopy or just look at cool stuff on a micro scale! Travel the world as you view grains of sand collected from various continents, and learn about their origin, composition and transport. Look at microfossils, shells and other natural objects, or bring an item from home and check it out under the scope. As hands-on activities are the best way to learn, we'll have interactive demo stations with docents to guide you through the amazing visuals you'll see as you peer through the lens!
Class – Water-Wise Gardening
Saturday, June 25
9:30 a.m.
A garden that conserves precious water resources is a rewarding investment. An irrigation system is a practical choice for most garden locations. This class will teach design, installation and maintenance of drip and micro-spray systems.
Be able to take a summer vacation without losing your landscape and vegetable garden investments to drought. Grow a beautiful summer garden while protecting the watershed and reduce waste of one of our most important natural resources.
Summer Cockrell Butterfly Center Events 
Summer Cockrell Butterfly Center events continue through Aug. 19.
Wing It | Tuesdays at 10:30 a.m.
Come fly away into the world of butterflies at the Cockrell Butterfly Center with Wing it! Introduce yourself to your favorite winged wonders and watch the release of hundreds of new butterflies into the rainforest.
Small Talk | Wednesdays at 11 a.m.
Join our Cockrell Butterfly Center team as they take their live collection of insects out "for a walk" during Small Talk. Our experts will entertain and educate with all types of insects and arachnids.
Friday Feeding Frenzy | Fridays at 9:30 a.m., 10:30 a.m. & 11:30 a.m.
Join us this morning in the Cockrell Butterfly Center for our Friday Feeding Frenzy! See science in action as snakes, spiders and centipedes enjoy a meal right in front of you!