Last week's featured #HMNSBlockParty creation is by Charlie Bartley (age 8):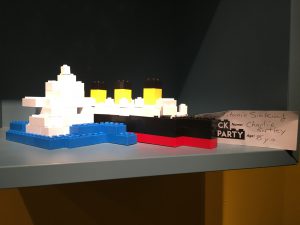 Want to get your engineering handwork featured? Drop by our Block Party interactive play area and try your own hand building a gravity-defying masterpiece. Tag your photos with #HMNSBlockParty.
Lecture – Historical View of Guadalupan Faith, Origin and Development by Ana Rita Valero
Tuesday, May 10
6:30 p.m.
The apparitions of Our Lady of Guadalupe took place in the vicinity of the Sierra de Guadalupe during December 1531. Anthropologist Dr. Ana Rita Valero de Garcia Lascurain will describe the political, economic and social environment before the Spanish conquest and the historical elements which incited the miracle of the 16th century. Valero will also trace the development and expansion of the Guadalupe fervor.
Class – Constructing the Home Vegetable Garden
Wednesday, May 11, at 10:00 a.m. & Saturday, May 14, at 9:30 a.m.
This class is for anyone who wants to build a vegetable or fruit garden at their home. Each step of the process will be presented, covering key components such as choosing a site, choosing soil, an irrigation system, building materials and tools. Also troubleshooting tips are offered of what to watch out for in order to create a successful garden build.
Sponsored by Urban Harvest.
Lecture – Tutankhamun: the Life, Death and Strange Afterlife of an Egyptian King
Wednesday, May 11
6:30 p.m.
Tutankhamun is probably the best-known of Egyptian rulers today; yet he was almost totally forgotten in Egypt within a couple of generations of his death. In this entertaining lecture, HMNS curator Tom Hardwick will place Tutankhamun in the context of his time, and looks at how-and why-the boy king's legacy has been publicized and exploited. Hardwick will also incorporate the latest news on the possible existence of further, undiscovered chambers in his tomb.