Last week's featured #HMNSBlockParty creation is by Makinley (age 9):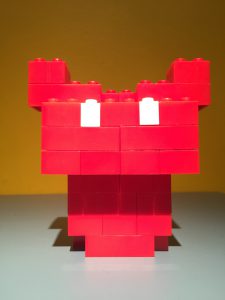 Want to get your engineering handwork featured? Drop by our Block Party interactive play area and try your own hand building a gravity-defying masterpiece. Tag your photos with #HMNSBlockParty.
Memorial Day Weekend Hours:
HMNS – Hermann Park – May 27-30: 9:00 a.m. – 6:00 p.m.
HMNS at Sugar Land – Monday, May 30: 9:00 a.m. – 5:00 p.m.
Lecture – Lunar Exploration, A Captivating Science by David Kring
Tuesday, May 24
6:30 p.m.
A compelling case can be made that exploration of the Moon is the shortest and least expensive route to a fundamental change in our understanding of our origins. The capability being developed with NASA's Space Launch System (SLS) and Orion crew vehicle provides the nation with an outstanding opportunity to reinvigorate its space program beyond low-Earth orbit. A decade-long series of studies have identified the best landing sites and traverse routes to maximize scientific return in missions that could be conducted throughout the 2020s. The lunar farside and specifically the Schrödinger impact basin is the highest priority target.
This program is sponsored by The Lunar Planetary Institute.