Last week's featured #HMNSBlockParty creation is by Landon (age: 5):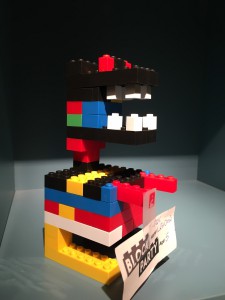 Want to get your engineering handwork featured? Drop by our Block Party interactive play area and try your own hand building a gravity-defying masterpiece. Tag your photos with #HMNSBlockParty.
Visit HMNS For Spring Break! 
Extended Hours at all HMNS branches:
HMNS Hermann Park (March 12-20) – Monday-Sunday: 9:00 a.m. – 6:00 p.m.
HMNS at Sugar Land (March 12-20) – Monday-Saturday: 9:00 a.m. – 5:00 p.m. & Sunday: 12:00 p.m. – 5:00 p.m.
George Observatory – The George Observatory will be open two extra days for Spring Break – Tuesday, March 15, and Friday, March 18, from 5:00 p.m. – 11:00 p.m.
New Special Exhibition Tourmaline Treasures Now Open!
The Houston Museum of Natural Science presents an intimate "jewel-box" exhibition of the world's finest naturally crystallized tourmalines in the Cullen Hall of Gems and Minerals through September 1, 2016.
The exhibit is organized around the "Rose of Itatiaia" tourmaline from the Jonas Mine in Minas Gerais, Brazil. This special tourmaline is the highlight and centerpiece of the exhibition. Other "masterpiece" specimens from the most famous mines in the world include the Tourmaline Queen Mine, in California; the Paprok Region in Nuristan, Afghanistan, the Mt. Mica in Maine, the Stewart Mine in San Diego County, California; Anjanabonoina region in Madagascar, the Pedeneira Mine in Brazil; the Malkhan Mine in Russia, the Alto Ligonha region of Mozambique, etc.
This is a unique opportunity to see these famous tourmalines all under one roof for a limited time. Don't miss it.