Bust out your planners, calendars, and PDAs (if you are throwback like that), it's time to mark your calendars for the HMNS events of this week!
Last week's featured #HMNSBlockParty creation is by Jim (age 12 7/8).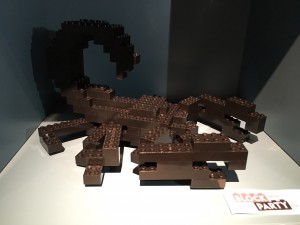 Want to get your engineering handwork featured? Drop by our Block Party interactive play area and try your own hand building a gravity-defying masterpiece. Tag your photos with #HMNSBlockParty.
Endless Love Campaign 
Ends Friday, Feb. 19
Want to show your Valentine that your love will last forever?
Say it with a cockroach.
Before you go all "Eeuuuwwww,"… think about it.
These tough little beasts have been living, loving and roaming the earth for 350 million years. It's even been said they'd survive a nuclear blast. Who knows? They might even outlive Keith Richards!
Here's the good news. You don't have to capture and gift wrap a cockroach yourself. For just $5, you can actually name one at the Cockrell Butterfly Center. You'll receive a digital commemorative certificate, like this one, for your Valentine. How's that for a lasting declaration of love?
You have to admit, it's the most unforgettable gift ever—and it's a great way to support conservation and education at the Houston Museum of Natural Science.
Class – Growing Fruit Trees in a Small Space
Tuesday, Feb. 9
6:00 p.m.
Homeowners with the smallest urban lots can grow fruitful gardens of increased variety and beauty. Instructor Angela Chandler will teach the techniques known as high density orchard, which enables the urban gardener to quadruple the variety of fruit they can grow without buying a single square foot of land. Maintenance is made easier by employing simple changes in the way home orchard management is approached. Practical and decorative techniques are will also be included. Fruits covered include stone and pome fruits, as well as tropical fruits, small bush fruits and berries.
Film Screening – Dispatches from the Gulf: Aftermath of the Deepwater Horizon Oil Spill
Tuesday, Feb. 9
6:30 p.m.
The 2010 Deepwater Horizon oil spill occurred 1,500 meters deep in the Gulf of Mexico, releasing approximately 3.19 million barrels of oil. The event initiated an unprecedented response effort and mobilized the largest, coordinated scientific research endeavor around an ocean-related event in history-orchestrated through the Gulf of Mexico Research Initiative (GoMRI).
The GoMRI scientists and their research to improve society³ ability to understand, respond to, and mitigate the impacts of petroleum pollution and related stressors of the marine and coastal ecosystems is documented in Dispatches from the Gulf by Screenscope Films. It premiered as an episode of the award-winning Journey to Planet Earth series.
Join GoMRI scientists Dr. Edward Buskey of University of Texas Marine Science Institute and Dr. Scott Socolofsky of Texas A&M University's Department of Civil Engineering for the giant-screen premiere of Dispatches from the Gulf. This is a one-night only screening.
This event is sponsored by Screenscope Films.