Bust out your planners, calendars, and PDAs (if you are throwback like that), it's time to mark your calendars for the HMNS events of this week!
Last week's featured #HMNSBlockParty creation is by Ada (age: 13):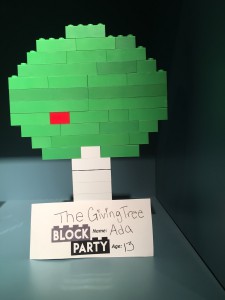 Want to get your engineering handwork featured? Drop by our Block Party interactive play area and try your own hand building a gravity-defying masterpiece. Tag your photos with #HMNSBlockParty.
Please note – Family Space Day on Saturday, Feb. 27 and the Amber Workshop on Tuesday, Mar. 1, are sold out. Additional dates for these events are available in April. 
Now Open! Amber Secrets: Feathers from the Age of Dinosaurs 
Amber Secrets, Feathers from the Age of Dinosaurs features over 100 of some of the most exquisite specimens dating as far back as 99 million years ago. Plants, fungus, vertebrates and invertebrates such as insects, spiders, scorpions, snails, millipedes and centipedes are represented.  Each polished translucent gem provides a window to the time of the dinosaurs.
Now Open! Amazing Butterflies
Amazing Butterflies invites you to shrink down into the undergrowth to become one of the most extraordinary creatures on earth.  Enter the interactive maze through the huge monarch caterpillar tunnel. Become a caterpillar and find your way through a secret, wild world as grass and leaves tower above your head. But beware, the maze includes dead ends, down which lurk poisonous plants and predators waiting to pounce.  Adventure through the leaves, learn how to move like a caterpillar, discover an ant that reaps the reward of an unusual friendship, then transform into a butterfly and take flight! Together, families will explore this interactive experience and learn the surprising challenges butterflies face every day.