Bust out your planners, calendars, and PDAs (if you are throwback like that), it's time to mark your calendars for the HMNS events of this week!
Last week's featured #HMNSBlockParty creation is by Ahab: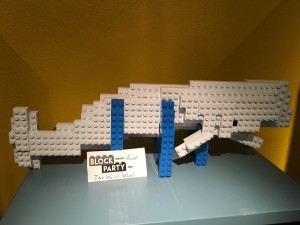 Want to get your engineering handwork featured? Drop by our Block Party interactive play area and try your own hand building a gravity-defying masterpiece. Tag your photos with #HMNSBlockParty.
Film Screening – The Blood & The Rose (Spanish)
Monday, Feb. 22
6:00 p.m.
Filmada en locaciones en México y España, La sangre y la rosa ofrece fascinantes entrevistas con grandes expertos en los campos de la ciencia, historia y teología, explorando el misterio de la tilma de San Juan Diego y la milagrosa imagen que lleva. Más que una historia sobre un evento distante, este documental también muestra cuántos emulan hoy a San Juan Diego, ampliando el mensaje de la Virgen de Guadalupe, Emperatriz de las Américas y Patrona de vida, en la cultura moderna.
Film Screening – The Blood & The Rose (English)
Tuesday, Feb. 23
6:00 p.m.
Shot on location in Mexico and Spain, The Blood & The Rose offers riveting interviews with top experts in the fields of science, history and theology, exploring the mystery of St. Juan Diego's tilma and the miraculous image that it bears. More than just a story about a distant event, this documentary also shows how many today emulate St. Juan Diego today, broadening the message of the Virgin of Guadalupe-Empress of the Americas and Patroness of Life-into modern culture.
Class – An Overview of the Energy Industry
Thursday, Feb. 25
8:00 a.m.
This course is led by experts in the fields of upstream, downstream and energy economics in the 21st century, including energy alternatives. Breakfast, lunch and a tour of the Wiess Energy Hall are included.
World Trekkers: Peru
Friday, Feb. 26
6:30 p.m.
Bring your family to HMNS and you can travel the globe with World Trekkers! The perfect family outing, these events highlight a diverse set of cultures from around the world through food, entertainment, arts and crafts and more. This February we're heading off to Peru. But no need to pack your bags – HMNS brings the world to you with World Trekkers!
Class – Minerals and Rocks of the Ancient World
Saturday, Feb. 27
9:00 a.m.
Go behind-the-scenes in the Museum's staff training lab where hundreds of specimens are uniquely presented in a hands-on road maps.
Fossils, minerals and rocks have been around since before human civilization, yet the sciences to study them have only been established for about two hundred years! Learn how the balance between natural resource abundancy and human ingenuity gave rise to the greatest monuments in the ancient world.
Class – Introduction to Paleontology: Decoding the Fossil Record
Saturday, Feb. 27
1:00 p.m.
Go behind-the-scenes in the Museum's staff training lab where hundreds of specimens are uniquely presented in a hands-on road maps.
Covering specimens from the earliest life-forms to advanced invertebrates and vertebrates alike, this workshop focuses on the origin of the fossil record as well as the various methods of fossilization. To complete your understanding of the topics covered, you will be encouraged to touch and examine a variety of specimens composed of actual fossils, models and images.
Family Space Day at the George Observatory
Saturday, Feb. 27
Multiple mission times available
Blast into outer space on a simulated space flight to the Moon! The Expedition Learning Center at the George Observatory will be open for individual children and adults to sign up for missions. No danger is involved! Astronauts are assigned jobs aboard the Space Station Observer and work together as they solve problems and have fun. Volunteers who work at NASA will run the missions and visit with the participants. Don't miss this special opportunity to participate in real astronaut training!