Bust out your planners, calendars, and PDAs (if you are throwback like that), it's time to mark your calendars for the HMNS events of this week!
Last week's featured #HMNSBlockParty creation: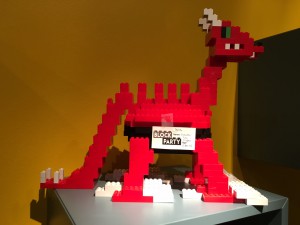 Want to get your engineering handwork featured? Drop by our Block Party interactive play area and try your own hand building a gravity-defying masterpiece. Tag your photos with #HMNSBlockParty.
Endless Love Campaign 
Ends Friday, Feb. 19
Want to show your Valentine that your love will last forever?
Say it with a cockroach.
Before you go all "Eeuuuwwww,"… think about it.
These tough little beasts have been living, loving and roaming the earth for 350 million years. It's even been said they'd survive a nuclear blast. Who knows? They might even outlive Keith Richards!
Here's the good news. You don't have to capture and gift wrap a cockroach yourself. For just $5, you can actually name one at the Cockrell Butterfly Center. You'll receive a digital commemorative certificate, like this one, for your Valentine. How's that for a lasting declaration of love?
You have to admit, it's the most unforgettable gift ever—and it's a great way to support conservation and education at the Houston Museum of Natural Science.
Behind-the-Scenes Tour – La Virgen de Guadalupe: Empress of the Americas
Tuesday, Feb. 16
6:00 p.m.
Going back to the 8th century in a struggle between Muslim and Spanish naval forces and on to the appearance in the Aztec capital in the 15th century, Virgin of Guadalupe was adopted as a symbol in Europe and the New World during times of friction. Through the artwork and artifacts on display, your guide will trace the increasing role the Virgin of Guadalupe played in society.
Behind-the-Scenes Tour – Out of the Amazon
Tuesday, Feb. 16
6:00 p.m.
HMNS has an unparalleled Amazonia collection which is made up of rare artifacts from thirteen tribes. Priceless pieces of the collection-ceremonial objects, masks, body costumes, headdresses and more-are on display in the special exhibition Out of the Amazon. Tour this temporary exhibition with HMNS master docents who share stories of everyday life among rapidly disappearing indigenous groups.
Class – Basic Fruit Tree Care and Planting
Tuesday, Feb. 16 at 6:00 p.m. & Wednesday, Feb. 17 at 10:00 a.m. 
Attracting butterflies and fostering good bird habitat, fruit trees are evergreens with fragrant flowers. Instructor Angela Chandler will teach you the basics of fruit tree selection, planting, care and maintenance. Explore the types of citrus available, how to grow them, and where seeds and saplings can be obtained. If you don't have enough space, fruit trees can also be grown in containers!
Lecture – Amber, Nature's Time Capsule by David Grimaldi
Wednesday, Feb. 17
6:30 p.m.
Conserving details not preserved in fossils, ancient tree resin trapped and drowned fragments of ancient landscapes serving as a natural time capsule. World leading expert in amber research, Dr. David Grimaldi will present the latest revelations of paleoclimate and its role in evolution from cutting-edge research into the plants, fungus and animals preserved amber. Through his field work conducted on five continents in over 40 countries, Grimaldi's research addresses 400 million years of evolutionary history. He will also show how amber, dating as far back as 99 million years ago, has helped unlock the origins and evolution of modern tropical forest ecosystems.
Amber Secrets, Feathers from the Age of Dinosaurs opens Friday, Feb. 19
Amber Secrets, Feathers from the Age of Dinosaurs features over 100 of some of the most exquisite specimens dating as far back as 99 million years ago. Plants, fungus, vertebrates and invertebrates such as insects, spiders, scorpions, snails, millipedes and centipedes are represented. Highlights include feathers and lizards encapsulated in amber. Each polished translucent gem provides a window to the time of the dinosaurs.
Amazing Butterflies opens at HMNS at Sugar Land on Saturday, Feb. 20
Amazing Butterflies invites you to shrink down into the undergrowth to become one of the most extraordinary creatures on earth. Enter the interactive maze through the huge monarch caterpillar tunnel. Become a caterpillar and find your way through a secret, wild world as grass and leaves tower above your head. But beware, the maze includes dead ends, down which lurk poisonous plants and predators waiting to pounce. Adventure through the leaves, learn how to move like a caterpillar, discover an ant that reaps the reward of an unusual friendship, then transform into a butterfly and take flight! Together, families will explore this interactive experience and learn the surprising challenges butterflies face every day.
Girls Exploring Math And Science
Saturday, Feb. 20
The Girl Scouts of San Jacinto Council and the Houston Museum of Natural Science invite you to attend the Girls Exploring Math and Science (GEMS) event. The Museum will be filled with hands-on science and math for everyone to experience. Local professionals will be at the Museum to answer questions about their careers in the fields of science, technology, engineering and math.