Bust out your planners, calendars, and PDAs (if you are throwback like that), it's time to mark your calendars for the HMNS events of this week!
Last week's featured #HMNSBlockParty creation is by Paul (age 10).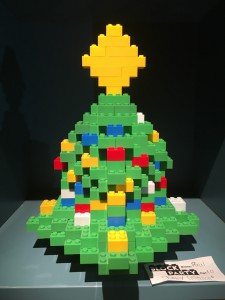 Want to get your engineering handwork featured? Drop by our brand-new Block Party interactive play area and try your own hand building a gravity-defying masterpiece. Tag your photos with #HMNSBlockParty.
Holiday Hours: 
HMNS Hermann Park: 
Dec. 19 – 31 – 9:00 a.m. – 6:00 p.m. 
CLOSED Christmas Day
HMNS at Sugar Land: 
Dec. 21 – 31: Closes at 5:00 p.m. daily
CLOSED Christmas Day
The George Observatory will be open normal hours. 
Now Playing: Dinosaurs Alive! 3D
Dinosaurs Alive 3D is a new global adventure of science and discovery – featuring the earliest dinosaurs of the Triassic Period to the monsters of the Cretaceous "reincarnated" life-sized for the giant screen. Audiences will journey with some of the world's preeminent paleontologists as they uncover evidence that the descendants of dinosaurs still walk (or fly) among us.