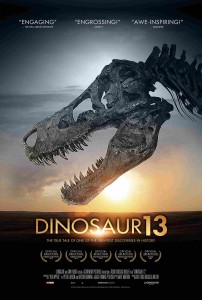 Bust out your planners, calendars, and PDAs (if you are throwback like that), it's time to mark your calendars for the HMNS events of this week!
Film Screening & Lecture
Dinosaur 13
Tuesday, December 9
6:00 p.m.
Join paleontologists Peter Larson and Dr. Robert T. Bakker for a candid discussion on the discovery of Sue—the largest, most complete T. rex ever found—and the ensuing battles that Larson and his crew faced after their monumental find. This talk will be followed by a screening of Dinosaur 13—the new film from Lionsgate and CNN Films that tells this riveting story, and features Larson and Bakker. Click here for more info.
Opening of Special Exhibition: Crystals of India at HMNS Sugar Land
Friday, December 12
Discover the Crystals of India at HMNS at Sugar Land. Originating from India's Deccan Plateau, a large geologic formation that comprises most of the southern part of the country, the exhibition features a never-before-seen collection of almost 50 of the most beautiful and most perfectly formed natural mineral crystals ever found anywhere in the world.
For this exclusive engagement, the temporary exhibition hall at the HMNS at Sugar Land will be transformed into a jewel box that will highlight these exquisite mineral masterpieces in a setting more befitting an installation of the crown jewels—made complete with dramatic lighting and custom display cases.
Crystals of India is organized by the Houston Museum of Natural Science. Local support is provided by the City of Sugar Land, Frost Bank, and Sudha Chittaluru, M.D (Internal Medicine) – First Colony Primary Care.
Frozen
Saturday, December 13 & Sunday, December 14
10:00 a.m. & 4:00 p.m.
Fearless optimist Anna sets off on an epic journey-teaming up with rugged mountain man Kristoff and his loyal reindeer Sven-to find her sister Elsa, whose icy powers have trapped the kingdom of Arendelle in eternal winter. Encountering Everest-like conditions, mystical trolls and a hilarious snowman named Olaf, Anna and Kristoff battle the elements in a race to save the kingdom. Arts and crafts will follow this showing of the movie. Costumes are encouraged! Click here to purchase tickets.
Holiday Trunk Show – Mirta Tummino and Sarah Stewart
Saturday, December 13
12:00 p.m. – 4:00 p.m.
Two Houston designers are teaming for this special trunk show. Mirta Tummino's delicate wirework showcases colorful gemstones. Sarah Stewart designs beautiful silk and wool scarves that are batiked and woven in Indonesian by master textile artists.
Geminid Meteor Shower
George Observatory
Saturday, December 13
Open until Midnight
Enjoy the annual Geminid Meteor Shower at the George Observatory. Not rising until past midnight, the Moon will be favorable this year. The peak of the shower will be 9:00 p.m. to midnight. Dress warmly and bring lawn chairs. Telescope viewing will be open until 10:00 p.m. Cloudy skies will prevent viewing of meteors.