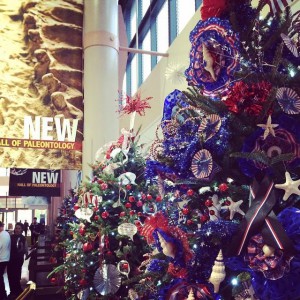 Holiday Hours
HMNS Hermann Park
From December 20 to January 4, the Museum will be open from 9:00 a.m. to 6:00 p.m.
The Museum will be CLOSED Christmas Day.
HMNS at Sugar Land 
From December 19, 2014 – January 5, 2015, HMNS Sugar Land will be open for Monday – Saturday: 9:00 a.m. – 5:00 p.m. & Sunday: Noon – 5:00 p.m.
HMNS at Sugar Land will be closed Christmas Day. The Museum will be open New Year's Day from Noon – 5 p.m.
At HMNS Hermann Park, check out our special exhibitions Samurai: The Way Of The Warrior, Fabergé: From A Snowflake To An Iceberg, Shark!, Battleship Texas & Gemstone Carvings.
Don't miss the third and last installation of the Night at the Museum trilogy, Night at the Museum: Secret of the Tomb, now playing at the Wortham Giant Screen Theatre. 
At HMNS at Sugar Land, check out the newly opened special exhibition Crystals of India.