Quanah Parker was an important Comanche chief, a leader in the Native American Church, and the last leader of the powerful Quahadi band before they surrendered their battle of the Great Plains.  With five wives and 25 children, Quanah had numerous descendants. Many people in Texas and Oklahoma claim him as an ancestor. S.C. Gwynne recently published a book on Quanah Parker, and is giving a lecture on him at the museum on April 5. Here is part 3 of my blog on Quanah Parker. If you missed it, don't worry, you can read part 1 here and part 2 here.
1872 saw continued Comanche raids into Texas, attacking settlements and raiding cattle. Once more, President Grant sent the Fourth Cavalry after them. This time, they applied the hard learned lessons from the past. They attacked a Comanche village, killing fifty-two Indians and taking 124 prisoners and the band's horses (Gwynne 2010:255). However, that night Comanche warriors took back most of the captured horses. From then on a new policy was instituted regarding Comanche horses: they were always all shot (Gwynne 2010:256).
By 1874, extensive contact between Comanche bands and the settlements, as well as a decline in Indian population resulted in the Comanche slowly losing their identity. The bands started to intermingle. By that year, their staple food supply, the buffalo, was fast dwindling in numbers. White hunters, armed with high-powered rifles had started to kill off the buffalo, in an attempt to weaken the Comanche and other tribes who relied on them for food (Gwynne 2010: 260). Starvation set in. MacKenzie kept his patrols in the field, even in winter. Things from bad to worse fast.
Against this backdrop of utter despair a prophet appeared. His name was Isa-tai, a magician, and some say con man as well (Gwynne 2010:264). He claimed he had medicine that made one bullet proof. He also claimed that he had visions of waging a final war against the white man, which would result in chasing them off Indian lands (Gwynne 2010:265). Quanah Parker accompanied him on his visits to the bands. Together they made an impressive pair of leaders: one man who claimed invincibility and the other who had remained victorious against the white man. Quanah became the first – and last – Principal Chief of the Comanches.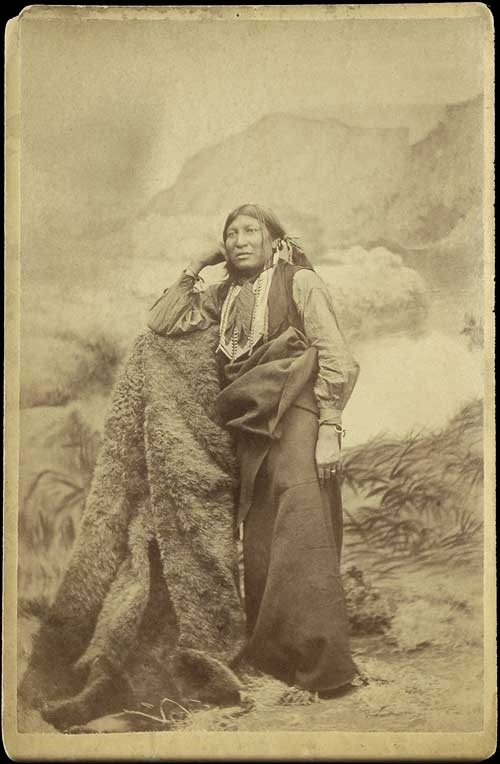 Isa-tai leaning against a propped up buffalo hide, ca. 1874. W.P. Bliss, photographer.
The photo is part of the Lawrence. T. Jones III collection,
Southern Methodist University, Central University Libraries, DeGolyer Library.
Agreements were made. A night attack would ensue. The target was buffalo hunter camp at Adobe Walls (Gwynne 2010: 267). The whole operation was expected to be a sure success. It all backfired. The hunters were wide awake and well prepared when the attack came in the middle of the night. Their superior weapons (buffalo hunting rifles with a range up to a mile) and their use of the saloons and other buildings as defensive barriers helped them carry the day (Gwynne 2010: 270-273).

Model 1874 "Billy Dixon" Rifle, named after a scout, who hit a Kiowa warrior at 1538 yards during
the attack on Adobe Walls. Image courtesy of Cherry's Fine Guns, Greensboro, NC.
The white settlers decided to settle the Comanche problem once and for all. The Red River Campaign spelled the end of the Comanche as people roaming the Plains freely. Five mounted columns converged on the Texas Panhandle, looking for Comanche lodges. For months, battles and skirmishes raged across the Panhandle. Most often the cavalry carried the day, occasionally the Indians got the upper hand (Gwynne 2010:277). The final battle took place on September 28, 1874 in Palo Duro Canyon
(Gwynne 2010:280-282). The Comanche were beaten, large numbers died, and the survivors "straggled off to Fort Sill, Oklahoma in the following weeks, thoroughly beaten and never to roam off the reservation again" (Gwynne 2010: 283).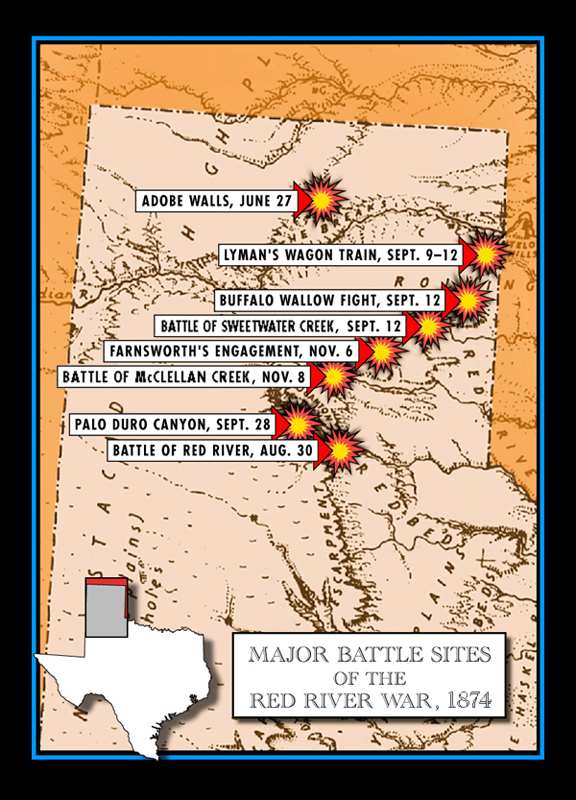 Major battle sites of the Red River Campaign, 1874. Image courtesy of Texas Beyond History,
Texas Archeological Research Laboratory, University of Texas at Austin.
On June 2, 1875, Quanah Parker and his band of fellow Quahadi surrendered.  Thus began the final chapter of Quanah's life, one that would last another thirty-six years. When he arrived at Fort Still, he was living in poverty. He lived in a tipi close to the agency, and stood in line with the others to draw rations (Gwynne 2010: 290). Slowly, however, Quanah learned about the rationing process, in particular the phenomenon of splitting up the tribes into "beef bands," and he managed to have himself appointed leader of the third-largest band (Gwynne 2010: 291-292). He also struck up a friendship with the man who had pursued him to the end of the earth, MacKenzie. On MacKenzie' s behalf he tracked down and brought back to the reservation a small group of renegade Comanches (Gwynne 2010:292).
Quanah made a fortune leasing out the grazing rights on Indian held territory. His fortune improved, as did his fame. A book was published about his mother, who had died in 1870, five years before Quanah came to the reservation. He ended up building an extraordinary house in 1890. The moneys came from cattlemen he had befriended (Gwynne 2010: 301). Over the years he would host numerous guests, from fellow Comanches to President Teddy Roosevelt (Gwynne 2010: 312). His generosity eventually caused him to give most of his wealth away. He died on February 23, 1911, at the time of writing this exactly 100 years ago to the day.
He was buried next to his mother, Cynthia Ann Parker, whose remains he had brought up from Texas to be re-interred in Oklahoma. His gravestone reads (Gwynne 2010:319):
Resting here until day breaks
And shadows fall
And darkness disappears
Is Quanah Parker, the last chief of the Comanches.
His legacy lives on, and so do his people, numbering more than 14,000 members.
Make sure you check out S.C. Gwynne's lecture on the Comanche on April 5, 2011 at the museum.
The museum's Plains Indian collection is quite extensive; at its core is the Gordon W. Smith collection, which the museum acquired in 2008. For more information, see here.
Anyone interested in the history of Texas, and its close connection to the history of the Comanches, check out our exhibit on Texas!, on display now at the museum.