Dr. Bakker's series on Lucy continues below. Check out Part 1: Lucy – Out of Africa. Not! and Part 2: Lucy's Monstrous Misfits: The Moose-Giraffe.
Why did some of Lucy's neighbors score big bio-geographical successes, spreading over many continents?
Three More Cases: Hairy Monsters With Tusks & Trunks
The Order Proboscidea includes all elephant and elephant kin – large to giant to super-giant herbivores with long upper lips transformed into trunks, plus long tusks. Tusks can sprout from the upper jaw or the lower jaw or both jaws.
Regular Short-Tusked Mastodons – "The Ohio Incognitum"
Regular Mastodons were the first fossil Proboscidea to be discovered – way back in the early 1700's. The legs looked like elephants'. The teeth looked like giant pig teeth. Explorers in the Ohio Valley called the monster the "Unknown Creature (Incognitum) from Ohio." Formal name: Mammut.
By the late 1700's full skeletons showed the whole beast – it was very like an elephant but shorter with a low forehead and short, stout upper tusks. Lucy lived with Regular Mastodons who were very close to the Ohio Beast.
Regular Mastodons – The Long-Tuskers (Anancines)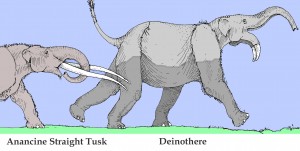 Living side by side with the Ohio Regulars in Lucy's Africa was a close relative: The Long-Tusked Regulars. Technical name: the Anancine mastodons. In the Anancines, the super-long tusks stuck out so far we'd expect the beast to trip itself if it ran fast.
Upside Down Mastodon.
Now for the maximum weirdness among proboscideans: the Deinotheres. Large to super large, Deinotheres had a long, long history in Africa, beginning way before Lucy or any other australopithecine. Body was elephantine – but the feet were small, with tiny side toes and three big ones in the middle.
The astonishing feature was the curved tusks. They were upside down. Instead of being in the upper jaw and curving up, the way they did in all normal mastodons, Deinothere tusks curved down and were in the lower jaw.
What good were upside-down tusks?
Old-timer scientists speculated:
"Maybe they hauled themselves out onto ice flows, like walruses do."
Wrong. Deinotheres never lived in cold regions.
"Maybe they killed their prey with a downward jab."
Wrong. Deinothere molars were vegetable choppers, designed to munch big leaves and branches. All deinotheres were vegetarian.
"Maybe they used the tusks to cash down onto branches to break them off." "Maybe they fought each other in the mating season."
Maybe.

As global travelers, Deinotheres are intriguing. They were like hippos. Deinotheres spread over Europe and India and China. But they never conquered Siberia and never entered the New World, via the Bering Land Bridge.
Makes you think……
Why?