Lecture – The Story of the Sword by Don Halter
Warfare changes with the technology of the day. Historian and historical bladesmith, Donald Halter, will detail the evolution of edged and blunt force trauma weapons in medieval times. This presentation will include an overview of the advancement of iron and steel from the inception of the iron age through the 16th century, focusing on the production techniques and relative strengths of the steels used for various weapons used throughout this time frame. Hands-on examples of both modern reproductions as well as original artifacts will be utilized during the presentation. Halter was crowned a Forged in Fire champion on the History Channel in 2017.
Tuesday, May 01, 2018 – 6:30 PM
Members $12, Tickets $18
Members Sip and Shop
Please log in for member ticket availability.
Join us for another Sip and Shop, and get a jump start on that perfect gift for Mother's Day! Enjoy complimentary drinks, crafts, a food truck and more during this exclusive Members-only shopping event. Plus all members receive a 25% discount – regardless of your membership level! Shop for mom or treat yourself this spring at HMNS!
Thursday, May 03, 2018 – 6:00 PM
Wildlife Photographer of the Year
Exhibition opens Friday, May 4
The Wildlife Photographer of the Year competition is an international showcase of the very best in nature photography. It is recognized for taking a lead in the artistic representation of the natural world and continues to be held in high esteem with a reputation for being the Oscars of the wildlife photographic calendar. This year's exhibition is known as #WPY53, as it represents the competition's fifty-third year.
The competition welcomes and receives entries from professional and amateur photographers, and everything in between. There are three age group categories for young photographers aged 17 and under; 10 years and under, 11 to 14 years, and 15 to 17 years.
For the fifty-third competition, the international judging panel of respected wildlife experts and nature photographers reviewed almost 50,000 entires from 92 countries. The exhibition showcases 100 acclaimed photographs from all the competition categories, and presents a huge variety of inspiring images capturing nature's rich diversity. The jury seeks faithful representation of the natural world, and there are strict limits on what kinds of photographic post-processing and manipulation are acceptable.
It will be on view in Jones Gallery on the main floor.
Wildlife Photographer of the Year is developed and produced by the Natural History Museum, London. Local support is provided by the John P. McGovern Foundation
Mixers & Elixirs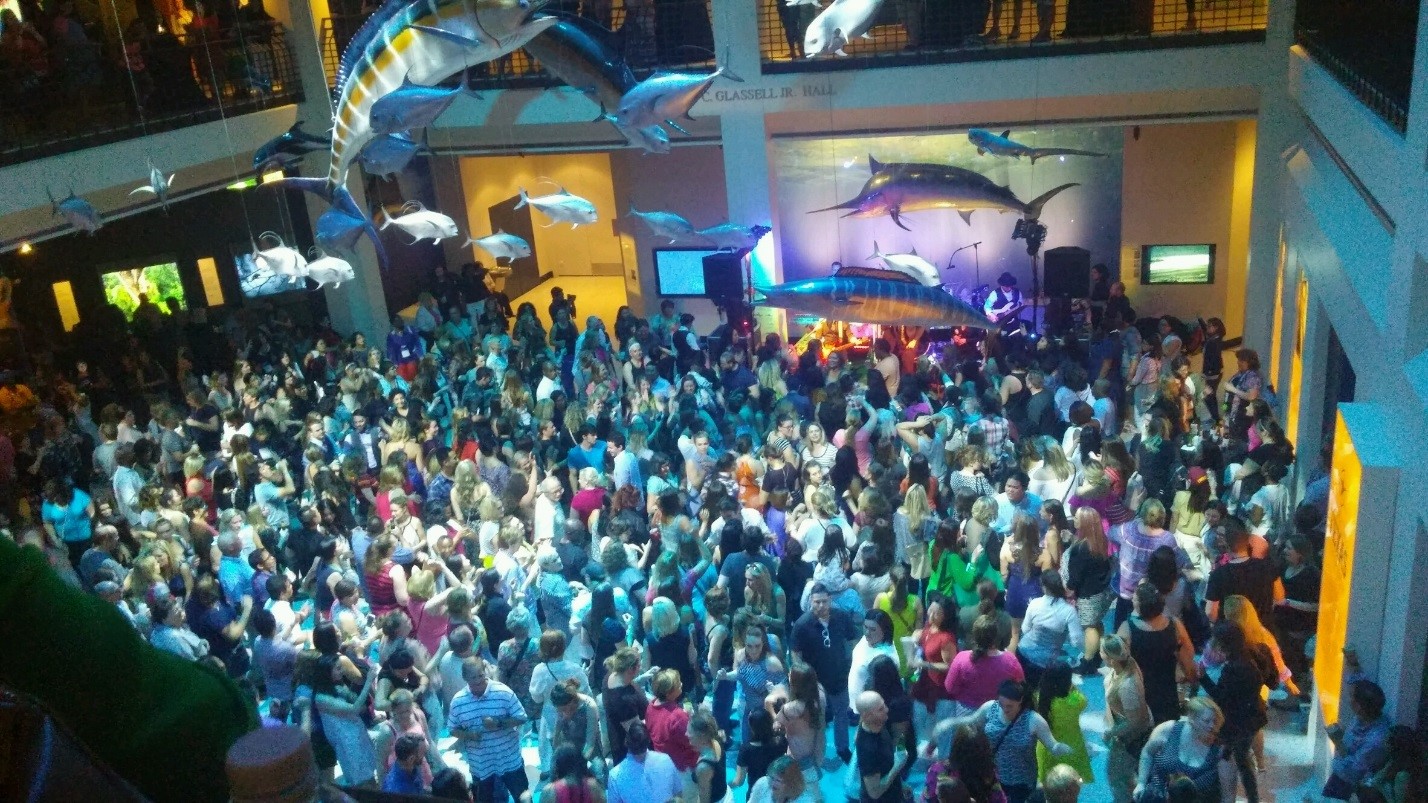 The social set has never looked so smart!
Pop on over to our place to mingle, clink your cocktail glass, and break out your best dance moves. Doors open at 7 p.m. for the live band, dancing, cash bars, and the city's best food trucks. The perfect party, where the science club meets the social set, happens each month from June through August. Hitting this scene is a sure sign of intelligence!
---
May 4th Mixer:
"May the Fourth Be With You!" Mixer
Friday, May 4, 7–10 p.m.
Grab your friends and head to HMNS to celebrate your inner rebel or join the dark side for our May-the-Fourth-Be-with-You par-tay. Mix, mingle and make new friends from a galaxy not so far away. Enjoy two DJs, dancing, cocktails and the city's best food trucks. Party or party not. There is no try.
Costumes highly encouraged!
Featuring DJ Dame Hype and DJ Truck
Food Trucks:
Moon Roosters
Nom Mi Street
Offbeat Eatz
Please note: Mixers & Elixirs is for ages 21 and up.
---
Tickets*
Members: $15
Non-members: $25
Corporate Rate – contact our Corporate Sales department (Martine Kaye or Chris Arreaga) to find out more.
Learn more about how to get free tickets to Mixers & Elixirs with an HMNS Catalysts membership!
*Ticket pricing not applicable to Spirits & Skeletons.  
---
Mixers & Elixirs 2018 Future Dates:
Friday, June 22, 7–10 p.m., featuring live music by Orquesta Trabuko and DJ Dame Hype
Friday, July 20, 7–10 p.m., featuring live music by Electric Circus and DJ Dame Hype
Friday, August 10, 7–10 p.m., featuring live music by Satellite and DJ Dame Hype