Over four decades ago, two well-known scientists, John Weske and John Terborgh were on expedition in central Peru when they rescued an unusual looking black, turkey-sized bird from the camp cook's dinner prep table.  They suspected it to be a subspecies of an existing curassow from Bolivia called the Horned Curassow (Pauxi u. unicornis), and described it as the same in a peer-reviewed journal.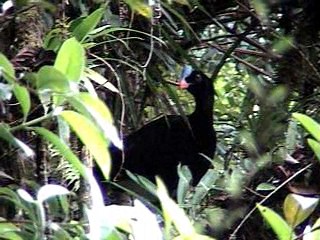 Sira Curassow (Pauxi koepckeae) in nature
Photo by Melvin Gastañaga
For many years the 'Peruvian Horned Curassow (Pauxi unicornis koepckeae)' was believed to be only a subspecies of the Bolivian form, until recent evidence showed otherwise.  The bird in question is a unique species endemic to Peru's Sira mountain range, and thus was renamed the Sira Curassow (Pauxi koepckeae).
The fact the Peruvian form is separated at least 1000 km from the Bolivian species is a strong indicator that these are both distinct species.  Some of the parameters distinguishing the Sira Curassow from Bolivia's Horned Curassow include thriving in different habitat at higher elevations, different behavioral patterns including the call, and of course different morphology.
In former posts I've explained my interest in Cracids – the rarest family of birds in the Americas, to which the Sira Curassow belongs.  While preparing Action Plans to prioritize and direct Cracid conservation efforts, whenever we came to status of the Peruvian Horned Curassow we just sort of sat around scratching our heads, as nobody definitively knew if it was a valid species.  I always had the hunch that it was valid, but without the proof of data, we'd just be telling a good story.
About a decade ago I put out a call for expeditions to locate the bird in nature to determine its status.  Melvin Gastañaga bravely answered the call, venturing solo into the Sira Mountains in search of 'Peru's unicorn'.  It was challenging work – of the several expeditions into the region the bird was not located during the first three, but Gastañaga remained tenacious, returning to find the bird in March 2005.
The work conditions were difficult, with several hours of hiking mountainous terrain just to locate the birds.  The efforts and results obtained by Melvin and her husband Ross MacLeod are nothing short of miraculous.  It goes without saying that they are the heroes in this story – the bird still would not be a species today if it wasn't for them.  Indeed, weather conditions and other elements were less than cooperative, making the work all the more challenging.  I was honored to be a part of the new discovery, providing the morphological assessment.
Despite the exciting news, this new species is in serious trouble, with the threat of extinction looming over the Sira Curassow.  The range of the species is tiny and unfortunately the species is apparently being poached inside the reserve despite educational efforts.